Calendar of future activities
The regular meetings are at 13.00 on Fridays. An exception is made in weeks where there is a second Thursday. On second Thursdays of any month the meetings commence at 18.15 Any changes to this schedule, will be recorded be;ow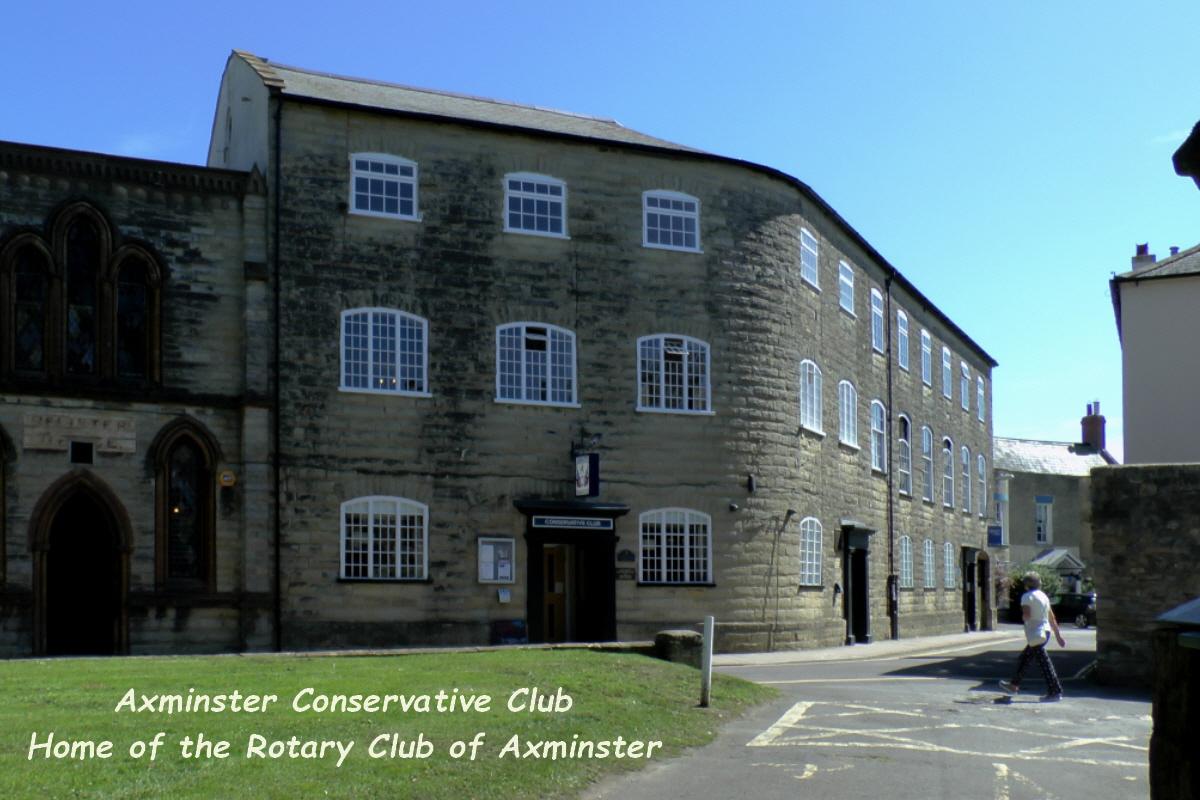 The Rotary Club of Axminster meets in the Conservative Club which is adjacent to the Minster in the centre of the town.
The regular meetings are at 13.00 on Fridays.
An exception is made in weeks where there is a second Thursday.
On second Thursdays of any month the meetings commence at 18.15.
Should any changes be made to this schedule, the change will be recorded in date order on this page.
­­­­­­­­­­­­­­­­­­­­­­­­­­­________________________________________________________________________________
The Conservative Club does not have available car parking and visitors must use public car parking.
Visitors should also advise the Club Secretary of their intended visit because meals are ordered from a caterer in advance of any meeting.
OCTOBER 2019

15th. Tuesday,

19.00

Friendly skittles match / social event at the Ridgeway Inn, Smallridge.

R C Axminster v R C Chard

25th. Friday

Presidency passes to PP Chris Painton, PHF

28th. Monday

18.15

Club Council

NOVEMBER 2019

8th. Friday

13.00

The venue for this meeting will be changed. Please watch for further information

14th.Thursday

18.15

The speaker at this meeting will be Police Inspector Mat Helm, Exeter Custody Migration Manager, who will give a talk about policing in East Devon

22nd. Friday

TBA

On this occasion the 5th. Friday event has been moved forward by one week.

The event on this evening will be a supper at a venue to be named shortly followed by a visit to the show "Dirty Rotten Scoundrels" by the Axminster Theatre Group in the Guildhall.

There will be NO meeting in the Conservative Club

23rd. Saturday

Light up Axminster is to hold an event on this date

25th. Monday

18.15

Club Council

29th. Friday

13.00

Business meeting in the Conservative Club

December 2019

13th. Friday

13.00

Christmas Lunch in the Guildhall

19th. Thursday

Christmas Charity Collection at the Tesco Store

27th. Friday

? Lunch meeting ??

January 2020

1st. Wednesday

The Lyme Lunge.

The Club will be working with the Rotary Club of Lyme Regis.

9th. Thursday

18.30

David Jordan, Chairman of the organisation that constructs Sand-Dams will talk about the Sand-Dam project that we are supporting and other projects in which he is involved.

February 2020

28th. Friday

Presidency passes to PP Neil Pollard, PHF

March 2020

13th. Friday

19.00

Rotary Quiz Night

27th. Friday

TBA

Presidents' Night Celebration Dinner at Lyme Regis Golf Club

April 2020

TBA

Blood PressureDay is planned but no details are available

May 2020

13th.Wednesday

Charity Golf Day at Lyme Regis Golf Club. Our members will be joining the members of Lyme Regis Rotary Club to manage this event.

June 2020

21st and 22nd. June

Ax Vale Festival. Our Club members will be assisting at this event.