District Community Service Database
District ComVoc Database: Update 25th November 2012
Please note that to preserve security access to the ComVoc Database has had to be moved to a more secure area.
WARNING: The RIBI TEMPLATE HAS CHANGED YET AGAIN!
Please Log On and select the 'District Members Only' Pages on the left hand button
Select the ComVoc Database from the left hand buttons and the key screen is displayed.
Please note that there is a temporary issue with one of the links of the page which will be resolved shortly - All other links work.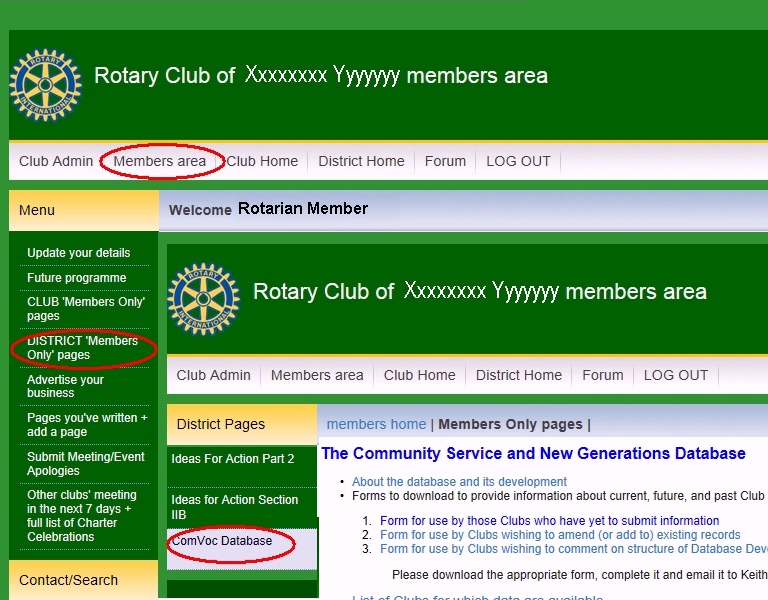 This is the page taken from the Members Only pages ...
The Community, Vocational, and Youth Service Project Database
WW WARNING - since the change in the RIBI Template, several links may no longer be working - these are being investigated but seem to be working again.
This page is updated periodically, but the main items in the database are automatically updated each time there is a change. Presently, to update an entry or to add something new, please download the relevant form from below - amend as appropriate and send to Keith Tovey (keith.tovey@ntlworld.com)
Forms to download to provide information about current, future, and past Club activities
wwww
Please download the appropriate form, complete it and email it to Keith Tovey k.tovey@uea.ac.uk
Following the change in hosting of the Template Website in late October 2014 - some of the following links did not work for a period of time, but as of May 2015 things seem to be working again.
The ComVoc Database was initiated in response to Clubs wanting to know about activities elsewhere in the District. For instance, some Clubs did activities in the past, but for various reasons can no longer do so. For instance they may need more man power and help from another Club might be possible. In other cases, Clubs are exploring new activities, but would welcome advice from Clubs with experience. At an early stage it was recognised that there were significant overlaps with New Generations Activities, and so these have also been included. Though the Database is in its formative stages, it has already been used to assist in this way.
As of May 2016, 70 7777of the 73 Clubs in District 1080 have submitted information and it is important for all to get information so we can share good practice and experience, and I would urge all Clubs to complete forms if they have not done. At present , during the development stage the Database is being developed offline while the full requirements of the database are being assessed. It is hoped that some feedback from District Assembly 2016 and District Conference 2016 will allow the next stage of development to take place.
Currently specific downloads of the database will be made available via this website on a monthly basis. In late 2016 it is hoped that the whole EXCEL database will be downloadable for clubs to make their own selections. At that time it should hopefully be possible for Clubs to modify their own entries in a convenient format which can be emailed for update of the master database. Ultimately the aim is for a fully interactive database to be in place on the District Website. However, before we can develop that we need feedback on exactly how Clubs might wish to use the information, and there will, hopefully, be a few minutes of feedback time in the forthcoming PEPs sessions for Presidents Elect and Vice Presidents Elect to assist in this matter.
District 1280 (1285 from July 1st 2015) are also using a similar system for Community, Vocational and Youth Service work in their District
As a temporary measure, Rotarians may access the basic database in the form of PDF for each aspect.
At present these are in PDF format, but will become available as an EXCEL Spreadsheet in 2015. These files will be updated on a monthly basis -
Download Information of Projects by general Theme
Click on appropriate link below - please note these links may take 15 seconds to load depending on network activity and the screen may go all white as it does so.
Download information from the Database according to District 1080 area
At present these are in PDF format, but will become available as an EXCEL Spread Sheet later in 2015 - These files will be updated on a monthly basis whereas the individual Clubs files are updated automatically as soon as the update information has been received by the ComVoc Committee
Access to folder listing PDF files for Individual Clubs
Note: If a club is not listed then no information currently exists for that Club