Club Treasurers Support
Online Forms, Duties, Gift Aid, Insurance, Links etc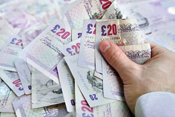 Club Finances
Online forms that you may need
Gift Aid Declaration forms
Insurance
---
Duties of a Club Treasurer
There is an extensive set of documentation and useful guidance in the Members area of the Rotary GBI website. You will need to login, go to the For Members area, then Club and District Support, Document Library and select Treasurer. If you are already logged in to www.rotarygbi.org then follow this link.
Subscriptions 2019-20
RIBI subscription per member £65

District 1285 subscription is £24.00 per member, made up as follows:

£7.55 per member for the General Account
£10 per member for the Conference Account
£2 per member for Sports for the Disabled
£4.45 per member for Summer camp
The last two items are recognised Rotary service programmes and can be charged
to a Charity account if the club wishes, that is entirely up to you.
---
Managing a Club Trust Fund
---
Information Sheets and Manuals
HMRC, Gift Aid and Gift Aid Small Donations Scheme (GASDS)
Insurance
Further documentation and help can be found on the Rotary GBI website in the For Members area. Go to www.rotarygbi.org, login and follow the links for Club and District Support in the Compliance, Secretary and Treasurer sections.
---