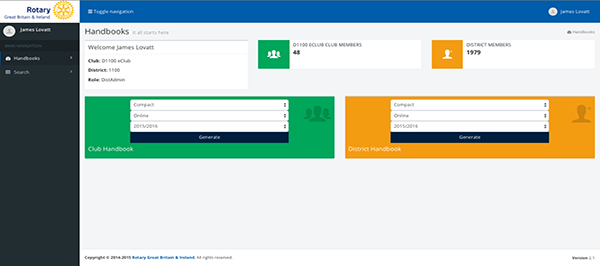 Support for club admins in managing the member databases
DMS - RIBI Data Management System
Login at http://dms.rotarygbi.org using your RI 'My Rotary' login email & password. (You cannot use your RIBI template login details if they are different). DMS is now the recommended way to manage your club databases efficiently.

To Add a member – Go to 'My Area' > Add Member
To Terminate a left member – Go to 'My Area' > My Club > search for member > Click on "rotating arrows" icon on right, and choose terminate etc.
To edit a member's record - Go to 'My Area' > My Club > search for member > Click pencil icon on right
---
The DMS also enables you to create several versions of your Club Directory and District Directory, print business cards, plus search and email members, and for club officers, check the club RIBI invoice.

Clarification for Club Secretaries 12/04/17 re editing rights
If you have any problems contact Roger Glew, District Membership Database Officer

DOWNLOAD THE UPDATED VERSION JUNE 2017
______________________________________________________________________________________
Who has editing rights of Club Members data?
RI approved are: President, Secretary, Treasurer, Membership Chair, Foundation Chair & Executive Secretary (if club choses to have one).
Those given 'Club Admin' status in the template database
All members can edit their own information
If I change information in the RI database or template, does it automatically update the other?
The answer is NO – You need to use the DMS for auto updates.
There is one exception (Club Admin – can edit who are club officers in the template and that does update the RI database)
What is the DMS?
The DMS (Data Management System) is the link between the two databases and updates both databases at once and should be used for:
Adding or Terminating members
Editing members records and checking they sync
Adding the present & future club officers see above
How do I find the DMS?
To be able to log-in you must have already a 'My Rotary' account – ie: you have registered on the RI site (www.rotary.org) - Your RI log-in details are used the enter the DMS
You can also find a link in your member's area of your club template website
What can I do in the DMS?
Produce Club & District Handbooks
Search for member's details and email them
Edit club member's details depending on your editing rights & checking the two databases sync (See: Who has editing rights of Club Members data? Above)
Add & Terminate club members
Add / edit present & future club officers
Club Officers can check latest RIBI club invoice

How do I change a member's email?
At present this cannot be done in the DMS, although a new feature enabling this, is soon to come on stream
Now you must go into each database separately to do it
When adding a new member, it is part of the process in DMS and places it in each database
How can I transfer a member to another club?
If the new club is in District 1285:
Please DO NOT TERMINATE their membership
Contact District Administrator who can transfer them easily for you within the District across both databases. (The member's login for the template will still apply to the member's area of the new club)
District Administrators are
Roger Glew roger.glew@btinternet.com
Clive Gardiner jclivegardiner@gmail.com
Richard Cooper rcooper1881@gmail.com
If the member is moving to a club outside the District
Terminate the member's membership in the DMS
The new club can then pick them up in the Add New Member process
The new club can do nothing till you have terminated the member from your club
So if a new member is moving to your club ensure they have been terminated from their original club
What are Associate members access rights?
They cannot have a 'My Rotary' account (as they cannot be recorded on RI website) and can therefore not log in to the DMS
They can login to the template to edit their own record ONLY (unless made 'Club Admin')
What are Honorary members access rights?
If they are recorded as an honorary member the RI website, they can have a 'My Rotary' account and can therefore access the DMS
They can login to the template to edit their own record ONLY (unless made 'Club Admin')
Can District Officers edit member's records?
No, except for two exceptions (District Admin Officers & District Secretary)
All others have read access across all clubs in the District (not available to club officers), but cannot edit members records by virtue of this position
(They can only edit their own club members if in a RI recognised club role.)
---
Help documents for working in the RI Global database
How to create a My Rotary account
How to change your RI login Email

RIBI Template - Help managing club membership database
To be able to edit or add any information into the template database you have to have
User level 'Club Admin'

We strongly recommend that the club secretary has this access each year, and it can be authorised by the template club website administrator or by district administrator Clive Gardiner who can also check the situation for you.

Allocating Club officers in the RIBI Template database
Where RI only require you add in advance the 5 main officers (President, Secretary, Treasurer, Membership & Foundation Chairman) we ask you enter in the RIBI template database ALL club positions
The process is very streamlined and enables you to do it in under 10mins and should be done as soon as the positions have been decided in advance of the year starting.
Check in the DMS to see that the 5-6 main officer positions have synched across to RI.
(Exec Secretary is an optional club post which allows an extra admin editing rights on the RI database)

Adding club officers for 2018-19