Local clubs' future events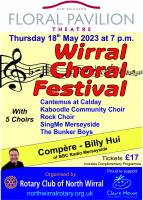 North Wirral - Thu, May 18th 2023 at 7:00 pm - 9:30 pm Wirral Choral Festival
Our Choral Festival returns after a 3-year break (due to Covid). 5 Choirs will perform and this year's compere is Billy Hui of Radio Merseyside.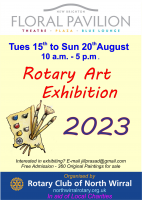 North Wirral - Tue, Aug 15th 2023 at 10:00 am - Sun, Aug 20th 2023 - 12:00 pm Art Exhibition
Our ever popular Exhibition of paintings by local amateur Artists returns to the Floral Pavilion. See Handbill for details.