Local clubs' future events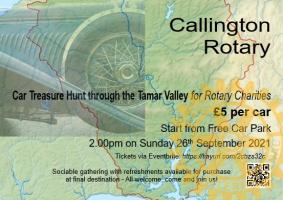 Callington - Sun, Sep 26th 2021 at 2:00 pm - 4:00 pm Avast me Hearties ....
... join us for a dastardly family car treasure hunt.
Or perhaps you can cycle the route. Pre booking advised via Eventbrite. Refreshments available to purchase in the format of a 'cakey tea' for those that make it to the end.
Liskeard & Looe - Fri, Dec 10th 2021 at 7:00 pm - 9:00 pm Concert for Christmas
Seasonal Variety Concert in Wesley Church Liskeard
Liskeard & Looe - Fri, Mar 25th 2022 at 7:00 pm - 9:00 pm Concert
Variety concert in Liskeard Public Hall