Future meetings and events around the district
Tewkesbury - Sat 21st March 2020 at 19.30 - 21.30 Charity Concert at Tewkesbury Abbey
This is our annual Charity Concert at Tewkesbury Abbey in conjunction with the Gloucestershire Youth Orchestras. This year's Rotary charity for this event is Gloucestershire Young Carers. Tickets are available from the Abbey Shop.
Cheltenham North - Sat 4th April 2020 at 12.00 - 19.00 Cheltenham Wine Festival

The Cheltenham Wine Festival will be on Saturday 4th April 2020 at Pittville Pump Rooms.
LIMITED NUMBER OF TICKETS AVAILABLE
Tickets are £25 pp.see Link to Festival Website in "Details"
Cheltenham North - Sat 4th July 2020 at 12.00 - Sun 5th July 2020 - 18.00 Beer and Cricket Fest.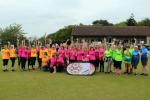 The Rotary Beer and Cricket Fest is planned to take place over the weekend of the 4th/5th July 2020.
This date NOW confirmed
There will also be a link for the purchase of tickets.
See "Details" for more information.
Cheltenham North - Tue 15th December 2020 at 19.30 - 22.30 Carol Concert
The Annual Carol Concert organised by Cheltenham North Rotary Club
Cheltenham North - Sun 10th April 2022 at 01.00 - 23.00 Cheltenham North 50th Anniversary
Cheltenham North Celebrates 50 year's as a Rotary Club.
Details will be provided at a later date of the Celebration Events.