>> LATEST UPDATES 2021/2022 <<
June 2022: Rotary Fellowship Month
May 2022: Youth Service Month
April 2022: Maternity and Child Health Month
March 2022: Water, Sanitation, and Hygien Month
February 2022: Peacebuilding and Conflict Prevention Month
18JAN22: Public Image Workshop (ZOOM 6pm)
The main topic will be a basic introduction to using Canva
You may join the ZOOM session from 17:45 for a 18:00 start
For more information please contact Andy Jarett
To join the workshop please REGISTER in advance
Regards Willem Pietersen (District Secretary)

January 2022: Vocational Service Month
04DEC21: Rotary & Community Champions
It is time to recognise and nominate to Rotary International in Great Britain and Ireland for one of 12 unsung heroes, 6 from within our membership as Champions of Change, and 6 Community Champions from members of the public who have done extraordinary things. Last year District 1100 nominated a winner of the national award Gerry Watkins from Cirencester Rotary, in recognition of his work with the homeless with the "The Big Yellow Bus Project" see https://www.rotarygbi.org/magazine/august-september-2021/champions-awards-simply-making-a-difference/Other nominations were made and are recognised in the District Conference "Crazy Times"
The awards shine a light on the hard work and commitment of people who are vital in our communities and abroad, but are sometimes overlooked.
Guidelines and nomination forms for both Champions of Change and the Community Champion Awards will be available on the member's area of the rotarygbi.org website as shown below (you need to be signed in to the website to access the link).
Champions Awards Webpage: https://www.rotarygbi.org/members/events/champions-awards/
If you would like to nominate an individual for one of these awards please contact Bob Handley. Nomination forms must be supported by the District Governor and should be submitted to him no later than the 20th January 2022 so that it can be reviewed and submitted to RIBI by 31st January 2022.

Bob Handley (Community Team Leader)
December 2021: Disease Prevention and Treatment Month
27NOV21: Know Your Community - Health Fair (ZOOM 2-4:30pm)
Join the Health Fair and think about putting one on in your community
It would give an opportunity to Talk to other community members
For more information please contact Bob Handley
To join the workshop please REGISTER in advance

23NOV21: District Council Meeting (ZOOM 7-8:30pm)
To join the meeting please REGISTER in advance
After registering, you will receive a confirmation email containing information about joining the meeting
Voting delegates will be asked to approve the district report and accounts

Two Executive Officers have been nominated, and approval is required for their appointment from the clubs through their voting delegates. In terms of the constitution, as there is only one nomination per Officer post, the nominees will be voted in automatically at the council meeting

If anyone has any questions or comments on any of the nominees, they should make these in writing to the DGE, Jim Currie, before the District Council so that they can be considered prior to the meeting.
A quorum for this Council is 50% of the clubs in the district attending:

Club Secretaries, please encourage all your voting delegates to attend, so that the business of the District can be completed on the night.


If all voting delegates attend, the meeting will be quorate, and all the necessary votes can be completed.
Please let me know if you have any questions.
Regards Willem Pietersen (District Secretary)
18NOV21: WASH Rotary Action Group (6pm) and repeated 19NOV21 (10am)
PDG Carolyn Meub supported by Erica Gwynn, Manager, Water Sanitation Area of Focus,
three Rotarians from Africa and Lindsay Denny, an expert with Emory University, UNICEF and
the World Health Organization (WHO) will share their experience and learnings
To register in advance select
Nov18
or
Nov19
15NOV21: District Governor Gazette NOVEMBER
Please read the Graham Ogden's( DG) second Gazette publication here
11NOV21: Infocus Learning Series #3 "Programmes of Scale" (ZOOM 5pm)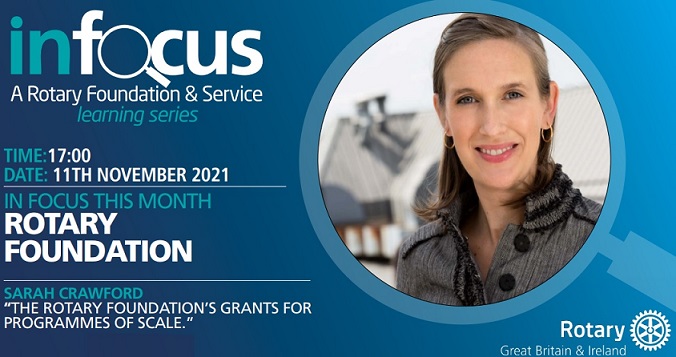 The InFocus series gives members and clubs practical and impactful ways to take Rotary's Areas of Focus into their communities, covering a different topic each month with a leading guest speaker, this month Sarah Crawford
Please REGISTER in advance
09NOV21: Public Image Workshop (ZOOM 6pm)
Public Image Workshop meeting is expected to last approximately an hour
You may join the ZOOM session from 17:45 for a 18:00 start
For more information please contact Andy Jarett
To join the workshop please REGISTER in advance
Regards Willem Pietersen (District Secretary)

04NOV21: WASH Rotary Action Group (6pm) and repeated 05NOV21 (10am)
Learn from WHO experts, fellow Rotarians, and WASH practitioners
Learn about tools and resources you can use to keep staff and patients safe through proper waste separation, management, and treatment
Learn about strategies to reduce the impact of incineration on the environment
To Register in advance select Nov4 or Nov5

November 2021: Rotary Foundation Month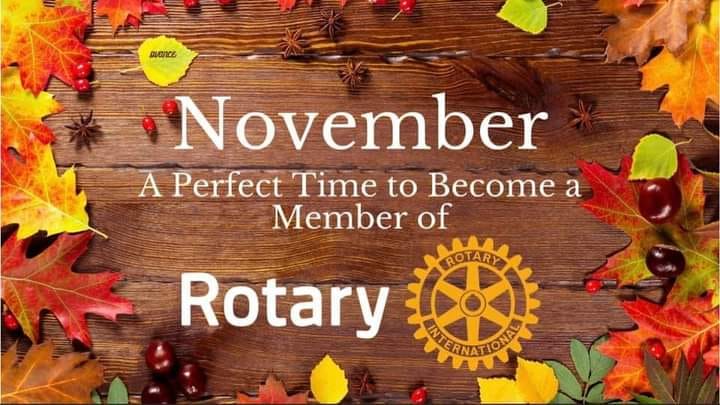 22OCT21: District Environment Meeting (ZOOM 10am)
District Environment Meeting Club environment Officers and others interested are invited to a District Environment meeting

For more information please contact Bob Handley or Kirsten Weber
To join the meeting please REGISTER in advance
07OCT21: District Governor Gazette OCTOBER
Please read the Graham Ogden's( DG) first Gazette publication
here
02OCT21: District Conference 2022 Information Update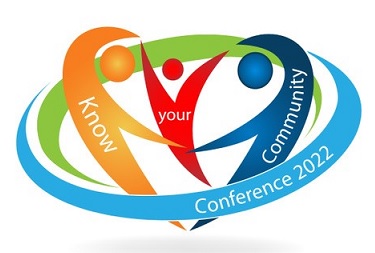 The 2022 Rotary District 1100 Conference will be an E-Conference that will be launched on the 15th March 2022
There will be a separate evening social event (including District Governor Handover)
on Saturday 25th June 2022 at Jury's Inn, Cheltenham
More details and how you can register to follow soon..
>> ARCHIVE 2020/2021 <<
To view archived information visit the District UPDATES Archive from the dropdown WHAT WE DO list