Rotary's Vision for 2019-2020 is that Rotary Connects the World. Together we see a world where people unite and take action to create lasting change - across the globe, in our communities and in ourselves.
Mark Daniel Maloney, Rotary International President 2019-2020, expands on this message. Read it here.
District Conference 2020
There is still time to register for Conference. It's going to be a great event, with really good speakers and great entertainment. The hotels still have availability, so come and join your DG Judy Powell at our annual celebration.
Download the full Conference Programme here.
For further information plus the Registration Form click here
If you have any questions please contact Jan Harris, Conference Chair, 07801 803359, janaharris@btinternet.com
Bill Gates continues support for End Polio
Rotary and the Bill & Melinda Gates Foundation have just announced the extension of our fundraising partnership. The Gates Foundation will continue matching donations to Rotary's PolioPlus program 2-1, up to $50 million every year. Watch the announcement video here.
Welcome to Rotary District 1100
We welcomed as our new District Governor for 2019-2020 Judy Powell, seen here with Joan Goldsmith who was her predecessor. To view all of the photographs taken at the Handover click here.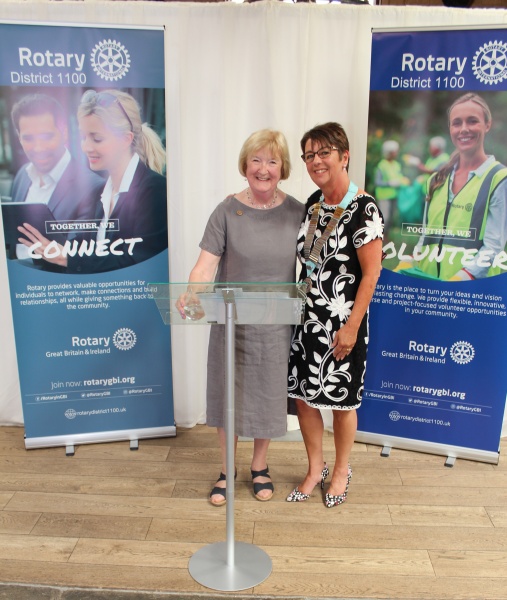 We are people of action in District 1100, making a difference in our communities in Gloucestershire, Worcestershire, Herefordshire, Bristol, Swindon and parts of Monmouthshire, Somerset and Wiltshire.
Rotary is one of the world's largest and most successful global membership and humanitarian service organisations, with 1.2 million members in over 200 countries. It was founded over 100 years ago as a business networking club and this is still part of Rotary life. Ethical practice is encouraged and, with members drawn from all walks of life, the opportunities to network are endless.
Our very lively District has 63 active clubs and over 1,700 members, all serving their communities and having great fun at the same time. We pride ourselves on having a diverse membership: men and women, young and senior, from different walks of life, nationalities and faiths all serving together and with common values.
So, if you are looking to have fun meeting new people and getting actively involved in your local community, there is an increasingly wide variety of options. These can include attending traditional club meetings to enjoy friendship, listening to stimulating speakers on topical issues and assisting local or international humanitarian projects.
Interested in finding out more?
New members are always welcome and, with the unique character of each Rotary club, the opportunities are limitless. Our clubs meet either for breakfast, lunch, in the evening or even at the weekend. So what are you waiting for? Start your Rotary journey today by contacting your local Rotary club.