Local clubs' future events
Ewell - Fri 30th April 2021 at 10.00 - Sun 30th May 2021 - 12.00 Surrey216

Rotarian John Davis is cycling through 216 towns, villages and hamlets in Surrey to raise funds for the charity debra.
Epsom - Sat 1st May 2021 at 18.00 - 22.00 Epsom and Ewell Showcase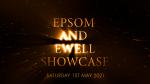 Need to perform and show your talents? Poets, performers, singers, choirs or comedians?? Do you want to appear streaming on Epsom & Ewell Showcase on 1st May? Email showcase@epsomrotary.uk. Phone 01372 813 679
Epsom - Sat 29th May 2021 at 08.44 - 10.44 Young Photographer

A competition for Scouts and Guides to show their photography skills
Ashtead - Sat 5th June 2021 at 10.00 - 15.00 End Plastic Soup Day
Day of activities to launch End Plastic Soup campaign and Rotary's seventh area of focus: to support the environment.