District 1145 brings together 89 Rotary Clubs in 6 Greater London Boroughs, Surrey, East & West Sussex and neighboring parts of Hampshire to develop fellowship and service opportunities.
A winning photograph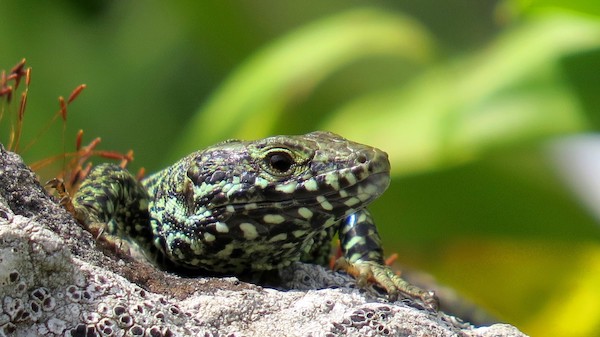 (July 2021) Zac Welling, sponsored by the RC of Camberley, submitted this amazing photo to the Young Photographer competition earlier this year. His photo won the District Young Photographer (Junior category) and was put forward to the National competition - and has now won the Junior category there too! Congratulations to Zac. (To see the other winning photographs in Junior, Intermediate and Senior categories click here and if you would like to enter the 2021/2022 competition click here for more information.)
Godalming Rotary Community Corps
Congratulations to the Godalming Rotary Community Corps (Sewing4Good) who have received one of the Godalming Mayor's 2021 Awards for Volunteering. Sewing4Good has so far been self-funding and has raised almost £7,000.
5K May - Run for Heroes with RC of Bognor Regis
(May 2021) Run for Heroes is launching its latest challenge by turning the month of May into a celebration of physical activity with their 5kMay campaign.
Since March last year Rotarians in Bognor Regis have been working closely with several local primary schools and their dedicated teachers – who are their Heroes - to help feed those children who do not benefit from the Free School Meal Voucher scheme and where they have, to date, raised over £37000. Despite the lifting of Covid restrictions, the difficulties do, regrettably, continue and they are now looking to help those children over the summer holidays. The Rotarians in Bognr calculate that they would need to raise some £1000 for each week of the holidays.
You can take part on your own or as a group, donate your £5 to The Rotary Club of Bognor Regis, then nominate 5 friends or family members to complete their own 5km challenge and support us. Sign up to the challenge at here.
Surrey 216 - RC of Ewell's Bike Ride for DEBRA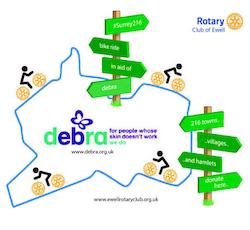 (April 2021) Between April and June Rotarian John Davis will be cycling through 216 towns, villages and hamlets in Surrey to raise money for the charity DEBRA, for people whose skin doesn't work.
Read more about it and see photos here.
See details of the routes here and click here to donate.
Our Involvement with COVID-19 Vaccination - a message from the Rotary International President and The Rotary Foundation Chair
Concert with a difference
(March 2021) Every March the Rotary Club of Guildford District organises a school concert, held at the GLive venue in Guildford, Surrey with some 350 pupils from four local schools - Christ's College Guildford, Duke of Kent School, George Abbot School and Prior's Field School.
Due to the national lockdown restrictions this year's 9th concert was cancelled so instead pupils from each of the school's choirs recorded a version of the Coldplay song 'Fix You' to raise money for one of the Rotary supported charities - Challengers.
Click here to read more about Challengers, listen to the recording and support Challengers.
Young Writer competition results announced
(March 2021) Creative writing is a talent to be celebrated and to be able to write is a special gift. The annual Rotary Young Writer competition celebrates this talent. Winners in the District-level competition for 2021 have just been announced in three categories covering ages from 7 - 17 years drawn from schools across our District.
The theme for 2021 is "My Happiest Day" - read the winning contributions and find out more here.



Rotarians!

We welcome stories about the activities of any of the 1145 Clubs. Contributions from members of the District Team would also be welcome.