District 1145 brings together 90 Rotary Clubs in 6 Greater London Boroughs, Surrey, East & West Sussex and neighboring parts of Hampshire to develop fellowship and service opportunities.
Sun Never Sets in Rotary - a global event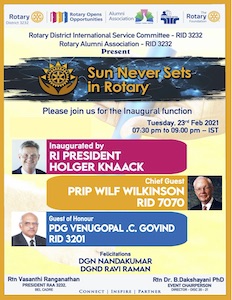 (Tuesday 23 February) Marking World Peace and Understanding Day this Global event initiated by District 3232 in India brings together clubs in 30 countries around the world in a global celebration of Rotary. Sessions include cultural song and dance and the latest progress on End Polio Now from its leader in Pakistan, Aziz Memon, from 16.45 - 18.15hrs (click here to register).
This global event initiated by District 3232 from Chennai, India enables you to visit with thirty Rotary Clubs around the world in 24 hours back to back meetings. Clubs and Districts on every continent are creating events to form a unique, exciting non-stop 24 hour programme, which you can access.
Our Rotary South session is hosted by Cheam and Sutton with a programme including Global Scholars and Rotaractors in a fun evening led by Ron Daniels and runs from 19.30 - 21.00hrs.
Come and enjoy Global Rotary with us. Find out more here.
Rotary Club of Croydon awards its first Rotary Stars Award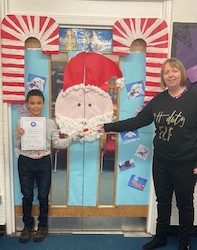 (December 2020) The Rotary Club of Croydon recently launched the Rotary Stars Award, an annual scheme giving the opportunity to recognise and reward primary school age children for acts of good citizenship.
The Club is pleased to announce that our their winner, a pupil at Broadmead Primary School, is 10-year-old Nathan Findlator who received the award in recognition of his great generosity and thoughtfulness during the COVID Pandemic. Nathan received a certificate, a badge, and a copy of The Christmasaurus written by Tom Fletcher.
Due to COVID restrictions, Head Teacher Sarah Hunter presented the certificate and prize to Nathan on behalf of Patricia Painting, President of the Rotary Club of Croydon.
If you would like more information about the Rotary Stars Citizenship Award, together with the Teachers' Information document, please view our website.
Schoolbooks for students in Nairobi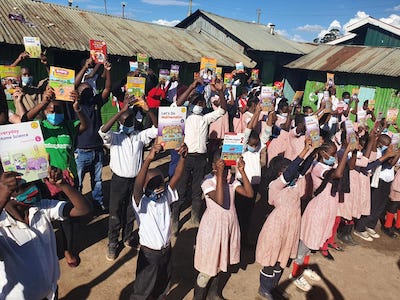 (November 2020) These students attend a school in a deprived, poor area of West Nairobi, called Excel Emmanuel. The children come from families that cannot afford to dress them or feed them and yet the children are aspirational, hard workers, with good academic achievements. Twickenham upon Thames Rotary Club was initially introduced to a Charity, called Porridge and Rice from Whitton (part of Twickenham), several years ago. An initial donation by the Club paid for some of daily food - one cup of porridge and rice per child.
In February 2020 Jan Doskar from the Club went to Kenya to help build a Sand Dam and afterwards he visited the school. There are nearly 450 children in packed, dark classrooms, short of everything and with about one book per classroom. On his return Jan asked for support for the textbooks. Between them Twickenham upon Thames and Titsey Clubs donated £300.
Fellow Rotarians at the RC of Milimani (in Nairobi) bought the books and presented them to the children on our behalf.
One day, if we have more funds, it would be great to give them solar panels so they can learn in a reasonable light.
The WHO Africa Region declared wild polio-free!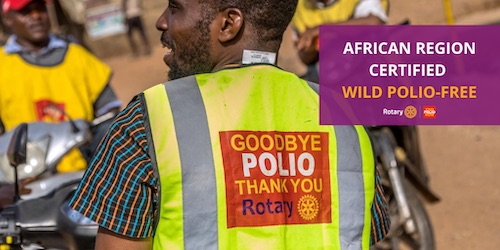 (25 August 2020) The World Health Organization's (WHO) Africa region has officially been certified free from wild poliovirus, signifying a major milestone in the battle to eradicate the disease worldwide.
Read a summary of the world-wide media coverage of this achievement.
This progress is the result of a decades-long effort across the 47 countries which make up the WHO's African region and now means that five of the six WHO regions, which represent 90% of the world's population, will be free of wild polio.
Rotary members have played an invaluable role in the effort to rid the African region of wild polio.
By raising funds for polio eradication, advocating with world governments and national and local leaders, and raising awareness, Rotarians have contributed nearly US $890 million to conquer polio in the region.





Rotarians!

We welcome stories about the activities of any of the 1145 Clubs. Contributions from members of the District Team would also be welcome.