District 1145 brings together 90 Rotary Clubs in 6 Greater London Boroughs, Surrey, East & West Sussex and neighboring parts of Hampshire to develop fellowship and service opportunities.
World Polio Day 2020 - Saturday 24 October
Thousands of Rotary clubs across the world take action on World Polio Day to raise awareness, funds and support to end polio. This vaccine preventable disease still threatens children in parts of the world today.
Many polio related activities will be using the colour purple, which has become a symbolic colour in the fight against polio, inspired by the colour of the dye painted on the little finger of a child to signify they have received a potentially life-saving polio vaccine.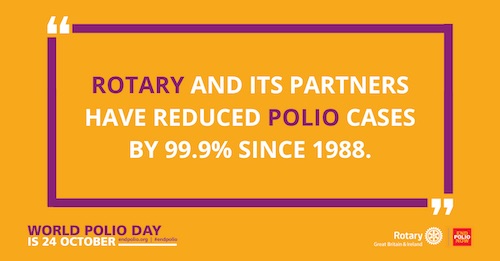 Globally, more than 2.5 billion children have been protected against the disease, which have reduced the number of cases by 99.9% from around 1,000 cases per day in 125 countries. Rotary has committed to raising US$50 million each year to support global polio eradication efforts and thanks to the Bill and Melinda Gates Foundation every £1 we raise is matched 2-to-1 so is worth £3.
Read more about Rotary's End Polio Now campaign here
Rotarian runs the London Marathon 2020 for End Polio Now and Embrace CVoC

Caroline Easton, the President of Chichester Priory Rotary Club and the District Governor 2022/23, volunteered to take part in the virtual London Marathon on Sunday 4 October. For the first time in its history, participants were able to run, walk or jog the 26.2 miles from wherever they are in the world and will have 24 hours to complete the distance. Caroline will be raising much-needed funds for Embrace CVoC and End Polio Now.
Caroline says "I will take on the world's greatest marathon, since it's my chance to do the Virgin Money London Marathon – my Way. I will (fingers crossed) walk from Emsworth to Chichester and the Chichester Park Hotel and then walk back. I hope people will support me in this challenge by cheering me on. If people want to donate to these two great charities they can through my Virgin Money page."
Rotary Club of Croydon launches Rotary Stars Citizenship Award
An exciting new partnership project with Broadmead Primary School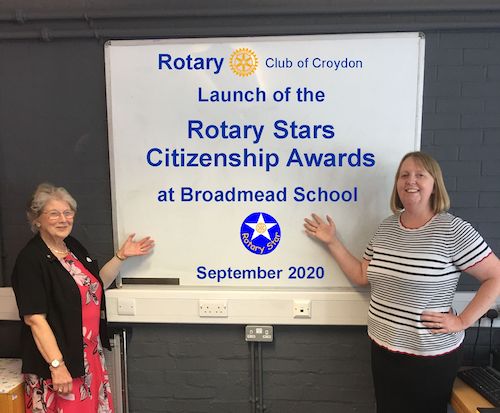 (September 2020) Awards, comprising a personal certificate of achievement, a book token and a lapel badge, will be made annually to children, selected by their teachers and head teacher.
The children will have demonstrated or performed an act of community service such as helping or supporting others, their school, their community, the environment, etc. In effect they will be demonstrating Rotary's ideal of 'Service above Self'.
The Rotary Stars project is open and suitable for all children irrespective of age, talent, or academic ability. It is all down to personal achievement with no competition element.
The WHO Africa Region declared wild polio-free!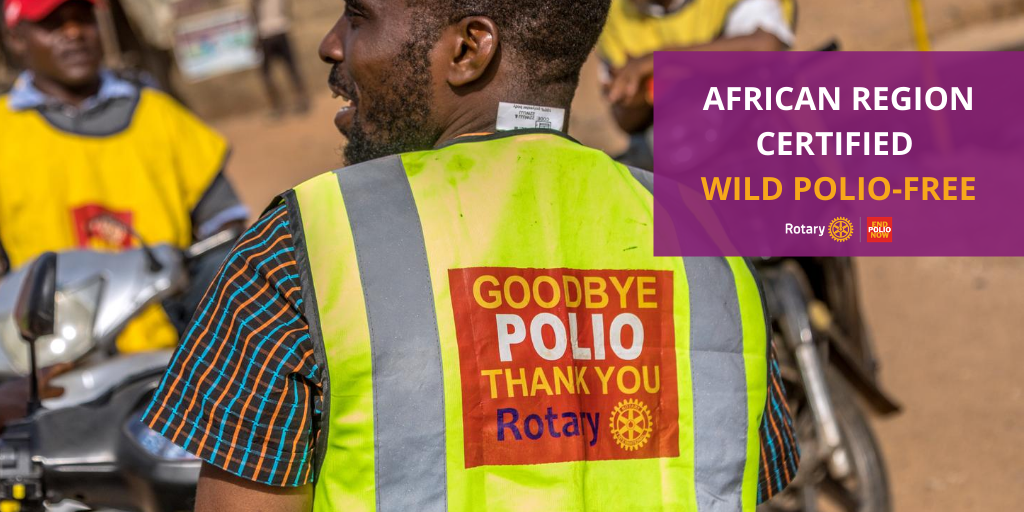 (25 August 2020) The World Health Organization's (WHO) Africa region has officially been certified free from wild poliovirus, signifying a major milestone in the battle to eradicate the disease worldwide.
Read a summary of the world-wide media coverage of this achievement.
This progress is the result of a decades-long effort across the 47 countries which make up the WHO's African region and now means that five of the six WHO regions, which represent 90% of the world's population, will be free of wild polio.
Rotary members have played an invaluable role in the effort to rid the African region of wild polio.
By raising funds for polio eradication, advocating with world governments and national and local leaders, and raising awareness, Rotarians have contributed nearly US $890 million to conquer polio in the region.
Leatherhead light up the old pumping station in bright purple!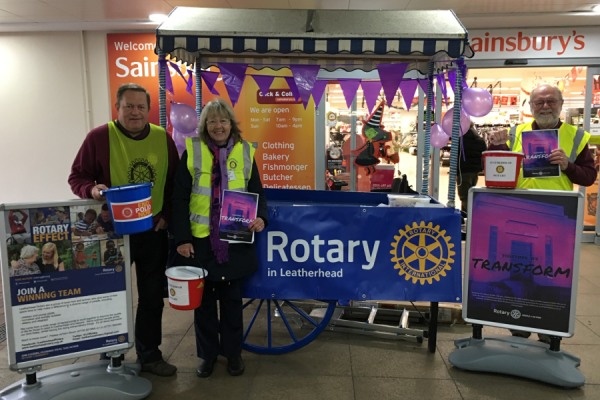 Throughout the evening of Wednesday 24th October, many visitors to Leatherhead will hopefully have seen the town's old pumping station lit up in bright purple! This was one of four landmarks around the town lit up in purple by Leatherhead Rotary, as part of a global initiative by Rotary Clubs around the world to raise awareness of World Polio Day and 'End Polio Now', Rotary's international polio eradication campaign.

Link to this story on the Leatherhead Rotary Club website





"In the next 30 days..." lists some more exciting 1145 Club Events!
Rotarians!

We welcome stories about the activities of any of the 1145 Clubs! Contributions from members of the District Team would also be welcome!