District 1145 brings together 91 Rotary Clubs in 6 Greater London Boroughs, Surrey, East & West Sussex and neighboring parts of Hampshire to develop fellowship and service opportunities.
Young Photographer competition results announced
(March 2021) The digital camera has revolutionised the photographic world with instant results and the end of the concept that the camera never lies. As a talent, and an art form, we celebrate the photographic skills of thousands of young people with a sequence of competitions that give them the chance to demonstrate and display just what they can produce. Winners in the District-level competition for 2021 have just been announced in three categories covering ages from 7 - 17 years.
The theme for 2021 is "Wild Nature" - see the winning photos and find out more here.
Our Involvement with COVID-19 Vaccination - a message from the Rotary International President and The Rotary Foundation Chair
Concert with a difference
(March 2021) Every March the Rotary Club of Guildford District organises a school concert, held at the GLive venue in Guildford, Surrey with some 350 pupils from four local schools - Christ's College Guildford, Duke of Kent School, George Abbot School and Prior's Field School.
Due to the national lockdown restrictions this year's 9th concert was cancelled so instead pupils from each of the school's choirs recorded a version of the Coldplay song 'Fix You' to raise money for one of the Rotary supported charities - Challengers.
Click here to read more about Challengers, listen to the recording and support Challengers.
Young Writer competition results announced
(March 2021) Creative writing is a talent to be celebrated and to be able to write is a special gift. The annual Rotary Young Writer competition celebrates this talent. Winners in the District-level competition for 2021 have just been announced in three categories covering ages from 7 - 17 years drawn from schools across our District.
The theme for 2021 is "My Happiest Day" - read the winning contributions and find out more here.
Rotary Club of Croydon awards its first Rotary Stars Award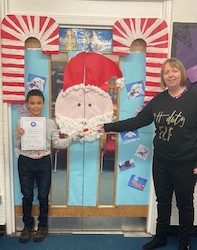 (December 2020) The Rotary Club of Croydon recently launched the Rotary Stars Award, an annual scheme giving the opportunity to recognise and reward primary school age children for acts of good citizenship.
The Club is pleased to announce that our their winner, a pupil at Broadmead Primary School, is 10-year-old Nathan Findlator who received the award in recognition of his great generosity and thoughtfulness during the COVID Pandemic. Nathan received a certificate, a badge, and a copy of The Christmasaurus written by Tom Fletcher.
Due to COVID restrictions, Head Teacher Sarah Hunter presented the certificate and prize to Nathan on behalf of Patricia Painting, President of the Rotary Club of Croydon.
If you would like more information about the Rotary Stars Citizenship Award, together with the Teachers' Information document, please view our website.
Schoolbooks for students in Nairobi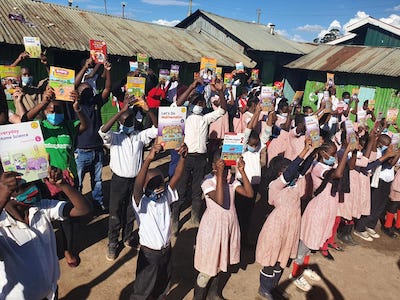 (November 2020) These students attend a school in a deprived, poor area of West Nairobi, called Excel Emmanuel. The children come from families that cannot afford to dress them or feed them and yet the children are aspirational, hard workers, with good academic achievements. Twickenham upon Thames Rotary Club was initially introduced to a Charity, called Porridge and Rice from Whitton (part of Twickenham), several years ago. An initial donation by the Club paid for some of daily food - one cup of porridge and rice per child.
In February 2020 Jan Doskar from the Club went to Kenya to help build a Sand Dam and afterwards he visited the school. There are nearly 450 children in packed, dark classrooms, short of everything and with about one book per classroom. On his return Jan asked for support for the textbooks. Between them Twickenham upon Thames and Titsey Clubs donated £300.
Fellow Rotarians at the RC of Milimani (in Nairobi) bought the books and presented them to the children on our behalf.
One day, if we have more funds, it would be great to give them solar panels so they can learn in a reasonable light.





Rotarians!

We welcome stories about the activities of any of the 1145 Clubs. Contributions from members of the District Team would also be welcome.