District 1145 brings together 90 Rotary Clubs in 6 Greater London Boroughs, Surrey, East & West Sussex and neighboring parts of Hampshire to develop fellowship and service opportunities.
Schoolbooks for students in Nairobi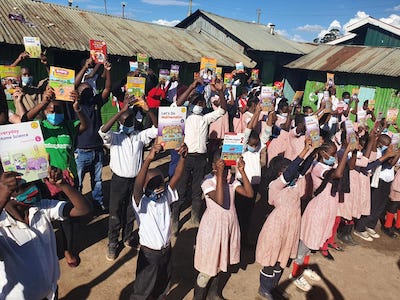 (November 2020) These students attend a school in a deprived, poor area of West Nairobi, called Excel Emmanuel. The children come from families that cannot afford to dress them or feed them and yet the children are aspirational, hard workers, with good academic achievements. Twickenham upon Thames Rotary Club was initially introduced to a Charity, called Porridge and Rice from Whitton (part of Twickenham), several years ago. An initial donation by the Club paid for some of daily food - one cup of porridge and rice per child.
In February 2020 Jan Doskar from the Club went to Kenya to help build a Sand Dam and afterwards he visited the school. There are nearly 450 children in packed, dark classrooms, short of everything and with about one book per classroom. On his return Jan asked for support for the textbooks. Between them Twickenham upon Thames and Titsey Clubs donated £300.
Fellow Rotarians at the RC of Milimani (in Nairobi) bought the books and presented them to the children on our behalf.
One day, if we have more funds, it would be great to give them solar panels so they can learn in a reasonable light.
Rotary Club of Croydon launches Rotary Stars Citizenship Award
An exciting new partnership project with Broadmead Primary School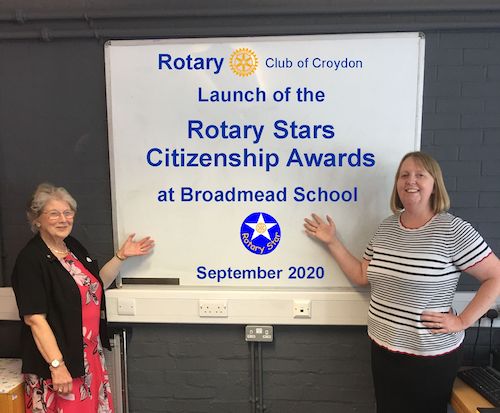 (September 2020) Awards, comprising a personal certificate of achievement, a book token and a lapel badge, will be made annually to children, selected by their teachers and head teacher.
The children will have demonstrated or performed an act of community service such as helping or supporting others, their school, their community, the environment, etc. In effect they will be demonstrating Rotary's ideal of 'Service above Self'.
The Rotary Stars project is open and suitable for all children irrespective of age, talent, or academic ability. It is all down to personal achievement with no competition element.
The WHO Africa Region declared wild polio-free!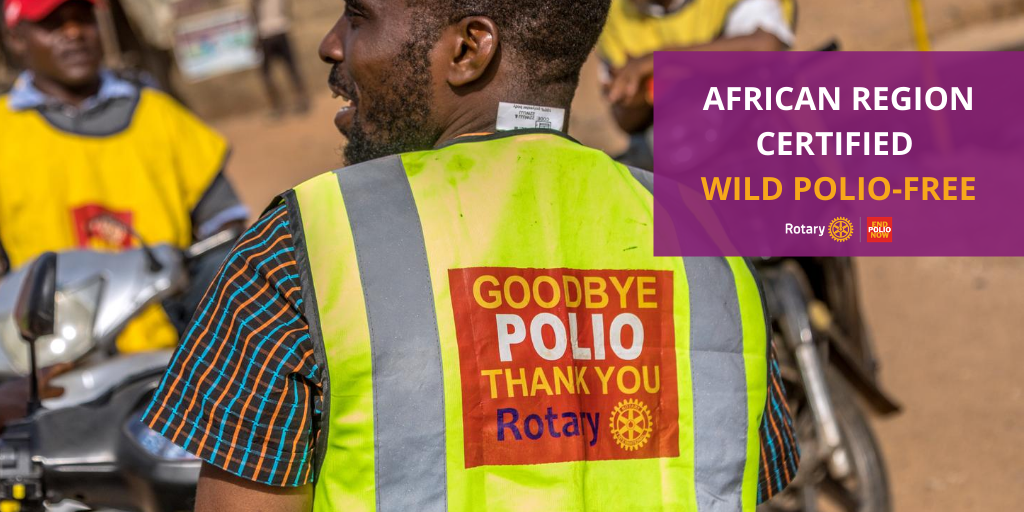 (25 August 2020) The World Health Organization's (WHO) Africa region has officially been certified free from wild poliovirus, signifying a major milestone in the battle to eradicate the disease worldwide.
Read a summary of the world-wide media coverage of this achievement.
This progress is the result of a decades-long effort across the 47 countries which make up the WHO's African region and now means that five of the six WHO regions, which represent 90% of the world's population, will be free of wild polio.
Rotary members have played an invaluable role in the effort to rid the African region of wild polio.
By raising funds for polio eradication, advocating with world governments and national and local leaders, and raising awareness, Rotarians have contributed nearly US $890 million to conquer polio in the region.
Leatherhead light up the old pumping station in bright purple!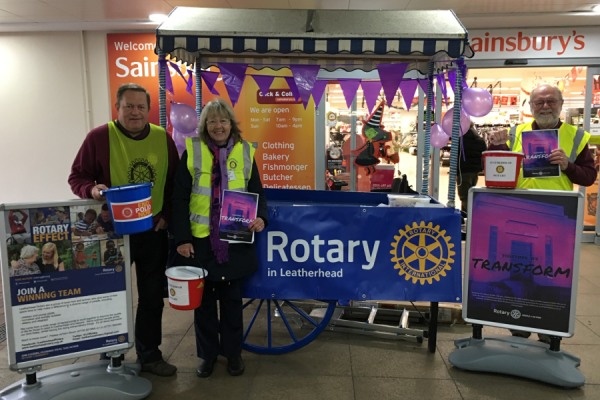 Throughout the evening of Wednesday 24th October, many visitors to Leatherhead will hopefully have seen the town's old pumping station lit up in bright purple! This was one of four landmarks around the town lit up in purple by Leatherhead Rotary, as part of a global initiative by Rotary Clubs around the world to raise awareness of World Polio Day and 'End Polio Now', Rotary's international polio eradication campaign.

Link to this story on the Leatherhead Rotary Club website





Rotarians!

We welcome stories about the activities of any of the 1145 Clubs! Contributions from members of the District Team would also be welcome!