District 1145 brings together 85 Rotary Clubs in 6 Greater London Boroughs, Surrey, East & West Sussex and neighbouring parts of Hampshire to develop fellowship and service opportunities.
Rotary Youth Leadership Awards (RYLA) 2023
(August 2023) Clubs in this District sponsored young people to attend one of two RYLA courses this summer. Find out more about RYLA here and watch what went on by clicking to view the video below.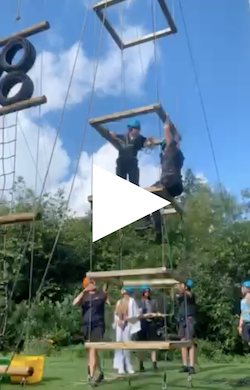 Community Champion 2023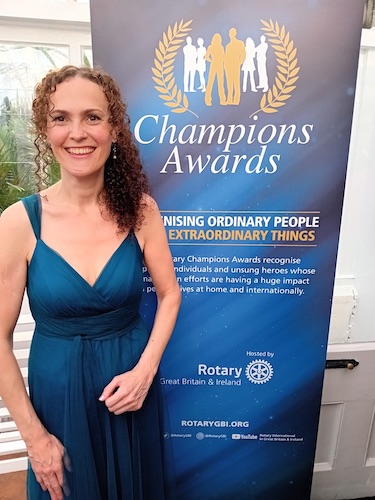 On Saturday 17 June, at an awards dinner held at Birmingham's Botanical Gardens, Sarah Clay was awarded her certificate as a Rotary Community Champion. Sarah was one of seven awards across Great Britain and Ireland and she was sponsored by the Rotary Club of Kingston upon Thames for her outstanding community work during and after the Covid lockdown.
Sarah Clay loves to see people believing in themselves, growing in confidence, and taking steps towards fulfilling their potential which is why she founded the Voices of Hope Charity in 2019. As the lockdown came Sarah identified the needs of her local community and brought together volunteers and organisations who hadn't worked together in a focused effort to address these needs.
Voices of Hope started the BRITE ( Building Resilience in Today's Environment ) Box project to address the increasing problem of food hunger, providing over 30,000 meals and food parcels to those in need across Richmond, Kingston and Southwark.
Sarah also started the Kingston Women's Hub -a partnership of organisations that brings holistic support to women recovering from abuse and long-term physical and mental health issues with 135 women in weekly attendance.
Sarah's outstanding project management and determination to put service above self has led to her receiving the Mayor of Kingston's Community Awards in 2020 and subsequently a British Empire Medal in the 2022 Honours List.
World Immunisation Week (24 - 30 April 2023)
World Immunisation Week is an opportunity to raise awareness about the effectiveness of vaccines and mobilise community support for immuniSation.
In July 2022, WHO and UNICEF reported the largest sustained decline in childhood vaccinations in approximately 30 years. An estimated 12.5 million children in the world are totally unvaccinated.
Vaccination is one of the best tools we have to improve people's health and well-being. Global vaccination programs for preventable diseases, such as polio, need to continue to protect vulnerable children and prevent outbreaks.
Rotary members have proven the good that vaccines do by immunizing 3 billion children against polio and reducing the cases of polio by 99.9% since 1988. But we know the job isn't done until every child is vaccinated, and polio is stopped for good.
Hats for Premature Babies in Ukraine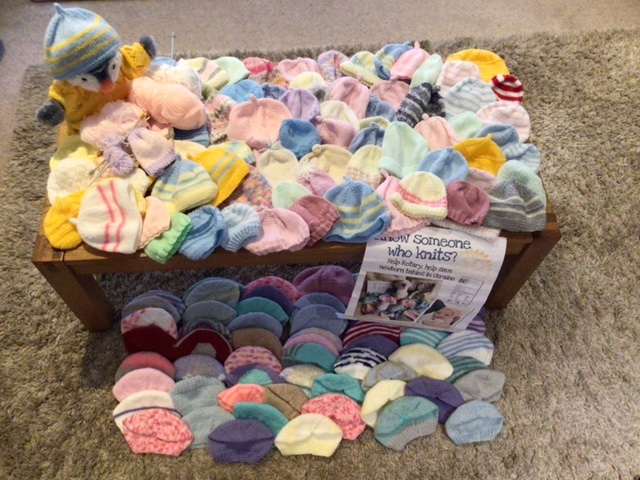 (April 2023) Here are some of the hats that have been knitted for The Rotary Premature Baby Hats for Ukraine appeal. Shepperton Aurora members, friends, family and the local community are delighted to have supported this project. They have all been busy since 17 March when they were asked for support. This was at their Race Night where they also raised £1500 for Ukraine.
Joey, the 8-year old grandson of a member said 'awesome Nanna' and he's quite right!
Shepperton Aurora Club have involved old and young - they even had a lady send 50 from Bournemouth!
Poppy the Club penguin is also sporting Ukrainian colours, wearing hat and matinee jacket! The knitting continues.
World's Greatest Meal raises £1000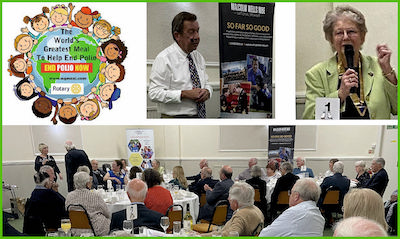 (November 2022) Croydon Rotary Club's recent World's Greatest Meal lunch, the first since 2019, far exceeded all expectations by raising £1000 for the End Polio Now Campaign (and each dollar raised is tripled by the Bill and Melinda Gates Foundation).
Over the last 35 years, Rotary members, working with communities around the world, have contributed more than US$2.1 billion and countless volunteer hours to the fight to end polio. Inspired in part by Rotary's volunteer commitment and fundraising success, the Global Polio Eradication Initiative (GPEI) was launched in 1988.
Read more about Croydon's World's Greatest Meal event here.
Rotarians!

We welcome stories about the activities of any of the 1145 Clubs. Contributions from members of the District Team would also be welcome.