Wed 27/01/2021 -
Televising Horse Racing: talk by Denise Large
Chichester Priory - Denise was Director of Racing @ Channel 4 for many years, directing filming of events such as the Grand National. She now directs televising racing events all over the world.
Thu 28/01/2021 -
district E-Meeting (online via Zoom)
19.00 for 19.30: Rotary Peace-Building and Conflict Prevention with James Onions

Mon 05/04/2021 -
CAR BOOT FAIR
Burgess Hill & District - at Burgess Hill Academy, Burgess Hill. To book use the contact form.
Sat 10/04/2021 -
Leadership Development Seminar
...for all members of the District Team 2021-2022. Via Zoom, exact timings to be confirmed.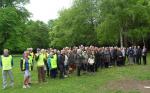 Sun 09/05/2021 -
The Waterways of Shepperton 10km Sponsored Walk
Shepperton and Sunbury - Raise money for your own preferred Charity by completing this walk. The event will be lead & marshalled by Rotary members.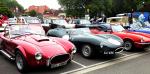 Sun 13/06/2021 -
Oxted Boot Fair
Titsey & District - Titsey Rotary hopes to organise its 15th charity boot fair on Master Park (subject to Covid regulations)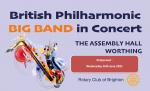 Wed 16/06/2021 -
Big Band Concert, postponed until 16/06/2021
Brighton - Swing along with the Rotary Club of Brighton at an evening of Big Band Music played con molto brio by the British Philharmonic Big Band with Frank Sinatra soundalike Frank Cognoscenti, and support the Care for Veterans and Prostate Cancer Charities.
more
Thu 08/07/2021 -
District Council

Sun 15/08/2021 -
Oxted Boot Fair
Titsey & District - Titsey Rotary hopes to organise its 16th charity boot fair on Master Park (subject to Covid regulations)
Sat 30/10/2021 -
District Council
venue to be confirmed
Sat 23/04/2022 -
District Assembly / PEPS 2
St Catherine's School, Bramley