Welcome to Leatherhead Rotary
Leatherhead Rotary is part of a worldwide organisation of over 1.2 million members in around 30,000 clubs, each with its own character and style.
The Leatherhead club was founded in April 1953 and currently has an active membership of around 25 like-minded men and women of all ages, whose aim is to help the community locally, nationally and internationally.
For further information about Leatherhead Rotary or if you think we could help you, please contact Simon Edmands on 07753 821964 or leatherheadrotary@gmail.com
DONATE TO ROTARY CLUB OF LEATHERHEAD

The Rotary Club of Leatherhead supports local and international charities and initiatives year round. If you would like to support our work so that we can continue to support others, donations can be made through JustGiving using the link below: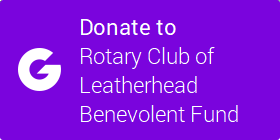 SUPPORT US BY SHOPPING AT AMAZON SMILE

Did you know you can support the charitable works we undertake by shopping at Amazon Smile? To do so, follow these few simple steps:
1. Head to the Amazon Smile website (https://smile.amazon.co.uk).
2. Sign-in using your regular Amazon account details.
3. Click the drop-down arrow at top left beside 'Supporting:...', and under the default listed charity, select 'Change'
4. Under 'Or pick your own charitable organisation:', search for Rotary Club of Leatherhead Benevolent Fund.
5. Start shopping! Amazon will donate 0.5% of all your spending through the site (ex. VAT and shipping costs). Remember to shop through smile.amazon.co.uk, rather than their regular homepage.