Future district events
Tue, Jan 9th 2024 at 7:00 pm - 9:00 pm District Executive Meeting
Meeting of District Officers on Zoom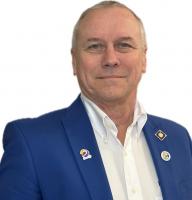 Sat, Jan 27th 2024 at 10:00 am - 12:00 pm District Council Meeting
Meeting for all clubs on Zoom with Guest Speaker Bob Maskell, recently appointed as chair of the Rotary GB&I, Association. He will serve in the role in 2026/27.
Fri, Feb 16th 2024 at 7:00 pm - Sun, Feb 18th 2024 - 3:00 pm LDF for AGs, DGE and DGN at Warwick Uni
A training weekend for the District Team.
Wed, Mar 6th 2024 at 7:30 pm - 9:30 pm District Executive Budget Meeting
The District Treasurer presents the draft budget to the District Team.
Sun, Mar 17th 2024 at 2:05 pm - 4:05 pm District Budget presented to clubs
The finalised budget is presented to clubs
Fri, Mar 22nd 2024 at 7:00 pm - 9:00 pm Cluster PEDS for President Elects
Essential training on Zoom for next years Club Presidents. The Keynote Speaker will be Barry Rassin.
Sat, Apr 13th 2024 at 10:00 am - 12:00 pm District Council Meeting
Guest Speaker to be confirmed. Clubs need to attend for the meeting to be quorate.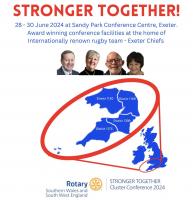 Fri, Jun 28th 2024 at 11:59 am - Sun, Jun 30th 2024 - 2:00 pm Cluster Conference 2024 STRONGER TOGETHER!
Our first Cluster Conference next year bringing together Districts 1100, 1150, 1175 and 1200 in 2024 at Sandy Park Conference Centre.
www.strongertogether2024.com