Future meetings and events around the district
Sun 1st March 2020 at 13.00 - 17.00 District Youth Speaks Final
Youth Speaks District Final at Sunday, 1st March 2020, 1.00 pm to 5.00 pm, at Forest Hills Hotel, Overton Hill, Frodsham, WA6 6HH
Wed 18th March 2020 at 18.45 - 22.30 District International Rally
District International Rally is being organised by the District International Team for March 2020. This will be the return of such an event after a gap of over 4 to 5 years.
Sat 21st March 2020 at 09.00 - 14.00 PEPS
Presidents-elect preparation (PEPS).
Venue: Swinton Park Golf Club
Wed 15th April 2020 at 19.30 - 22.00 District Council Meeting
At Swinton Golf Club, 25th March.
Sat 25th April 2020 at 09.00 - 13.00 New Member Seminar
All about Rotary - new members seminar - Deanwater Hotel - Sat 25th April am.
Fri 1st May 2020 at 09.00 - Sun 3rd May 2020 - 17.00 Rotary Volunteer EXPO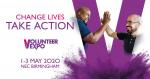 Rotary in Great Britain and Ireland's annual event is being transformed.
Rotary is launching Volunteer Expo; a new, national, public-facing event to get people volunteering!
Sat 16th May 2020 at 09.00 - 14.00 District Assembly
Venue: Bolton Wanderers Stadium
Sat 24th October 2020 at 09.00 - Sun 25th October 2020 - 14.00 District Conference
D1285 conference in Harrogate Oct 24th to 25th 2020