Future meetings and events around the district
Sun 9th February 2020 at 10.00 - 16.00 Prescot / St Helen's Meal Packing Experience

One of two district meal packing events in 2020.
Wed 12th February 2020 at 18.45 - 20.00 Disaster Aid UK&I presentation

Hear how we help Survivors of Disasters around the world. For an hour you can be part of our story to provide non-food aid to individuals and families often left with nothing after a disaster has struck.
Mon 17th February 2020 at 19.15 - 23.00 District Foundation Scholars Dinner
This year, there are two Rotary Scholars attending courses in our district, with the support of Rotary Grants. Please come and hear them speak
Thu 20th February 2020 at 19.00 - 22.00 Presidents-elect Dinner.
Venue: Deanwater Hotel,
Wed 26th February 2020 at 13.00 - 16.00 Excitement of Science 2020

This year the title of the lecture is 'The hunt for aliens and their worlds' and will be delivered by astrophysicist Dr Eamonn Kerins, from Jodrell Bank. Eamonn has delivered many lectures to this age group Y9/10 and makes his subject really accessible.
Sat 7th March 2020 at 09.00 - 12.00 DOTS2
Briefing for District Officers on emphases for forthcoming year.
Wed 18th March 2020 at 18.45 - 22.30 District International Rally
District International Rally is being organised by the District International Team for March 2020. This will be the return of such an event after a gap of over 4 to 5 years.
Sat 21st March 2020 at 09.00 - 14.00 PEPS
Presidents-elect preparation (PEPS).
Venue: Swinton Park Golf Club
Wed 15th April 2020 at 19.30 - 22.00 District Council Meeting
At Swinton Golf Club, 25th March.
Fri 1st May 2020 at 09.00 - Sun 3rd May 2020 - 17.00 Rotary Volunteer EXPO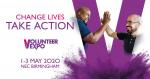 Rotary in Great Britain and Ireland's annual event is being transformed.
Rotary is launching Volunteer Expo; a new, national, public-facing event to get people volunteering!
Sat 16th May 2020 at 09.00 - 14.00 District Assembly
Venue: Bolton Wanderers Stadium
Sat 24th October 2020 at 09.00 - Sun 25th October 2020 - 14.00 District Conference
D1285 conference in Harrogate Oct 24th to 25th 2020