Completed meetings and events 2019-2020
Thu 28th May 2020 Celebration of the Club's 95th Birthday
Please, contact the President, Brian Sims, for more details
Thu 5th March 2020 A Job Talk by one of our new Members -always an interesting meeting.
Everyone is welcome to join us at this event.
Thu 30th January 2020 Club Meeting
An exciting talk is planned, but details are still being finalised. Watch this space!
Thu 23rd January 2020 Club Meeting
Dr Andrew Latham will provide advice on 'Health'. It should be really valuable.
Thu 16th January 2020 Job Talk
Members who have joined the Club recently give a brief account of their life so that all members are more fully acquainted with them. This month Harvey Phillips will talk.
Thu 9th January 2020 Frugal Lunch and Business Meeting
A time when Club Business is transacted and this month there will be a soup and cheese lunch with savings going to a local charity
Thu 29th August 2019 Shooting at the Melbury Shooting Range
Note that this is an evening meeting. You don't have to shoot! You can come along and see the fantastic 'national' facilities in North Devon.....and enjoy the food!
Thu 22nd August 2019 Job Talk by new member, Jo Allen
This will be a great meeting! Jo talked about her work a year ago, and members were engrossed. It will be good to hear more detail now she is a Club member.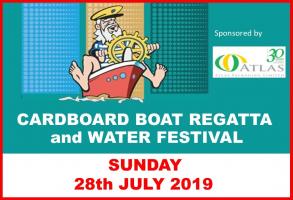 Sun 28th July 2019 Bideford Water Festival and Cardboard Boat Regatta
Wonderful family day on Bideford Quayside
Why not build your own cardboard boat this year and really get involved in the fun?
read more...
Thu 4th July 2019 Club Meeting: Hand Over
A new president takes control: Brian Sims takes over for his second Presidency!
calendar
district events
local events