Featured pages
WELCOME! Please swipe down to find out more about us or click into the pages in the menu (top-left)
Foundation and End Polio Now
---
PLEASE HELP US TO PERMANENTLY ERADICATE THIS TERRIBLE DISEASE FROM THE WORLD
details
Bideford Water Festival 2020
---
Our crazy cardboard boat regatta will be a model boat regatta this year and streamed on social media (and national TV?) Build a model cardboard boat yourself and challenge friends and family... Funds raised split between RNLI & the local community.
details
Shelterbox
---
£113,000 RAISED IN 15 YEARS! We support Shelterbox as this charity can really move quickly to get assistance to desperate communities around the world where and when it is needed.
details
---
About us
We are a friendly group of men and women who want to make a difference in our community and around the world
Do get in touch if you want to find out more about our club or about Rotary: President, Jacquie Willoughby (Tel: 07980 767279) would love to hear from you. We are still meeting weekly but all meetings will be conducted through Zoom until further notice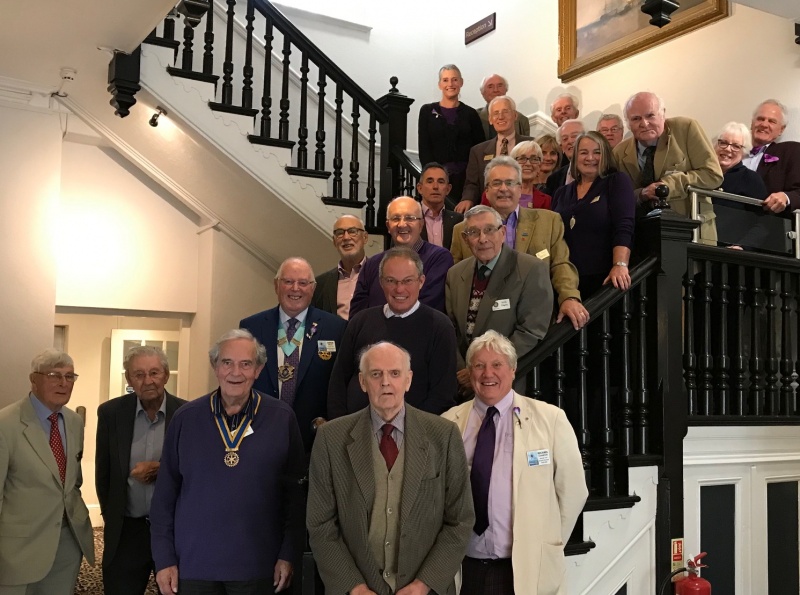 Some of the Club of 2019/20 (New officers take over on 1st July each year)... Photograph taken on 24th October 2019, World Polio Day which is why you will notice many of the club are wearing purple (it represents the purple dye used on the finger of children to mark that they have received their immunisation). Our lovely guest speaker, District Governor Simon Woods went over time so unfortunately many of our younger, working members had to leave before the photograph. Taken on the stairs of our regular meeting venue, The Royal Hotel, Bideford
We traditionally meet on Thursday lunchtimes but at least one meeting a month is an evening meeting and often at an altrenative venue so please do check if you would like to join us
BUILDING MODEL CARDBOARD BOATS FOR THE VIRTUAL BIDEFORD WATERFESTIVAL THIS YEAR!

This time last year we were building cardboard boats for the Water Festival. During the Covid Pandemic we can't get together in the same way but are building MODEL cardboard boats this year for our crazy coardboard boat regatta which will be streamed on social media on 30th August 2020.

For full details see the Water Festival page of the website where you can download the construction rules and an application form. The more the merrier.... challenge friends and family to join in!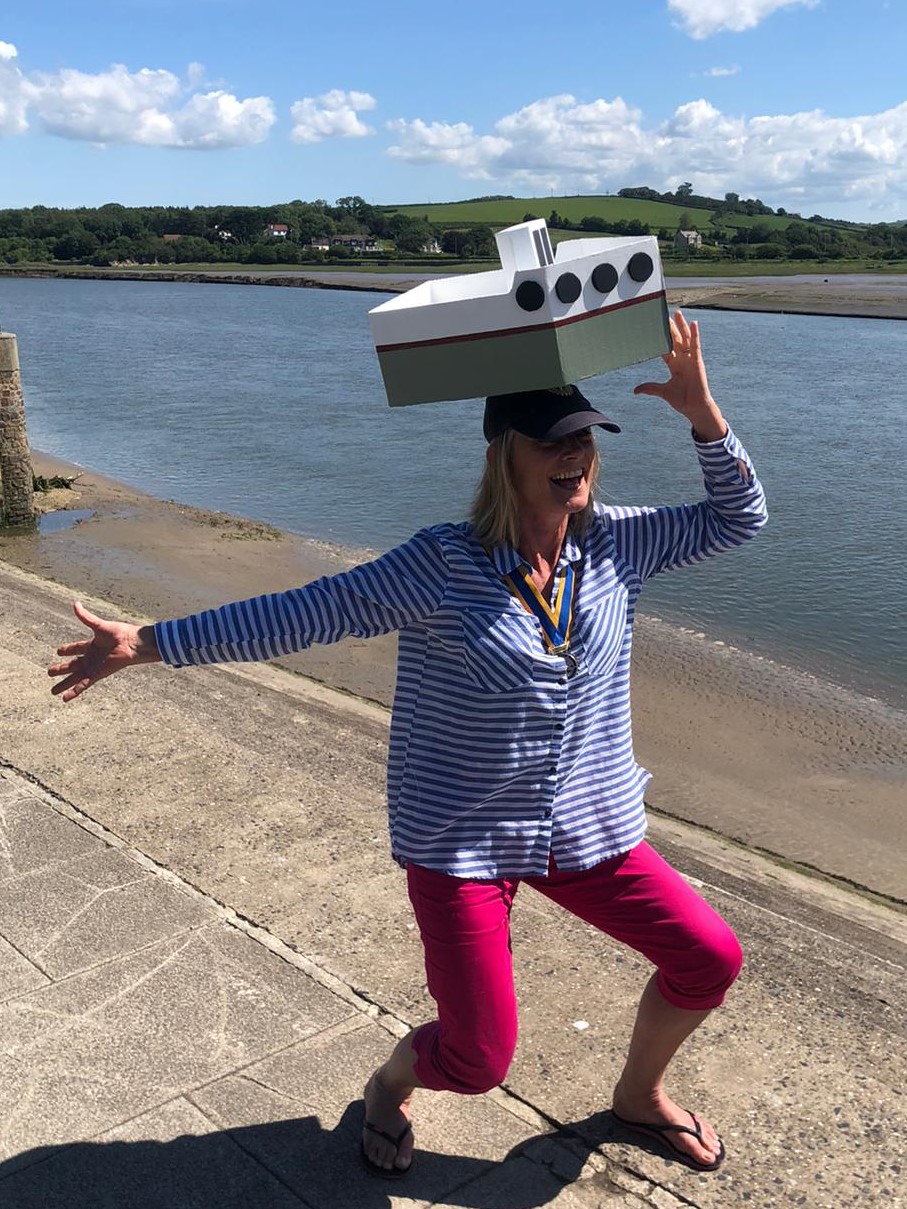 2020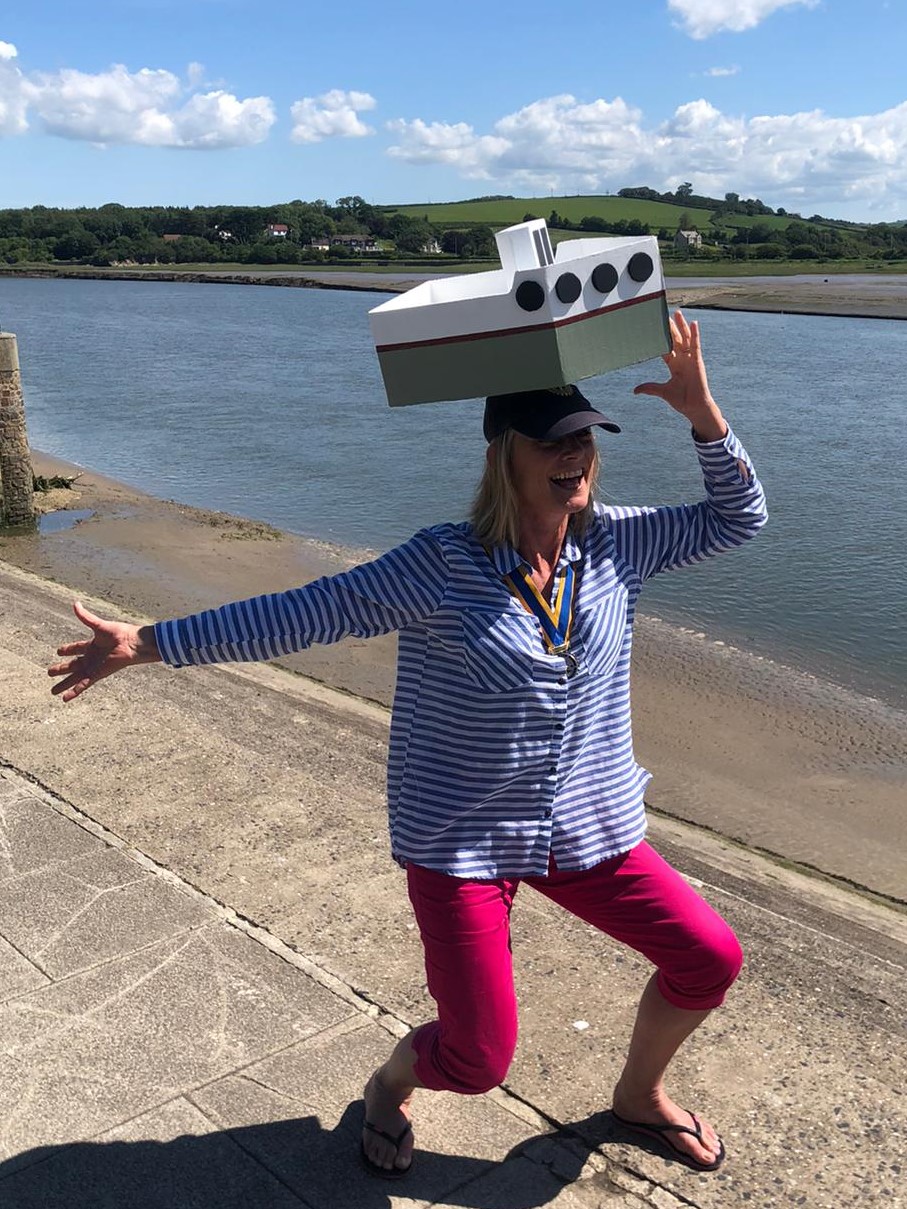 ---
Visit to our Twin Club in Uelzen, Germany
On 31st May last year, 10 of us enjoyed a fabulous long weekend in Germany, hosted and entertained in style by members of our twin club, Uelzen. Many old friends were reunited and memories of previous exchange visits regaled... lots of new friends were made with wonderful new memories to add to the archives!

It was HOT! we lost our luggage! we were wined and dined to the point of collapse! enjoyed fascinating visits to the monastory in Ebstorf and the village museum in Hosseringen; we were hosted by the town Deputy Mayor at a buffet supper to celebrate all the service clubs in Uelzen but the highlight of the trip was President Morris' speech of thanks in german - we have no idea what he said!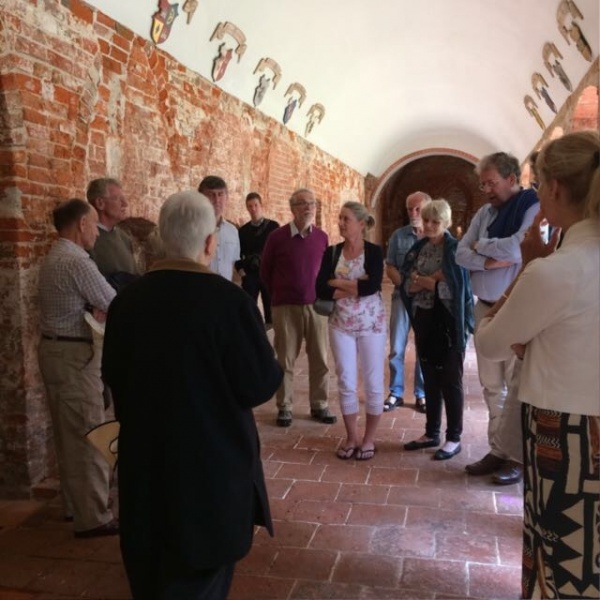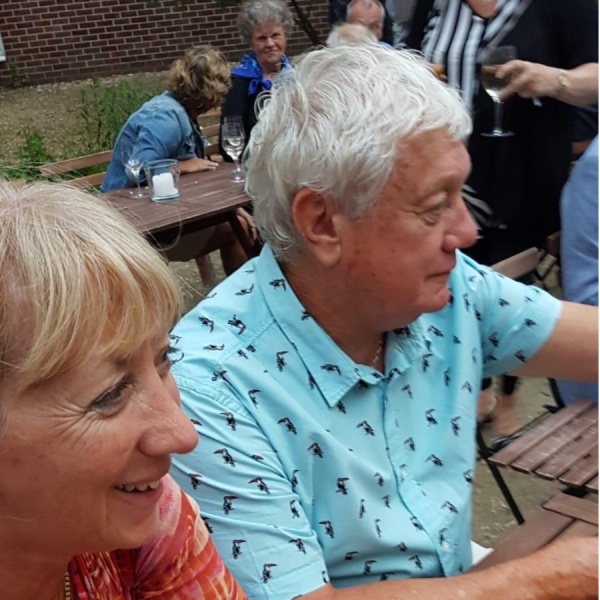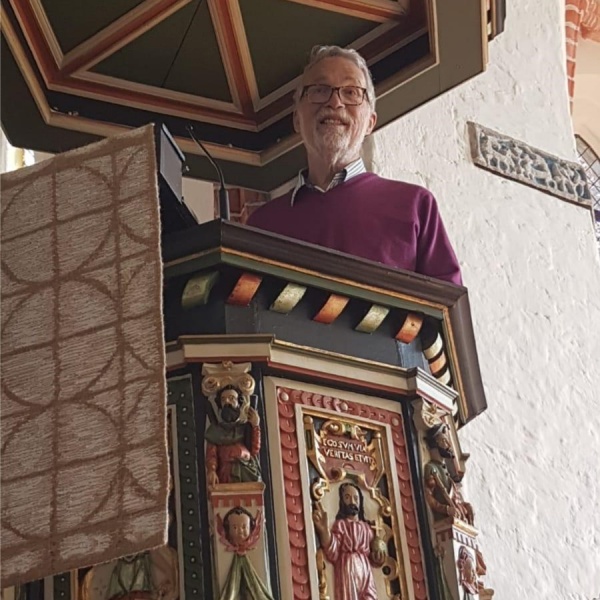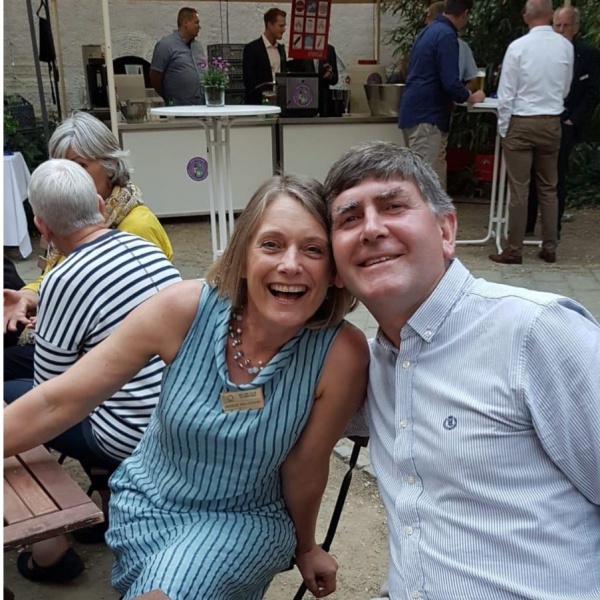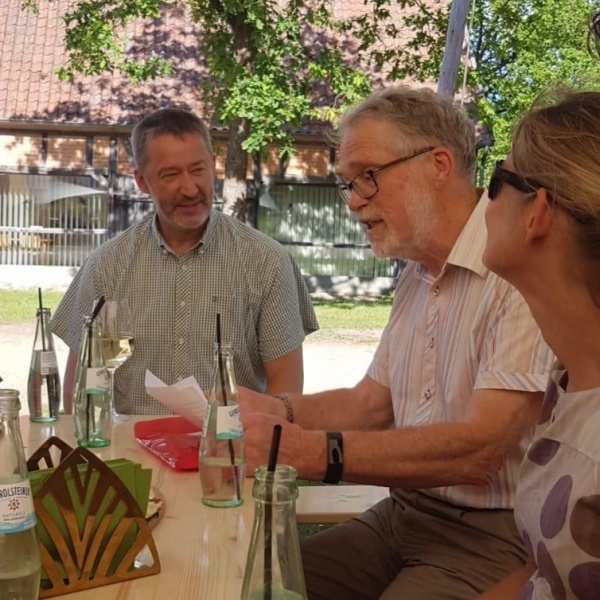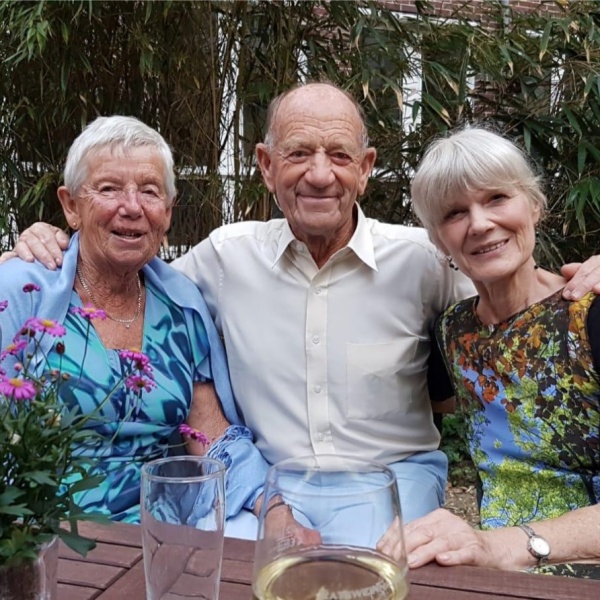 We are wondering how long before we are popping over to Europe again. We have invited our German Rotarian friends to visit in Spring 2021 - fingers crossed that the Covid travel restrictions will be long gone by then!
The fellowship of Rotarians all round the world is extraordinary. Many Bideford Rotarians are hoping to visit Biddeford-Saco in Main(USA), in May next year, to help celebrate their 100 year Charter Anniversary.

£1200 was sent to Shelterbox following collections at The Big Sheep Christmas Markets. This brings the club's total Shelterbox contribution over £112,650.00 - WOW!

Our Big Sheep collections at the Saturday Farmers Markets throughout December were well supported again this year. We are pleased to collect funds for such a good cause. Thank You to The Big Sheep and everyone in North Devon for your continued support
---
Memory Cafes
We were pleased to welcome in October, Julia Hadley, co-ordinator for Northam and Bideford Memory Cafes and organiser of a 'Singing for Health' group for people with memory issues in Torrington. She gave us a fascinating insight into dementia and some alarming statistics: In Bideford 25% of the population is over 65 but it is estimated that by 2025 this will have doubled! Those of us diagnosed with dementia has doubled in recent years and it is now the number one cause of death.
At the end of the talk Rotarian Mike Plamer, presented Julia with a cheque for £720 to support the ongoing development of the memory cafes.
---
Club History:
The Rotary Club of Bideford was formed in 1925, the Club Charter being granted from 27th May 1925. The Mayor of Bideford, Dr E J Toye was appointed the first president of the Club. A cable expressing congratulations and best wishes was received from the Biddeford & Saco Rotary Club in Maine, U.S.A.
In 1955, using the spade which the Duke of Edinburgh had used to plant a tree to commemorate his visit to Bideford in 1952, President of Bideford Rotary Club (D.W.Friendship) planted the first of five trees at the rear of the Port Memorial Gardens to mark the 50th anniversary of the Rotary Movement.
In 1975 in celebration of Bideford Rotary's 50th anniversary, a new �5,000 ambulance was presented to the St. John Ambulance Association.
2005 was the year of Rotary's Centenary, and Bideford Rotary's 80th anniversary. Visitors from Biddeford & Saco were hosted, and at the special luncheon there was a display of photos relating to the relationship between the American and Devon Clubs. President Ron Blick dedicated a bed of 100 roses in Victoria Park.
In addition to the links with the namesake club in the U.S.A.,there are similar links with the Rotary Club of Uelzen in Germany. Despite the Brexit problems we really enjoy maintaining close links with our European partners. Visits are made to both clubs, and we host members of those clubs in return. Last year we were delighted to work with the Uelzen club on a major project for the Children's Hospice South West. By working together we applied for a Rotary Global Grant to boost funds raised locally and were delighted to donate to Childrens Hospice South West (Littlebridge House) nearly £40,000.in February 2019.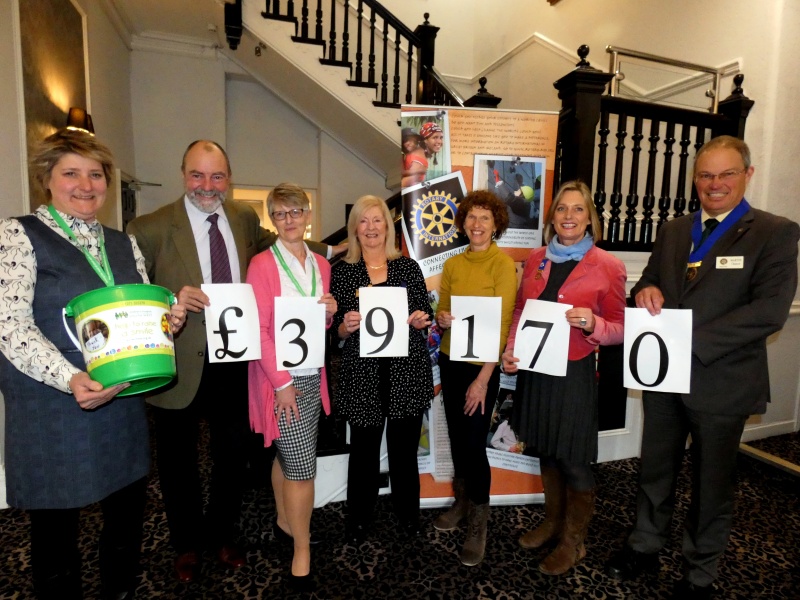 ---
---
Rotary News
Be part of a global network of volunteers, trying to make the world a better place. Please also see the 'links & news' page for information from the local district and live feeds from Rotary International and Rotary International in GB&I.
Flexibility creating new opportunities for new members
---
RotaKids supporting their local community
---
---
Meetings & Venue
Where and when:
We meet on Thursdays at 12.55 or 19.00
(
At least one Thursday a month is an evening meeting
)
The Royal Hotel, Bideford
NOTE: evening meetings are often at other venues (please check) EX39 4AE
(01237) 472005