WE ARE A FRIENDLY GROUP OF PEOPLE LOCAL TO BIDEFORD (IN NORTH DEVON, ENGLAND) WHO WANT TO MAKE A DIFFERENCE IN OUR COMMUNITY AND AROUND THE WORLD
Do get in touch if you want to find out more about Bideford Rotary or about Rotary generally: President, Jill Eddie would love to hear from you. Tel: 07832 781137 and leave a message or Email: bidefordrotary@gmail.com
We do not post details of our meetings online as they can be subject to last minute changes, if you would like to join us, we meet weekly on Thursdays, do phone or email to confirm meeting time and venue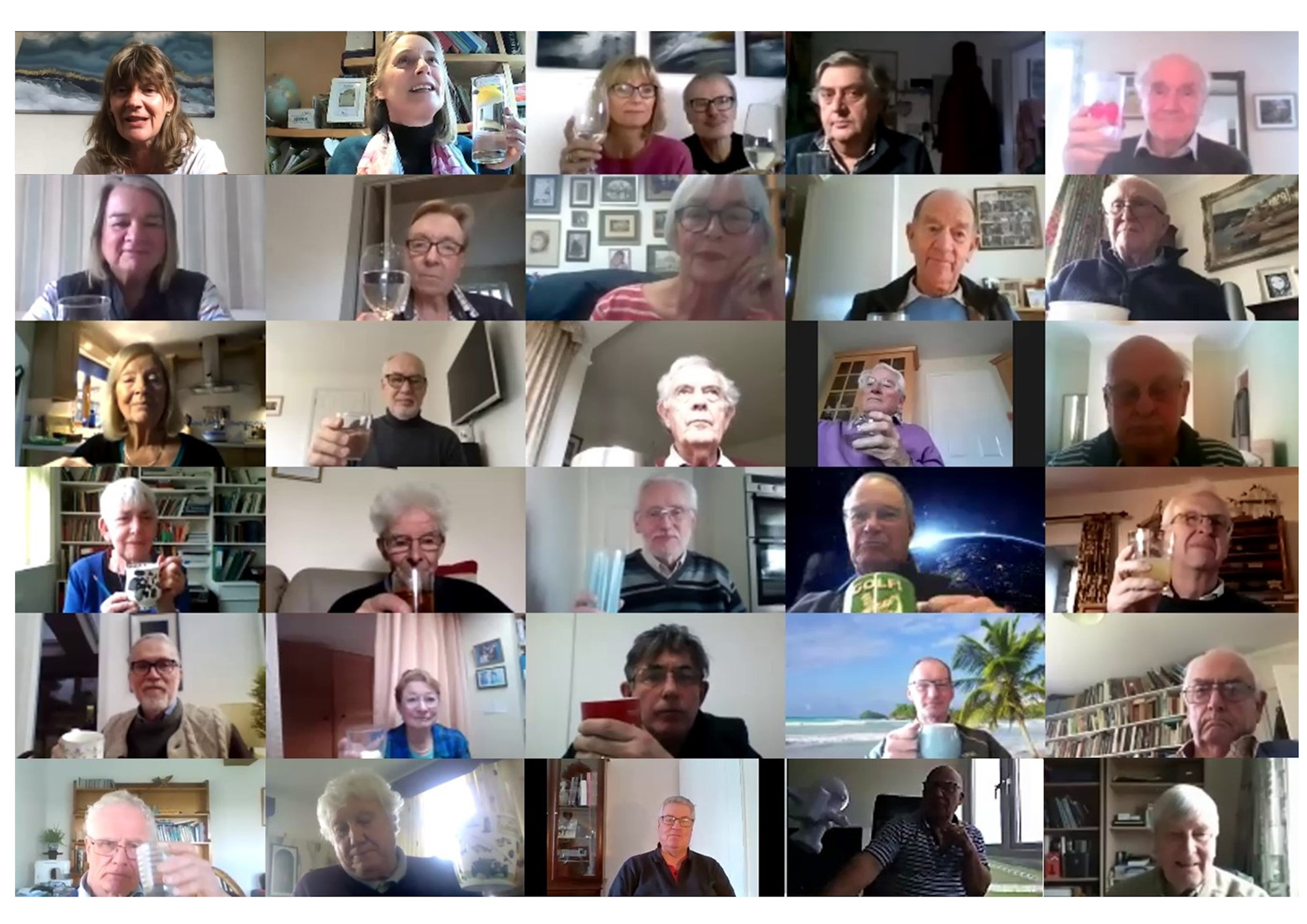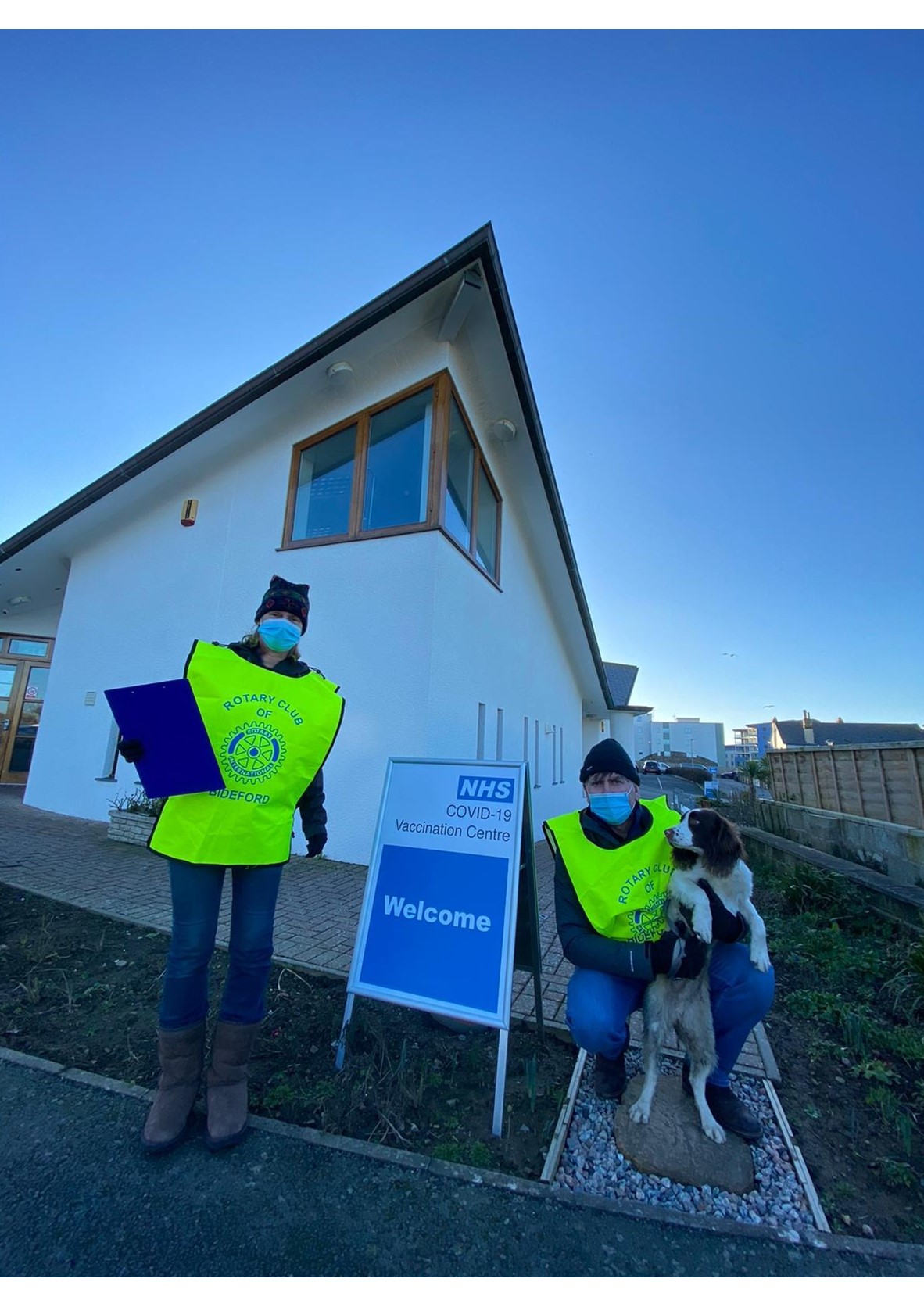 Bideford Rotary were delighted to help set up the Westward Ho Vaccination Centre in January 2021 with many club members helping vaccinate, with the admin or helping with the marshalling of the centre at the Baptist Church in Westward Ho!
Bideford Rotary Community Corps are a wonderful group of volunteers who were initially helping with the running of the Vaccination Centre but now also help the club with other projects such as Bideford Musical Memory Cafe and Reading in Primary Schools. If there is anyone who is interested in volunteering in North Devon or has an idea for a volunteer project please do contact Bideford Rotary by email: Bidefordrotary@gmail.com or leave a message on the club phone: 07832 781137.
The Westward Ho Ho HO! New Year Dip has been supported by Bideford Rotary this year. We are delighted that hundreds of people turned up to swim and a collection was made on the beach for local charities as most of the event costs had been covered by Westward Ho! Business Association (thanks Pete Sawyer!) If anyone would still like to contribute please do use the link below,,,,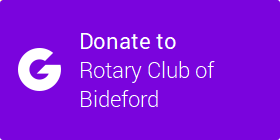 ---
---
PRESIDENT MOIRAG KNITS POPPIES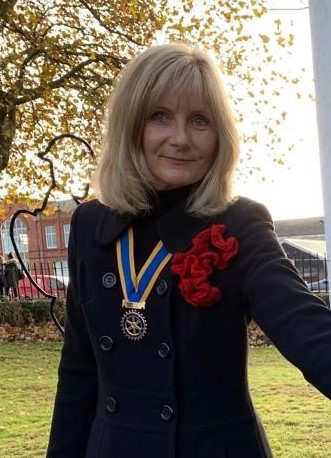 Our President has been busy knitting poppies and has raised £265 for the British Legion by selling them locally in shops and businesses in and around Bideford. Traditional red poppies to remember the brave service men who lost their lives and purple to remember the animals who were lost in service!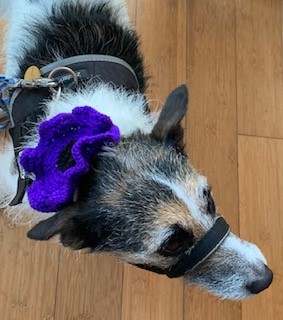 ---
RAINBOW BENCHES for NORTH DEVON DISTRICT HOSPITAL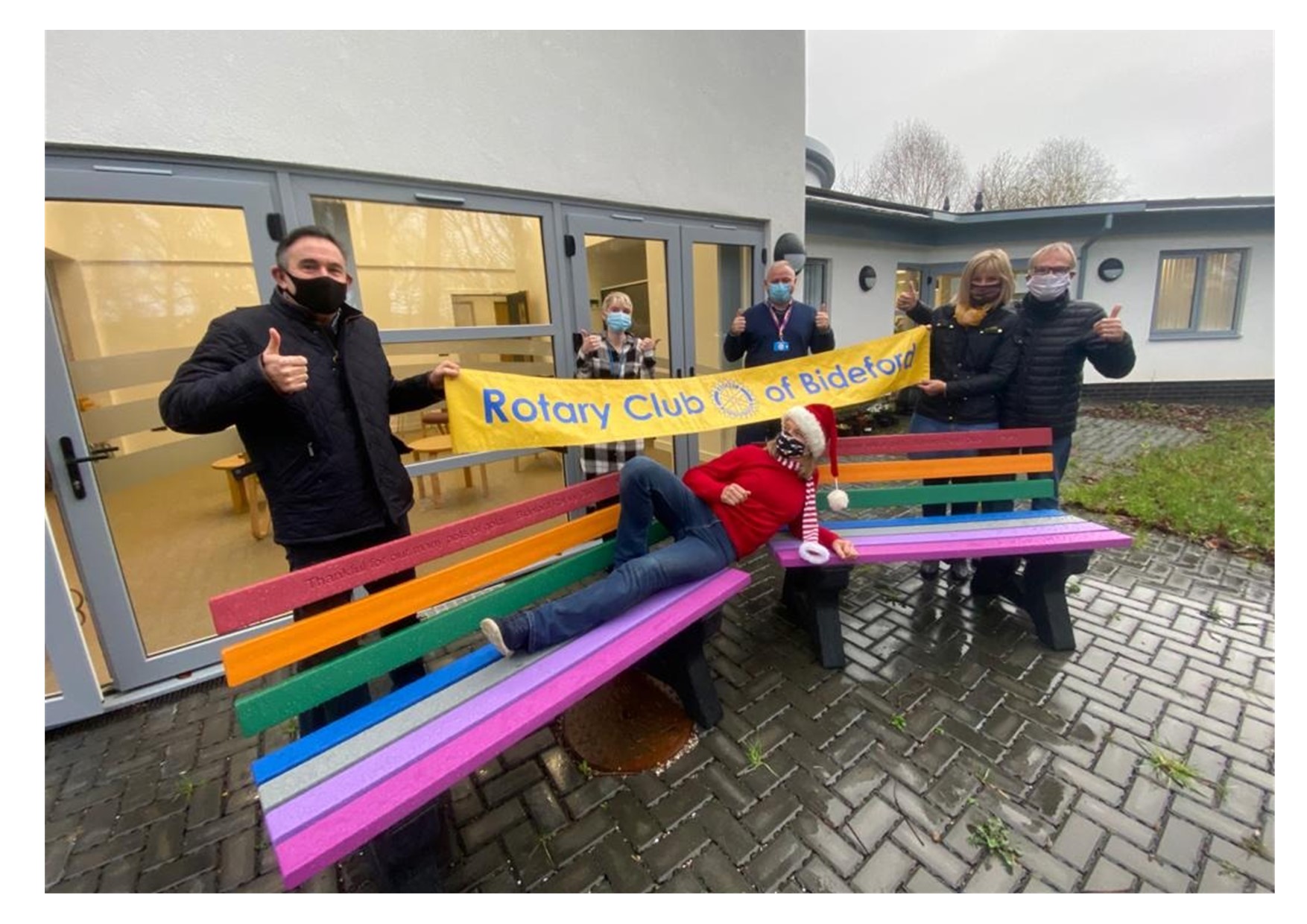 Two beautiful rainbow benches were presented to our local hospital in Barnstaple, a unique design made by an English company, TDP Ltd, for the Rotary Club of Bideford with the inscription "THANKFUL FOR OUR MANY POTS OF GOLD"
Jacquie Willoughby, President of Bideford Rotary, said "We wanted to do something special to bring a smile or two to this difficult year and rainbows have been a central theme. The benches are to remind NHS staff that they are appreciated for all they have done and continue to do every day, every week, every year - they are undoubtedly "pots of gold"!
We also hope that patients and their friends and families who sit on these benches will find them uplifting. We want them to try and smile and be thankful for the good things in their lives, to focus on their personal pots of gold rather than on disapointments and bad news.
The benches are made of recycled plastic, which is how the colours are so vibrant. "only yellow is a really difficult colour" occording to Ellen Fineran, Customer Service Manager of TDP Ltd.who helped their design team to make these special rainbow benches for Bideford Rotary. "They are particularly durable and should last for at least 20 years so will be a positive reminder of the Covid pandemic for many years to come"
---
Our Twin Clubs: Uelzen in Germany and Biddeford-Saco in Maine, USA
On 31st May 2019, 10 of us enjoyed a fabulous long weekend in Germany, hosted and entertained in style by members of our twin club, Uelzen. Many old friends were reunited and memories of previous exchange visits regaled... lots of new friends were made with wonderful new memories to add to the archives!

It was HOT! we lost our luggage! we were wined and dined to the point of collapse! enjoyed fascinating visits to the monastory in Ebstorf and the village museum in Hosseringen; we were hosted by the town Deputy Mayor at a buffet supper to celebrate all the service clubs in Uelzen but the highlight of the trip was Bideford Rotaryt President, Morris' speech of thanks in german - we have no idea what he said!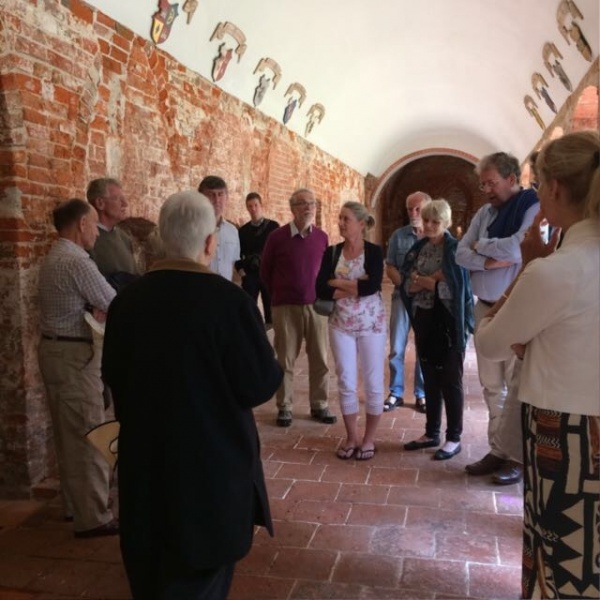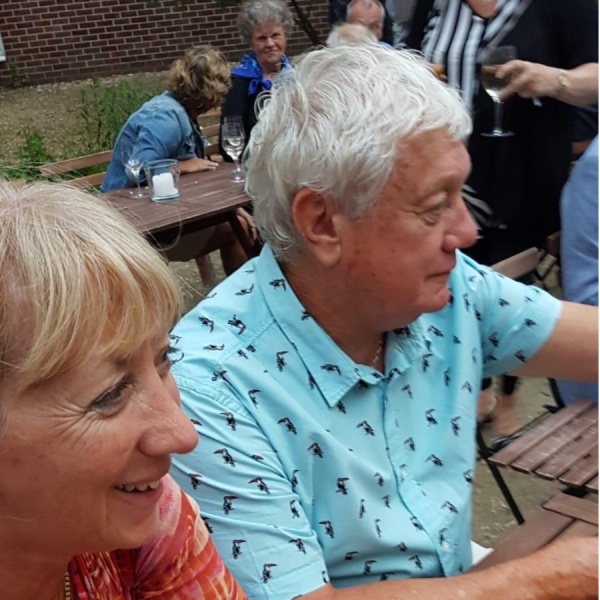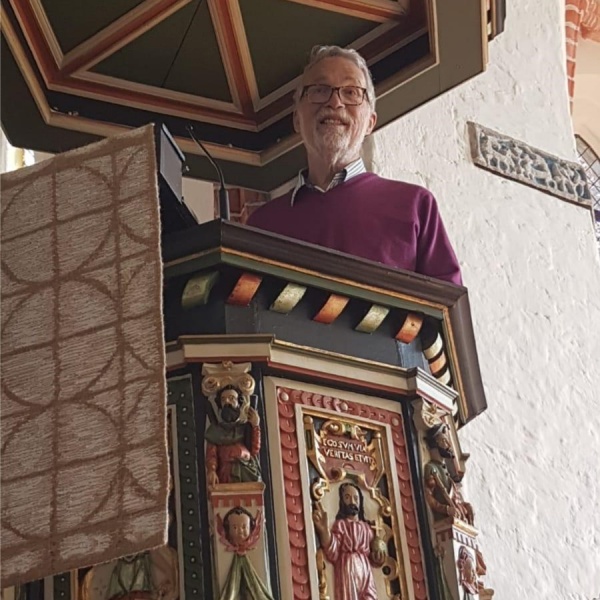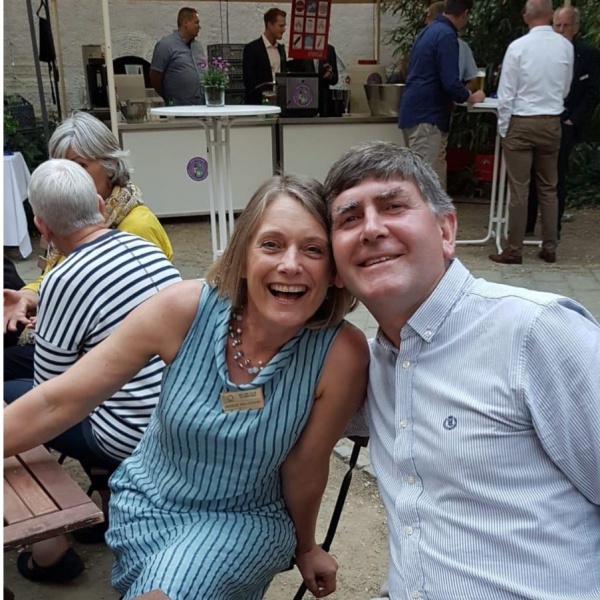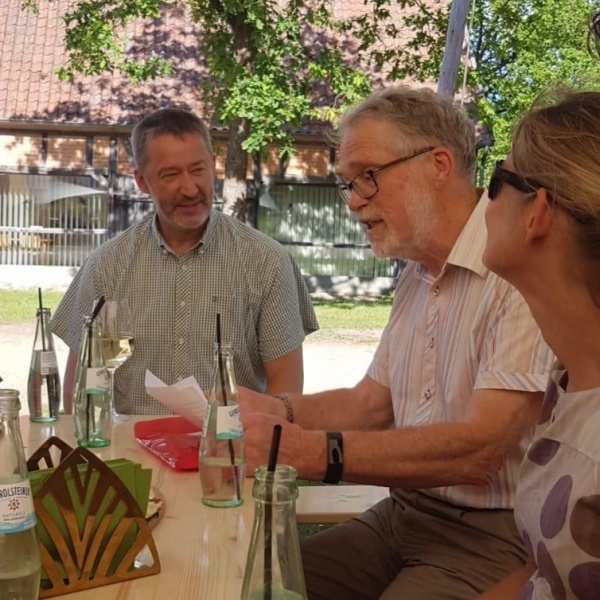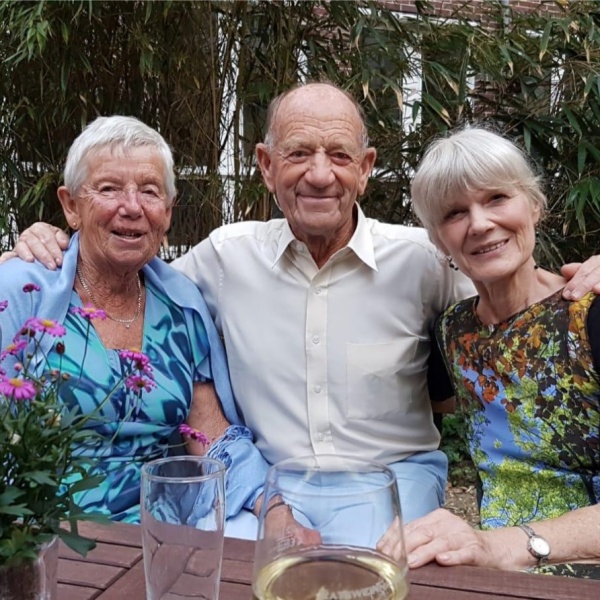 We are wondering how long before we are popping over to Europe again. We invited our German Rotarian friends to visit in Spring 2021 and now again in Spring 2022 - fingers crossed that the Covid travel restrictions will be permanently gone by then!
The fellowship of Rotarians all round the world is extraordinary. Many Bideford Rotarians were hoping to visit our other twin club, Biddeford-Saco in Maine (USA), in May 2020 but of course the visit had to be cancelled. The hand of friendship is always extended with or without a Covid Pandemic however and the joy of Zoom is that we have managed to keep close links with old friends and make new ones without any air miles!

---
ShelterBox:
Unfortunately due to Covid restrictions there was no opportunity to do a bucket collection for Shelterbox during 2020. We normally collect each year at The Big Sheep Christmas Markets or after a specific disaster. A collection was made however, by encouraging people to give up something for 40 days for Lent... and donating the money saved to ShgelterBox: A Tent for Lent. THIS YEAR we are delighted to be returning to The Big Sheep on the 3rd,, 10th, 17th and 22nd December 2021 for the return of their Christmas Market.
The club's total ShelterBox contribution in the last 20 years is
Now over £112,650.00 - WOW!
Well done to the people of Bideford!
See the ShelterBox page for further details

---
Memory Cafes
We were pleased to welcome in October, Julia Hadley, co-ordinator for Northam and Bideford Memory Cafes and organiser of a 'Singing for Health' group for people with memory issues in Torrington. She gave us a fascinating insight into dementia and some alarming statistics: In Bideford 25% of the population is over 65 but it is estimated that by 2025 this will have doubled! Those of us diagnosed with dementia has doubled in recent years and it is now the number one cause of death.
Bideford Rotary are delighted to be able to support the opening of a new Musical Memory Cafe in Bideford, by donating funds and providing volunteers to help manage the cafe. Come and join us every fortnight on Friday mornings 10-12 at The Robins Nest, Bideford
---
Club History
The Rotary Club of Bideford was formed in 1925, the Club Charter being granted from 27th May 1925. The Mayor of Bideford, Dr E J Toye was appointed the first president of the Club. A cable expressing congratulations and best wishes was received from the Biddeford & Saco Rotary Club in Maine, U.S.A.
In 1955, using the spade which the Duke of Edinburgh had used to plant a tree to commemorate his visit to Bideford in 1952, President of Bideford Rotary Club (D.W.Friendship) planted the first of five trees at the rear of the Port Memorial Gardens to mark the 50th anniversary of the Rotary Movement.
In 1975 in celebration of Bideford Rotary's 50th anniversary, a new �5,000 ambulance was presented to the St. John Ambulance Association.
2005 was the year of Rotary's Centenary, and Bideford Rotary's 80th anniversary. Visitors from Biddeford-Saco were hosted, and at the special luncheon there was a display of photos relating to the relationship between the American and Devon Clubs. President Ron Blick dedicated a bed of 100 roses in Victoria Park. Now we are under pressure to plan something special to mark the 100th anniversary in 2025!
In addition to the links with the namesake club in the U.S.A.,there are similar links with the Rotary Club of Uelzen in Germany. Despite the Brexit we really enjoy maintaining close links with our European partners! Visits are made to both clubs, and we host members of those clubs in return. In 2018/19 Bideford Rotary worked with the Uelzen Club on a major project for the Children's Hospice South West. By working together we applied for a Rotary Global Grant to boost funds raised locally and were delighted to donate to Childrens Hospice South West (Littlebridge House) nearly £40,000.in February 2019.