Completed meetings and events 2021-2022
Thu 21st October 2021 Social evening / Walk
Social meeting / Walk ( more details to follow)
Thu 16th September 2021 Pro-Am Pitch'n Putt Golf at The Plassey
After Pich'n Putt there will be a meal in the Clubhouse
Thu 9th September 2021 Speaker Meeting - Dave Cooke
Dave Cooke will talk about the Samaritans Purse project
Thu 26th August 2021 Business Meeting and Century Club Draw
Secretary, Treasurer and Committee Chairs report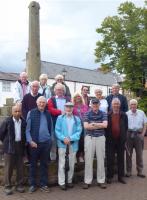 Thu 19th August 2021 Holt Hike
A walk around Holt plus post-walk refreshments.
Thu 12th August 2021 Speaker Meeting - Mal Williams
Mal Williams will talk about prostate cancer support in the local area.
This meeting will be held at the Ramada and will include a meal.
Tue 27th July 2021 Empire Fighting Chance
A chance to visit the new Empire Fighting Chance facility which the Club helped sponsor.
Thu 22nd July 2021 Club Business Meeting and Draw
Secretary, Treasurer and Committee Chair reports
Thu 15th July 2021 Rosset Ramble - start and finish at The Golden Lion
A walk round the village to end with a meal at the pub.
Thu 8th July 2021 Speaker Meeting - Quentin Dodd -Author
Quentin Dodd is a retired solicitor and author
calendar
district events
local events