Completed meetings and events 2022-2023
Tue 9th August 2022 Business Meeting and Club Council - on Zoom
The Club regularly reviews its activities for the past period, receives reports from the Club officers on correspondence, finances and projects and looks ahead to plan for any upcoming events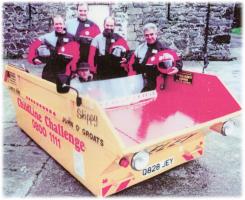 Tue 2nd August 2022 Dining at Maesdu Golf Club, Llandudno LL30 1HU - speaker: Clllr. Ian Turner
Cllr. Ian Turner is a Member of Llandudno Town Council. He is a tireless charity worker and we shall be hearing from him about driving from Lands End to John O'Groats in a rubbish skip - and who knows what else?
Tue 26th July 2022 Drinks and informal chat at the Maesdu Golf Club, Llandudno LL30 1HU 7pm (with discussion of next month's Rotary theme)
.
Tue 19th July 2022 A visit to Llandudno Museum
Grateful thanks to Mary Oliver MBE for organising this event on our behalf; Admission is £5 and includes tea and biscuits
Tue 12th July 2022 Business Meeting and Club Council - on Zoom
The Club regularly reviews its activities for the past period, receives reports from the Club officers on correspondence, finances and projects and looks ahead to plan for any upcoming events
Tue 5th July 2022 Dining at Maesdu Golf Club, Llandudno LL30 1HU. The speaker is Dan Worsley
Our speaker Dan Worsley is well known in Llandudno. Dan describes his life as "beginning in Russia then Turkey, Greece, UK, back to Greece, Libya, Greece and ultimately back to the UK and I am still in business" Come and hear about all that!
calendar
district events
local events