Completed meetings and events 2023-2024
Tue 14th November 2023 Sleigh Briefing
TBC
Thu 9th November 2023 SGM
Host: Stuart Hale
Steward: Andrew Kitchen
Thu 2nd November 2023 Youth Speaks
Host: Brian Carman-Meakin
Steward: David Parker
6pm start then meal at 7:15pm
Tue 31st October 2023 Council Meeting - Zoom
Via Zoom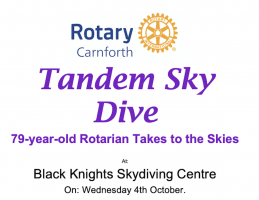 Mon 23rd October 2023 President's Parachute Jump
Raising Funds for Lancaster Men's Hub.
read more...
Thu 12th October 2023 Membership Discussion
PDG Ian McTurk - a discussion of how to go forward.
Thu 21st September 2023 HomeStart - Debra Dawkins
Host: Heather Randall
Steward: Cliff Randall
Thu 14th September 2023 Away Evening
Host: David Parker
Steward: Doug Taylor
Thu 7th September 2023 The Good, The Bad & The Ugly - Chris Maddox
Host: Chris Maddox
Steward: Ken McGrath
Thu 31st August 2023 Coffee Morning
President Arthur's house. 11am onwards.
Tue 29th August 2023 Carnforth Rotary Council Meeting
On Zoom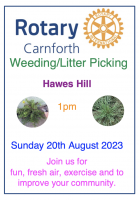 Sun 20th August 2023 Litter Picking/Weeding
Meet at Carnforth War Memorial
Thu 20th July 2023 Nautical Terms & Meanings - Peter Swarbrick -
Host: John Blowes
Steward: Kath Bromilow
Thu 13th July 2023 The History of Pensions - Trevor Blease
Host: Trevor Blease
Steward: George Wilson
Thu 6th July 2023 Website My Rotary - Linda Lambson
Host: Arthur Jones
Steward: David Alexander
calendar
district events
local events