Welcome to District 1190 which comprises 68 Rotary Clubs located in Cumbria & Lancashire
For more stories about Rotary clubs and their work visit the
Rotary Video Showcase
Upper Eden Rotarian to receive Prestigous Award
Roger Frank of the Upper Eden club has been awarded the Regional Service Award for a Polio-Free World for 2017-2018 in recognition of his contribution to polio eradication. A past president, Roger has been an active and committed Rotarian since 1994.

He's always been a keen and effective advocate within the club and the district for the polio eradication programme and following a trip to Ghana on a polio vaccination program in 2015, Roger concluded that an exhibition display of an Iron Lung would demonstrate the worst extremes of the disease and significantly raise the profile of the polio eradication programme.
Having scoured the country Roger was unable to find an original iron lung other than in a museum. Undeterred he, an engineer, set about building a working replica based on research, photographs and measurements. After over 700 hours of work the Iron Lung, complete with its stunning, purpose-built (also by Roger), all-weather exhibition trailer were completed a year later in May 2016. It's a working full size replica complete with audio-visual display.
Since completion the Iron Lung has travelled the length and breadth of the country… some 4000 miles and more. Enlisting the support of fellow Rotary members, Roger has displayed it and talked about polio eradication at national Rotary events, Rotakids conferences and other Rotary Clubs as well as at agricultural shows, schools and youth group meetings.
The Iron Lung Display is a credit to Roger. It reflects well upon our local clubs and the wider Rotary movement. To all that see it, it clearly and impressively brings home the misery of polio and the value of the eradication programme. Whilst all funds raised during the lung's travels go to the polio eradication programme, and these are not insignificant, it is the awareness raising it creates which is its unique and extraordinary value.
Who can doubt that PIES are not good for you?
Recognising the plight of children in Swaziland some 15 years ago and forming a charity to improve life for them has earned Norman Yates a Rotary in Great Britain and Ireland Champion of Change Award.
A long serving trustee and chairman of Partners in Education Swaziland (PIES) which today feeds 180 children daily, Norman has been a member of Rotary in Preston South for the past 10 years. To ensure that the charity continues to make a great impact on the local community Norman visits Swaziland two or three times each year all at his own expense.
He will receive his award on 18th May at an event hosted by the Lord Mayor of Cardiff in the City Hall. Presenting the awards to Norman and 11 fellow Rotarians will be the Chair of the National Council for Voluntary Organisations Peter Kellner, alongside Rotary in Great Britain and Ireland President Denis Spiller.
The glittering evening is a double dividend for Rotary, as Rotary in Wales is celebrating 100 years in Cardiff this year. Over the past 10 years life expectancy of women in the African country has been at around 34 years and often results in households headed by a child or grandparent. The death of an older relative results in the children dropping out of school and they are often close to starvation.
In providing food, shelter, pre-school education and now two ongoing business ventures the community is becoming self-sufficient.
Two care centres operate in partnership with SOS villages and now the centres also provide basic medical assessment and welfare monitoring. Children are helped with life problems and encouraged to become good citizens. Cumbria and Lancashire Rotary District Governor Larry Branyan of the nominating Rotary group says: "Rotary is made up of many unsung heroes like Norman who give their time and talent to help others. They literally go the extra mile to improve lives."
If you would like to know more about Rotary in your town visit Rotary in Cumbria and Lancashire www.rotary1190.org or telephone 01771 744243
Ordinary people doing extraordinary things.
---
Champions of Change
Helping the community is in the blood of former traffic officer Paul Brooks from Clayton-le-Woods. His dedication and vision to turn a small group of bikers into North West Blood Bikes — the largest Blood Bike Group in the world (see photo of PDG Malolm Baldwin on a Blood Bike) — has earned him a top national award.

Paul has been selected as one of seven Rotary in Great Britain and Ireland Community Champions to attend a glittering awards evening in Cardiff City Hall on 18th May.
As Chairman and Trustee of the charity, Paul heads a team of 300 riders who answer over 1,000 calls every month for the NHS. The service helps five hospital trusts in an area from South Lancashire up to, and including, the southerly tip of South Cumbria.
Paul and his wife have spent the last five years managing and building this charity through fundraising and talks to organisations and liaising with the local NHS Trusts. They support riders and controllers to administer the service, saving the NHS millions on emergency 'out of hours' transport costs.
The volunteers transport between hospitals a variety of urgent supplies, including blood, platelets, samples, donor breast milk, patient notes, theatre equipment, in fact anything that can be carried on a motorcycle.
Rotary in Cumbria and Lancashire recently presented a new liveried bike to the group, bringing the charity's total of fleet bikes to 12. They are supplemented by other private motorcycles from the pool of volunteer riders.
District Governor of Rotary in the region Larry Branyan said: "Many organisations, alongside Rotary, do outstanding work for their communities. Few offer a potential life-saving service and the work by Paul and his dedicated team have quite rightly earned them national awards. Paul is a man of great dedication and vision."
The Rotary award, which follows closely on the heels of the group receiving the Queen's Award for Voluntary Service (the group equivalent of an MBE), will be presented by the Chair of the National Council for Voluntary Services Peter Kellner and RotaryGBI President Denis Spiller in the Welsh capital which this year celebrates the centenary of its first Rotary Club.
---
Local Barrow volunteers in polio mercy dash to India
Over 170 million children, aged up to five years old, will be given the life-saving polio vaccination on one day, 28th January, thanks to Rotary's End Polio Now campaign. John McGill and Val Robinson from Dalton, are joining 90 Rotary volunteers from across Great Britain and Ireland who are flying out to India to join local Rotary members and health agencies to immunise millions of tiny vulnerable children in the hardest hit areas.
John and Val, members of the Rotary Club of Furness Peninsula, will be working alongside local volunteers in Delhi, Kolkata, Bhiwadi, Amritsar and surrounding high-risk villages, reaching and protecting millions of children. This includes house-to-house visits for impoverished families who cannot travel to the vaccination booths.
They say the extra help makes a huge difference to protecting India from this crippling and, at times, fatal disease: "Rotarians and other volunteers go out twice a year to help Rotary clubs in the area reach as many children as possible. There are other regular vaccination events but these larger National Immunisation Days (NID) draw huge numbers of children and families. Visiting Rotarians have a curiosity value which attracts children in the slums and remote villages who do not meet many British people.
"India is polio free but this does not mean our job is over. We want to keep India's children safe from polio. Rotary will keep immunising every child to spare them from a life of disabilities and pain." John and Val who have not made the trip before said: "Although hugely rewarding, this will not be an easy trip. We will see startling sights of poverty, people literally in gutters trying to make a living and people who have been crippled by polio and can barely crawl let alone walk. The knowledge that we are helping others to have a better life, through End Polio Now and other active Rotary projects, keeps everyone motivated. We see with our own eyes just how important it is to keep on immunising these children and bring back the message that this is a vital job."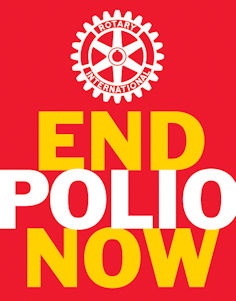 The immunisation drive is part of Rotary's End Polio Now campaign. Thanks to Rotary's efforts, the number of endemic countries has dropped from 125 to three: Afghanistan, Nigeria and Pakistan. India has been declared polio free but there is always the threat of re-infection from migrant workers and people seeking refuge from war-torn countries who may be carrying the virus and it is critical to maintain ongoing high levels of vaccination take up.
Everyone can help save lives. You can join your local Rotary club or donate to End Polio Now. To donate to End Polio Now or to join Rotary International in Great Britain and Ireland, visit rotarygbi.org or contact Ron Stephenson from the Rotary Club of Furness Peninsula on 01229 470587
---