Completed meetings and events 2019-2020
Thu 23rd January 2020 Meet the Mayor - Cllr. GERRY CURRAN - Mayor of Bath
Presentation to Joshua Donkor with the Turner Trophy for the "Best in Show" at the Mayor's Art Show held at the Guildhall last November. Venue Lansdown Cricket Club
Thu 16th January 2020 Beckford Tower Museum
COURTNEY FLEMING will be speaking to Club about the Beckford Tower Museum, which is part of the Bath Preservation Trust. Courtney is also the Chairman of the B&NES Museum Group. Venue Bath & County Club
Mon 23rd December 2019 Bag Packing Waitrose

Members will be helping shoppers to pack their bags to raise funds for our charities
Sat 21st December 2019 Christmas collection, Morrisons Bath
Members will be rattling buckets in shifts to collect money for our charities
Thu 19th December 2019 No meeting
No meeting due to other commitments
Thu 28th November 2019 Who Am I?
A great opportunity to learn more about our members, who have 5 minute slots to talk about who they are, their work and life experiences. the meeting will be held at the Bath & Country Club.
Thu 21st November 2019 No Evening Meeting
There is no meeting to today as many will be meeting to support the Food Bank earlier in the day. Please contact Charles for more details
Thu 14th November 2019 No Meeting
As we had a very successful Gala Dinner and Quiz at the Mint Room last Tuesday there is no meeting today
Tue 12th November 2019 Mint Room Quiz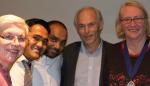 A great Quiz and dinner raising £2133.00 for Rotary charities. All our thanks to the club organisers and Moe Rahman, who hosted the event, and his team
Sun 10th November 2019 Bath - Trionium HILLY HALF MARATHON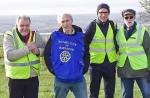 Another successful event raising £3300 for Rotary charities. Thank you to Barrie and his team of volunteers for supporting the event
Fri 1st November 2019 - Sat 2nd November 2019 Lord Mayor of Bath's Art Show: Fading Memories by Joshua Donkor

This show features works of art by many local artists. By public vote Joshua's was the best. He is from Bath and went to Beechen Cliff School. He began painting at the age of 10.He is now at university in Cardiff studying illustration.
Thu 26th September 2019 "Bringing Back the Sun"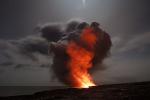 The meeting will be at Landsdown Golf Club. A fascinating insight by John Spragg on extinguishing oil fires in Kuwait after the Gulf War , including the film "Bringing back the sun".
Thu 19th September 2019 VISIT to OAKHAM TREASURES
A homespun museum of retail and farming history. All welcome to come on the visit, using your own transport Oakham Treasures are at PORTBURY, nr Bristol BS20 7SP. Please arrive for 10.30. A cafe is on site
Thu 11th July 2019 Minor Spas of Bath - Chris Pound

Held in the Hilton Hotel.
Chris Pound is an architect, town planner, writer and a World Heritage expert. He is the author of "A Verye excellent treasure- values of the Bath Spa resort" also the author of "The Genius of Bath".
future
calendar
local events