Completed meetings and events 2021-2022
Thu 25th November 2021 Christmas Briefing at Thatchers Hotel
Andrew will lead the briefing about our Christmas activities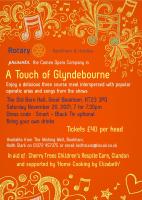 Sat 20th November 2021 A Touch of Glyndebourne
Enjoy a delicious three course meal interspersed with popular operatic arias and songs from the shows performed by the Cameo Opera Company.
Thu 18th November 2021 Tales of International Rugby by former Welsh international and British Lion, John Taylor.
Visit to Cranleigh Golf & Country Club to hear John Taylor speak organised by Cranleigh Rotary
Thu 11th November 2021 Business Meeting & SGM via ZOOM
A Business Meeting via ZOOM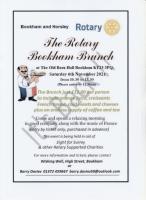 Sat 6th November 2021 Rotary Bookham Brunch
The Brunch is just £12 per person to include orange juice, croissants, French bread, cold meats and cheeses plus an endless supply of coffee and tea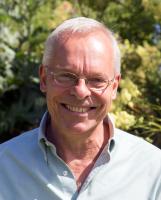 Thu 4th November 2021 From Vine To Wine
Come along to Bookham Baptist Church to hear the story of how former Rotarian Mark Porter planted his own vineyard and started producing his own wine. Samples will be provided!
Thu 28th October 2021 Aprender's Lebanon Project
Come along to Thatchers and hear an update from Phil Hawkins on Aprender's Lebanon Project
Thu 21st October 2021 Business Meeting
A Zoom meeting
Thu 14th October 2021 Quiz Evening
A lighthearted quiz over Zoom
Thu 30th September 2021 Journey to the North Pole
Thu 29th July 2021 BBQ at Thatchers
With partners
Thu 22nd July 2021 Living Life without Plastics - Tracey Harwood - Zoom
Thu 15th July 2021 Business Meeting - Zoom
Thu 8th July 2021 Social Meeting - Zoom
Thu 1st July 2021 Social Meeting
Meet OBH
calendar
local events