Completed meetings and events 2018-2019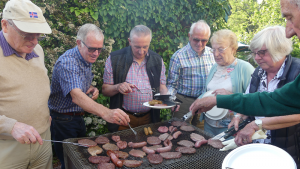 Fri 28th June 2019 Barbeque at Michael and Pauline Duffy's home
Raffle donations to Alan Clark, please.
Tue 25th June 2019 Presentation evening
At the end of the Rotary Year, our President will make donations to the various charities that we are supporting in 2018/9.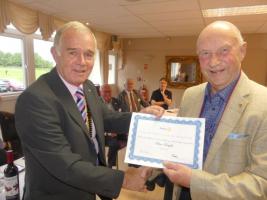 Tue 25th June 2019 Clive Temple made an Honorary Member
.
Tue 18th June 2019 Meeting venue change
Note: due to the unavailability of our normal meeting room, this week a social meeting will be held at Primo Piano, 7 New Market, Morpeth.
Also please note that the start is slightly earlier, at 17:30.
Mon 17th June 2019 Joint dinner with Lions
At Manzils. Details to follow.
Tue 11th June 2019 AGM/Club Assembly
Also visit from Asst. District Governor
Mon 3rd June 2019 Council Meeting
.
Tue 28th May 2019 No meeting
.
Thu 23rd May 2019 Golf competition for the Ralph Bowey Trophy.
The Trophy presentation will follow an informal meal in the clubhouse bar.
Thu 23rd May 2019 Golf competition for the Ralph Bowey Trophy.
The Trophy presentation will follow an informal meal in the clubhouse bar.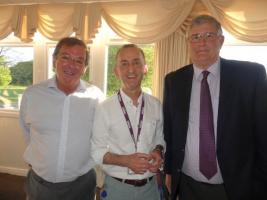 Tue 21st May 2019 Dementia Training
Friends and Family are welcome to attend this presentation from Guy Kirk, Director of Home Instead.
Tue 14th May 2019 Business Meeting
Club affairs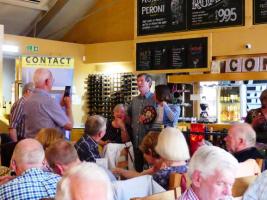 Mon 13th May 2019 Charity Dinner in aid of Contact
7pm at Primo Piano, Morpeth. Entertainment by Lou Coel. £20 per head.
Tue 7th May 2019 No meeting
.
Wed 1st May 2019 Memorial Service for Past President David Richardson.
At Ripon Cathedral. If you are interested in attending, liaise with Kevin Dunlop about transport.
Tue 30th April 2019 A Kindertransport Kid
Presented by Professor Otto Meth-Cohn, who came to Scotland in 1939, alone, as a refugee from Germany at the age of 4. An amazing story of survival.
Mon 29th April 2019 Council Meeting
.
Mon 29th April 2019 Save the Children dinner.
At Mulan. Tickets from Michael Duffy.
Tue 23rd April 2019 No meeting
.
Tue 16th April 2019 Business Meeting
Club affairs
Tue 9th April 2019 Rehabilitation Response and their work in Pakistan
Mr Amjad Gulzar Shaikh, Orthopaedic Surgeon, and his medical projects in support of the poor in Pakistan, particularly amputees.
Tue 2nd April 2019 Lithium-ion Batteries - friend or foe?
Professor Paul Christensen will take us through the science and safety of lithium-ion batteries.
Mon 1st April 2019 Council meeting - NB venue
At Kevins home
Tue 26th March 2019 Water, flip-flops and blankets?
Paul Waugh, Street Pastor, will explain how they help vulnerable people on the night streets of Newcastle.
Mon 25th March 2019 - Wed 27th March 2019 Morrisons Bucket collection
from 9:00 to 19:00 each day.
Tue 19th March 2019 Regeneration in Northumberland
Richard Wearmouth, County Cabinet member for Regeneration, explains what is under way around Northumberland and especially Morpeth.
Tue 12th March 2019 Business Meeting
Club affairs.
Tue 5th March 2019 Tree of Light charities evening
The three charities supported by the Tree of Light 2018 - MIND, Henry Dancer Days and Cleasewell Hiil School - received their cheques and gave brief presentations.
Mon 4th March 2019 Council meeting - NB venue
At Colin Dyson's home.
Fri 1st March 2019 Presidents Night
President Bob Kendall is delighted to host his dinner at Morpeth Golf Club. Please meet at 7pm for 7:30pm. Formal evening wear. Any queries should be directed to Rtn Martyn Jenkins.
Tue 26th February 2019 G0EVV is the callsign of an amateur radio full licence holder.
David Stansfield is a "Mountain Goat", recognised as an hugely experienced hill top amateur radio operator.
Tue 19th February 2019 Being a Town Councillor in Morpeth
Alison Byard, Deputy Mayor, shares her journey into local democracy.
Tue 12th February 2019 Business Meeting
Club affairs
Tue 5th February 2019 It's a funny old world
Dr Malcolm Kennedy, former President of the Institution of Electrical Engineers, relates anecdotes from his worldwide career in the electricity supply systems industry.
Mon 4th February 2019 Council Meeting
.
Tue 29th January 2019 Archaeology - the excitement of Time Travel
David Jones spent his career on the latest, secret IT. Now he spends his time on Coquetdale Community Archaeology.
Tue 22nd January 2019 Burns Night
At Barluga. Please select your meal beforehand.
7 for 7:30pm.
Tue 15th January 2019 Three Way Quiz
Our annual competition between Inner Wheel, Lions and Rotary.
Tue 8th January 2019 Paediatric Immunology
Professor Andrew Cant will shortly retire. Before then he will share his life's work with us.
Mon 7th January 2019 Council Meeting
.
Tue 1st January 2019 No meeting
Happy New Year!
Tue 25th December 2018 No meeting
Merry Christmas!
Tue 18th December 2018 Extraordinary General Meeting
Nomination of Officers for 2019/20
Tue 11th December 2018 Christmas message
.
Sat 8th December 2018 Christmas Band Concert
Our traditional opening to the festive season, with the Ellington Colliery Brass Band.
We welcome you to the Methodist Church, Morpeth.
Tue 4th December 2018 NB Changed Start Time. Strategic Discussion
A meeting focussed on the recent survey amongst members and the strategic issues facing the Club.
Mon 3rd December 2018 Council Meeting
.
Tue 27th November 2018 Yesterday's man
Brian Gallon, former Coroner, shares his reminiscences.
Tue 20th November 2018 Northern Power, the Grid, and Me.
David Brown, Delivery Manager, North of Tyne for Northern Powergrid, shares his career and responsibilities for Keeping the Lights On for an huge swathe of Northern England, including Morpeth and locality.
Sat 17th November 2018 Tree of Light switch-on
Sanderson Arcade
Tue 13th November 2018 Business Meeting and District Quiz
Mon 12th November 2018 Tour of Moody Logistics
Industrial visit
Tue 6th November 2018 Membership presentation
Len Burns, responsible for District Membership, makes a presentation related to our recent survey of members.
Mon 5th November 2018 Council Meeting
.
Tue 23rd October 2018 What a load of rubbish!
Yes, but how do we deal with it?
Lorna Tingey, NCC Recycling Officer, has some ideas.
Tue 16th October 2018 Mr Grainger's Market
Freda Thompson will tell the story of this Newcastle landmark.
Tue 9th October 2018 Business Meeting
.
Mon 1st October 2018 Council Meeting
.
Tue 25th September 2018 Collingwood School and Media Arts College
Richard Jones, Headmaster, will tell us about them.
Tue 18th September 2018 Recollections of the Royal Navy
Ken Branson, former leader of Hull City Council and active member of the community in Rothbury, explains how he made it to Admiral only after he left the Navy.
Tue 11th September 2018 Business Meeting
.
Tue 4th September 2018 Run, Geordie, Run. Fancy running around the World? Mark is.
In stages, Mark Allinson is running 20,000 miles around the World in aid of NE Charities. He's half way to his goal. Bring your trainers.
Mon 3rd September 2018 Council Meeting
.
Tue 28th August 2018 No meeting
.
Tue 21st August 2018 Team Rubicon - who are they and what do they do?
North Eastern organiser Andrew Broadbent explains.
Tue 14th August 2018 Business meeting and District Governor's visit
.
Tue 7th August 2018 No meeting
.
Mon 6th August 2018 Council meeting - NB venue
.This will be held at President Bob's home.
Tue 31st July 2018 My stammering journey.
Arthur Young's experience.
Tue 24th July 2018 Northumbrian Bits and Pieces
Dialect word, rhyme, and song of Northumberland. Who else but Alex Swailes.
Tue 17th July 2018 Business Meeting
.
Tue 10th July 2018 No meeting
.
Tue 3rd July 2018 Colin Dyson is speaker.
Colin introduces himself to the Club.
Mon 2nd July 2018 Council Meeting
.
calendar
local events