Completed meetings and events 2019-2020
Tue 30th June 2020 Valedictory address and Handover
New President Colin Dyson takes over for 2020/21.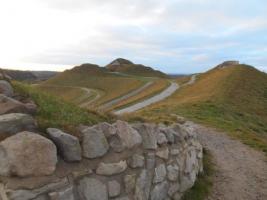 Tue 23rd June 2020 Online Meeting. Results of Photographic Competition
Also winner in "Secret Northumberland" category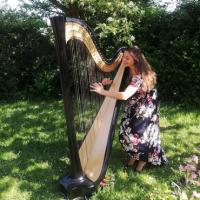 Tue 16th June 2020 Online AGM/Club assembly
The meeting was enlivened by a performance from Debbie Snowdon, the student Harpist to whom the club granted a small bursary some years ago.
Tue 9th June 2020 Online Rotary Meeting. Desert Island Discs.
Mark Thomas, Colin Dyson, Mary Kendall and Michael Duffy chose 8 pieces, with the most popular being O Mio Babbino Caro.
Two Beethoven Symphonies, Elgar, Cwm Rhondda, When I fall in Love, Take me back to the Black Hills and G&S The Sun whose Rays.. too.
Mon 8th June 2020 Photographic Competition entry deadline
Categories are:
1. Secret Northumberland
2. Inter Silvas et Flumina Habitans
3. Months of the Year. (please note which)
Please email entries to John Pringle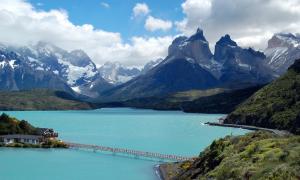 Tue 2nd June 2020 Online Rotary Meeting - Patagonia
John Dark will share experiences of his trip to Patagonia and the Torres del Paine National Park.
Mon 1st June 2020 Council Meeting online
See Zoom invitation
Tue 26th May 2020 No meeting
Follows bank holiday.
Thu 21st May 2020 POSTPONED Golf - The Ralph Bowey Trophy.
.
Tue 19th May 2020 Online Rotary Meeting.
Alan Moody's granddaughter, Ellie, will present feedback on our sponsorship project: a World Challenge trip to Tanzania and Zanzibar.
Login link will be emailed.
NB revised meeting format.
Fri 15th May 2020 CANCELLED Wine tasting
In aid of Foundation. At the Golf Club.
Wed 13th May 2020 REARRANGED Business Meeting
Held one day later than originally planned, this online meeting will discuss club affairs. It will be preceded online by a social get together at 5pm.
Mon 11th May 2020 Online Council Meeting
Time, agenda and log-on details to be advised
Wed 6th May 2020 Online Rotary Meeting.
Meeting split into two parts - social conversation at 17:00, then the business part at 18:00.
The main meeting will have a VE Day theme.
Please keep an eye on emails for joining details.
Mon 4th May 2020 Council Meeting changed to virtual meeting on 11th May
Time, agenda and log-on details to be advised.
Wed 29th April 2020 Online Rotary Meeting.
Col David Middleton of Bedlington Air Cadets will talk about that organisation.
Please see email from Martyn Jenkins for log-on details.
Preceded at 5pm by group social chat.
Thu 23rd April 2020 CANCELLED Dinner in aid of The Leprosy Mission
Northumberland College Catering and Hospitality are providing a special dinner for Morpeth Rotary. £20, at the college in Ashington.
Wed 22nd April 2020 Virtual club meeting
Members should logon with link emailed by President Martyn.
Tue 21st April 2020 Business Meeting CANCELLED
Club affairs
Tue 14th April 2020 No meeting
.
Mon 6th April 2020 CANCELLED Council Meeting
At golf club
Sun 29th March 2020 CANCELLED Charity Dinner at Lollo Rosso
To help Morpeth First School install equipment to allow them to become a Forest School.
Put this in your diary.

Tue 24th March 2020 MEETING CANCELLED. A new lease of life for Morpeth Station
It opened in 1846, and is being refurbished to the tune of £2.2m. The Chief Exec. and Chair of GMDT, respectively David Lodge and Doug Phillips, will tell us how it was done and why Morpeth should be proud.
Tue 17th March 2020 - Thu 19th March 2020 MEETING CANCELLED.Gladiators.
A talk by Steve Pedler.
Tue 10th March 2020 Business Meeting
Club affairs
Thu 5th March 2020 District Quiz at Morpeth
The new format District Quiz will be held for our Group at Morpeth. Supporters welcome.
Wed 4th March 2020 Council Meeting
At golf club, in meeting room
Tue 3rd March 2020 Mutiny
Simon Foley will elucidate.
28th April 1789 was the date of the Mutiny on The Bounty. How significant it was as the first of two others in the Royal Navy in the turbulent 1790s: Spithead and Nore.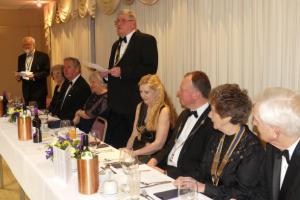 Fri 28th February 2020 President's Night
Celebrate his year of office with Martyn Jenkins.
Tue 25th February 2020 The trials and tribulations of speaker finders. Hence a quiz. On obscure words.
Alan Clark acts as question master.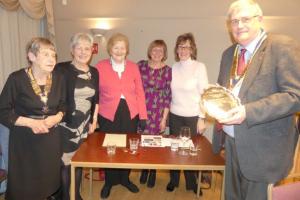 Tue 18th February 2020 Three Way Quiz
Competition between Inner Wheel, Lions and Rotary
read more...
Mon 17th February 2020 How to use a defibrilator
Training for everyone who might need to use the new defibrillator in the Town Square. Everyone is welcome at the Town Hall.
Tue 11th February 2020 Business Meeting
Club affairs
Tue 4th February 2020 Woman in a man's world
Christine Telford shares her experiences of working on oil rigs.
Mon 3rd February 2020 Council Meeting
At golf club
Tue 28th January 2020 Liaising with companies in Morpeth.
Noel Hawks will discuss opportunities for cooperation between Morpeth Rotary and local business.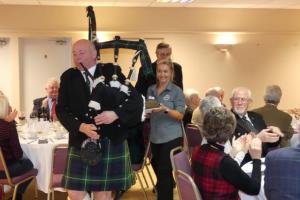 Tue 21st January 2020 Burns Night Supper.
Piper Stewart Todd leading-in the haggis, followed by Sarah and MC Prof. Andrew Hamnet resplendent in his Malawi Tartan.
Tue 14th January 2020 Job talk
Ian Leech, recently welcomed as an Associate Member, will tell us about his professional life.
Tue 7th January 2020 Business meeting
.
Tue 31st December 2019 No meeting
Happy New Year!
Tue 24th December 2019 No meeting
Merry Christmas!
Tue 17th December 2019 Business Meeting & Social
Buffet - guests and partners welcome.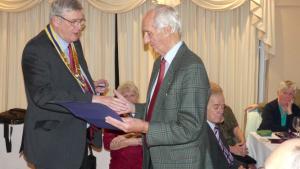 Tue 10th December 2019 Christmas message and presentation of Paul Harris Award
The Club celebrate Christmas together
Mon 9th December 2019 - Thu 12th December 2019 Collection at Morrisons
Christmas collection instore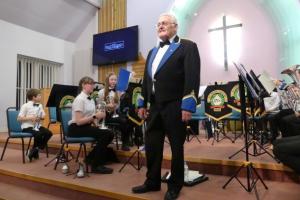 Sat 7th December 2019 Christmas Concert
Our traditional concert with Ellington Colliery Brass Band at the Methodist Church.
This year it's in aid of End Polio Now.
Rotary has worked World Wide for 35 years to eradicate this infectious viral disease. We must push until it's gone completely.
Mon 2nd December 2019 Council Meeting
At Golf Club
Tue 26th November 2019 The story of Wallsend Boys Club.
Steven Dale, Chairman, and Robin Cairns, Trustee, explained the history, record of player development and philosophy of Wallsend Boys Club.
It's for Girls too.
It's also not all about football: respect, discipline, i.e. personal development is the key.
Tue 19th November 2019 The Speaker will be Eileen Beers, and we also welcome a group of Rotarians from Alnwick.
Eileen Beers' theme will be based on her membership of Morpeth Poetry Society.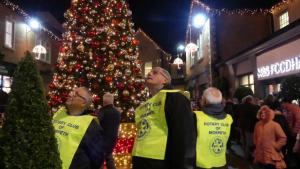 Sat 16th November 2019 Illumination of the Tree of Light
Christmas starts here. The three charities being supported equally are Blood Bikes (the Mayor's charity), Tiny Lives (nominated by Sanderson Arcade) and North of England Children's Cancer Research (Rotary choice).
Tue 12th November 2019 Business Meeting
Club affairs and Pudding Competition
Fri 8th November 2019 - Sat 9th November 2019 Evening of Carpet Bowls
At Whalton Village Hall. With partners. Bring drinks and food for sharing.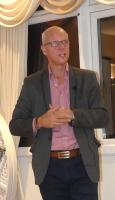 Tue 5th November 2019 Hoping for a Swift Return.
Graham Sorrie is the instigator of the Swift Boxes that have appeared in Lancaster Park and Newgate St. These amazing little birds only ever land to nest.
Mon 4th November 2019 Council Meeting
At Golf Club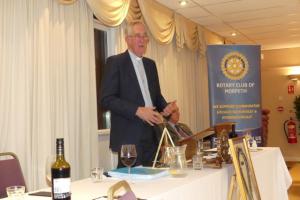 Tue 29th October 2019 Crossing the Military Zone in Korea
Revd. David Grosch-Miller was the Moderator of the General Assembly of the United Reformed Church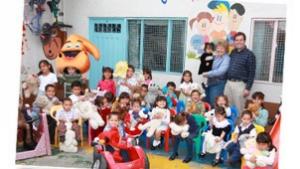 Tue 22nd October 2019 Children's Vision Bogota - a charity we have supported long-term.
Barry Sanderson will be giving us the latest news from Children's Vision in Bogota, and its UK counterpart, New Hope for Children.
read more...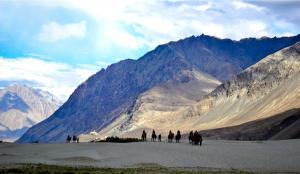 Tue 15th October 2019 Ladakh - the Northerly tip of India
Harry Hall shares his experiences, and some pictures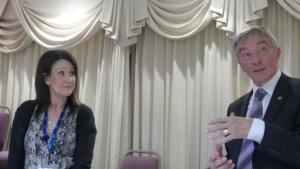 Tue 8th October 2019 Business Meeting and presentation on Eco Greenhouse
Club affairs and photographic competition details.
Also, Charlotte Jones, co-ordinator of Creative Artwork at Chantry and Newminster Middle Schools spoke about a project to build an Eco Greenhouse from used 2 litre plastic bottles
read more...
Tue 1st October 2019 Anecdotes from Paul Booth
Photographer and drone pilot.
Mon 30th September 2019 Council Meeting
At Golf Club
Thu 26th September 2019 - Thu 19th September 2019 Golf - The Presidents Tankard competition
.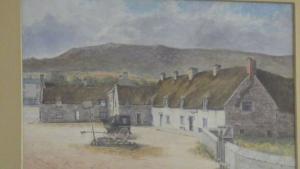 Tue 24th September 2019 It's a mystery. Some history too.
Jeff Reynalds will share some historical research into Rothbury and the Coquet valley. Who do the heads on the old apothecary represent?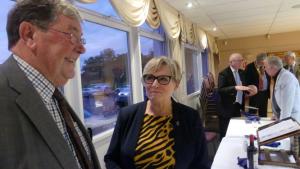 Tue 17th September 2019 The work of the Leprosy Mission
Jayne Thomas, regional representative for Northumberland and Tyneside explains what they do in India and Nepal.
read more...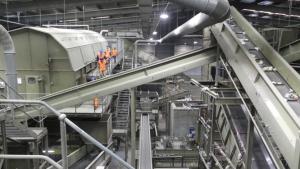 Thu 12th September 2019 Second visit to West Sleekburn Waste Management Plant
The plant was running the second time!
read more...
Tue 10th September 2019 Business Meeting
Club affairs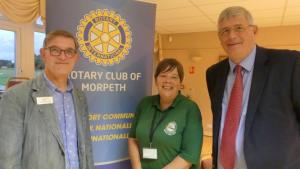 Tue 3rd September 2019 Great North Air Ambulance
Our Auction will be held in support of this charity.
read more...
Mon 2nd September 2019 Council Meeting
At Golf Club
Tue 27th August 2019 No meeting
.

Tue 20th August 2019 Visit to Hauxley Nature reserve, followed by meal at Contact. Partners welcome.
At 2pm a guided visit around Hauxley Nature Reserve. (£2-3). Followed at 6pm by a social supper at Contact. (£8). Please advise Martyn which, or both, you will join.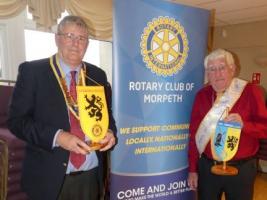 Tue 13th August 2019 Business Meeting
Club affairs, and a presentation by Elaine Smith of Warkworth Rotary about the benefits of Rotakids and Interact.
Tue 6th August 2019 Wildlife in Northumberland
Christine Cocker, naturalist of Shetland and particularly Northumberland, shared with us from her photographic collection the richness of local wildlife on our doorstep. Especially the birds.
Mon 5th August 2019 Council Meeting
At Golf Club.
Tue 30th July 2019 Business meeting
.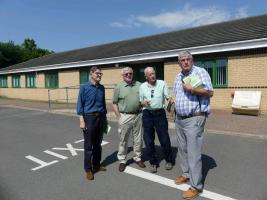 Thu 25th July 2019 Visit to West Sleekburn Waste Management Facility.
A follow up visit on the waste recycling presentation by Lorna Tingey on the 18th of October. Unfortunately the plant was not operating due to breakdown. Hence the perplexed expressions!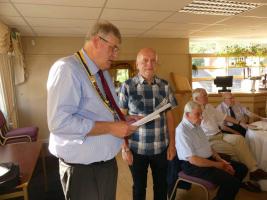 Tue 23rd July 2019 - Wed 31st July 2019 New Member inducted
Mark Thomas being induced by President Martyn Jenkins.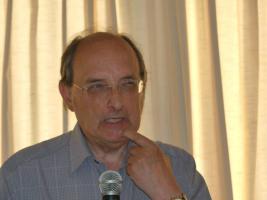 Tue 23rd July 2019 Dai Richards
Dai is a litter ambassador. He will explain the role.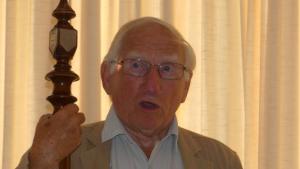 Tue 16th July 2019 Alex Swailes
Northumbrian poetry and anecdotes about the Morpeth Gadgie, straight from the horses mouth.
read more...
Tue 9th July 2019 NOTE Venue Change : Business Meeting
Last minute change of venue to Primo Piano. Please see email from John Pringle with details and menu choices which must be given to Martyn Jenkins by Saturday 6th July.
Mon 1st July 2019 Council Meeting
.
calendar
local events