Completed meetings and events 2021-2022
Tue 17th May 2022 Barnbas Safe and Sound
Jill Monaghan speaking on her work for the organisation.
Tue 10th May 2022 Grandpa's story from World War II
John Sandles is telling his Granpa's story during the war complied from his letters.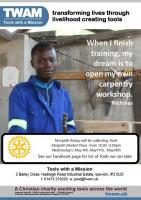 Tue 26th April 2022 Tools with a Mission in May 2022
We are collecting used and unwanted tools at Morpeth Market Place on Wednesday 4th, 11th & 18th May
Tue 19th April 2022 No meeting following a Bank Holliday
Tue 12th April 2022 Hepscott Nature Reserve
Peter Mathisson
Mon 11th April 2022 Manzil - Fund raising Indian Meal
Join us for a night of fun and fellowship to raise monies for local charities. Cost £18
Tue 5th April 2022 Rotarian Michael Duffy
Accidental Teacher
Tue 8th March 2022 Ian Glendening - Red Squirrels
We are looking forward to hearing Ian's informative speech
Fri 4th March 2022 President's Night at Morpeth Golf Club
Join President Mary as she celebrates her year.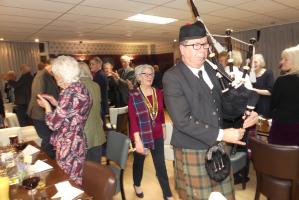 Tue 25th January 2022 Burns Night
A wonderful evening to celebrate the life and works of Robert Burns
read more...
Sat 11th December 2021 Christmas Concert
Northumbian Water Ellington Colliery Band will once again start the Christmas celebrations.
Tue 7th December 2021 Mark Dransfield
Mark will be joining us to talk about his success of Sanderson Arcade and his flagship store
Tue 30th November 2021 Christmas Message
Our Christmas meal.
Guests welcome
Tue 16th November 2021 Business Meeting
Michael Duffy will also give an update on our project at Morpeth Railway station in collaboration with Morpeth Lions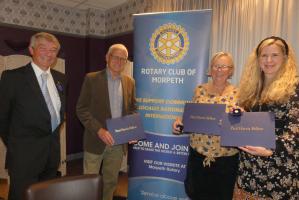 Tue 19th October 2021 Past President Colin Dyson
Past President Colin will take the Chair and have the opportunity to present Paul Harris Fellows to outstanding members of our community.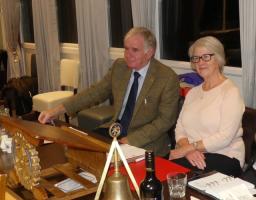 Tue 5th October 2021 Rtn Bob Kendall
Bob will share with stories with us of his 'Life as an R.A.F apprentice'
read more...
Tue 21st September 2021 Rtn Rhona Dunn - Club Foundation Projects
Rhona will discuss our programme of events to support Foundation
calendar
local events