Completed meetings and events 2020-2021
Thu 22nd October 2020 Calling all Quizzers - A Virtual Quiz Night for Charity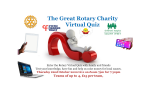 read more...
Tue 20th October 2020 Club meeting. Speaker Huw Williams.

Huw Williams cameraman will give a talk on 'Spy in the Wild'.
BBC series with film clips and some of the animatronics they use.
Tue 13th October 2020 Club meeting

Rotary Peace Fellows, Idrisa Kamara and Maia Shalashvili will give a talk on peacebuilding challenges and practices in Georgia US, and youth livelihood challenges in Liberia and West Africa.
Tue 6th October 2020 Club Council. 20.00 Speaker Chalmers Cursley.

Chalmers Cursley will give a talk on 'Benjamin Cusley (Cursley), Royal Marine, Cordwainer, First Fleeter and Hawkesbury Pioneer'
Further information:
http://www.ennever.com/histories/historyfirstfleeters.php
http://www.cursley.org.uk/id11.html
Wed 30th September 2020 Can you assist us to help young Finn from Winford realise a more fulfilling Life?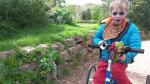 read more...
Tue 29th September 2020 19.00 Committees Artifacts evening.

If you have an interesting artifact you would like to talk to the club about, please let Mr. President know.
Tue 22nd September 2020 Speaker: Herbert Chatters
Herbert Chatters will give a talk on the history of Gin and Rotary Purple Gin.
Tue 15th September 2020 Speaker: Eve Conway, Vice-Chairman, Rotary International's End Polio Now Committee.

As End Polio Now is still a major issue for Rotary with spending around $900million/year, Eve will present/update the ongoing work and the Purple4Polio campaign.
Tue 8th September 2020 Club Council followed by Speaker at 20.00

Rev'd Debbie Hodge, Past President. RIBI,talk about Rotary Mercy Ship ongoing work.
Tue 1st September 2020 Committees. Speaker Tom Elliott,

19.30 - 19.45 Tom Elliott, Director of Cornerstone Entertainment Ltd, to give a talk on plans for a community variety night tour next year and explanation of this initiative.
19.45 Quiz presented by Rob Taylor.
Tue 25th August 2020 Speaker: Clive Brett - REMAP

Custom-made equipment for disabled people
Tue 18th August 2020 Speaker: Bryony Palmer - Staff Nurse Paediatric ICU

Experiences with ICU in Manchester and Dubai.
Sat 15th August 2020 Virtual Dog Show

read more...
Tue 11th August 2020 Club Council. Speaker from Dogs for Good.

At 20.00 a speaker from "Dogs for Good" will talk about how they train assistance dogs to support adults and children with a wide variety of disabilities.
Tue 4th August 2020 Committees

Speaker:- John Miles to talk about Rotary's Global Sight Solutions and its attempt to provide free eye care to the world's poorest.
Tue 28th July 2020 Speaker Past Rotary International President Barry Rassin

Past Rotary International President Barry Rassin
Tue 21st July 2020 Council. 20.00 Speaker Rotarian John Dehnel

20.00 Speaker John Dehnel on the use of CPR and Defibrillators
Tue 14th July 2020 Committees 19.00. Speaker Jamie Barrow 19:30

Jamie is "Britains Fastest Snowboarder" and he holds a Guinness World Record for the fastest speed on a snowboard while being towed by a vehicle (a Maserati Levante). He is also an ambassador for the charity SnowCamp.
Tue 7th July 2020 Speakers Jasmine Adams and Garth Arnold.

"Using the power of crowdfunding to change lives."
Rotary and the GlobalGiving platform are working together to engage Rotary clubs in crowdfunding for community projects in the UK
future
calendar
district events