Completed meetings and events 2020-2021
Mon 1st March 2021 Charity On Line Silent Auction
read more...
Tue 23rd February 2021 Speaker Adrian Dodd

Adrian is a member of RNLI and the Chew Valley Fundraising Branch and will talk about the activities of both.
Tue 16th February 2021 Club Council. 20.00 Speaker Dr Mike Peirce MBE.

Mike is the founder of the Southmead Project in Bristol which provides a free counselling and support service for survivors of abuse and addiction and its correlation with self-harming.
Tue 9th February 2021 Committees. 19.30 Speaker Clive Setter from Heartsafe

Clive will talk on the unique features of the defibrillator at the Carpenters and the best way to access it and advise emergency services.
Tue 2nd February 2021 Club meeting. Speaker Hugo Pike

An update on our Global Grant partner (Nusa Dua Club in Bali, Indonesia ) on the Cleft Palate project.
Tue 26th January 2021 Club meeting. Speaker Ron Jeffrey.

Talk by Ron Jeffrey: Lawrence of Arabia, the man behind the myth.
Tue 19th January 2021 Club Council. 20.00 Jacqui Mills

Jacqui is the lead on community engagement for Bristol Airport, and will talk about the Airport pre Covid and post Covid. Discussion on the Appeal will not be possible.
Tue 12th January 2021 Committees. 19.30 Speaker Ian Bell

Ian is the Press Officer and Secretary of the Chew Valley Chamber of Commerce and will provide an update of the state of commerce in the area and the work the Chamber does.
Tue 5th January 2021 Club meeting. Speaker Alan Hale

Alan is the Chairman & Project Manager of the Keynsham Foodbank which we have been supporting. He will provide an update on the eventful 2020.
Tue 29th December 2020 No Meeting

Tue 22nd December 2020 Fun Quiz

A fun quiz organised by Rob Taylor.
Tue 15th December 2020 Club meeting. Speaker Sally Marsh

Sally is President Keynsham & District Lions Club and will talk about Lions, her Club and the opportunities for partnership / cooperation with our Rotary Club in the future.
Tue 8th December 2020 Speaker Ashley Jones.

Senior Safety presentation, safety on the doorstep, computer, telephone etc.
Tue 1st December 2020 Club Council.

Special General Meeting
Tue 24th November 2020 Committees. 19.30 Speaker Ben from Chew Valley Trees.

"Speaker Ben Moss, one of the members of Chew Valley Plants Trees, a community group established to see tree cover in the Chew Valley doubled in the next ten years."
Tue 17th November 2020 Club meeting. Speaker Dr Keith Paver.

Dr. Keith Paver, a virologist, will talk on Emerging virus infections including avian flu, SARS and COVID-19. Also about disease prevention and control.
Tue 10th November 2020 Club meeting. Speaker David Perkins.

Presentation on Rotary Foundation.
Tue 3rd November 2020 Club Council. 20.00 Talk Paul Blakeborough of Make-A-Wish

The talk will be about the Make-A-Wish Foundation and all the great work done to create life-changing wishes for children with critical illnesses.
Tue 27th October 2020 Committees. 19.30 Speaker Rotarian Gloria Barnett

Rotarian Gloria Barnett will talk on the need for healthy oceans and to understand the beauty and incredible animals in the underwater world.
Thu 22nd October 2020 Calling all Quizzers - A Virtual Quiz Night for Charity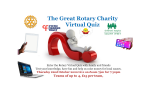 read more...
Tue 20th October 2020 Club meeting. Speaker Huw Williams.

Huw Williams cameraman will give a talk on 'Spy in the Wild'.
BBC series with film clips and some of the animatronics they use.
Tue 13th October 2020 Club meeting

Rotary Peace Fellows, Idrisa Kamara and Maia Shalashvili will give a talk on peacebuilding challenges and practices in Georgia US, and youth livelihood challenges in Liberia and West Africa.
Tue 6th October 2020 Club Council. 20.00 Speaker Chalmers Cursley.

Chalmers Cursley will give a talk on 'Benjamin Cusley (Cursley), Royal Marine, Cordwainer, First Fleeter and Hawkesbury Pioneer'
Further information:
http://www.ennever.com/histories/historyfirstfleeters.php
http://www.cursley.org.uk/id11.html
Wed 30th September 2020 Can you assist us to help young Finn from Winford realise a more fulfilling Life?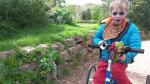 read more...
Tue 29th September 2020 19.00 Committees Artifacts evening.

If you have an interesting artifact you would like to talk to the club about, please let Mr. President know.
Tue 22nd September 2020 Speaker: Herbert Chatters
Herbert Chatters will give a talk on the history of Gin and Rotary Purple Gin.
Tue 15th September 2020 Speaker: Eve Conway, Vice-Chairman, Rotary International's End Polio Now Committee.

As End Polio Now is still a major issue for Rotary with spending around $900million/year, Eve will present/update the ongoing work and the Purple4Polio campaign.
Tue 8th September 2020 Club Council followed by Speaker at 20.00

Rev'd Debbie Hodge, Past President. RIBI,talk about Rotary Mercy Ship ongoing work.
Tue 1st September 2020 Committees. Speaker Tom Elliott,

19.30 - 19.45 Tom Elliott, Director of Cornerstone Entertainment Ltd, to give a talk on plans for a community variety night tour next year and explanation of this initiative.
19.45 Quiz presented by Rob Taylor.
Tue 25th August 2020 Speaker: Clive Brett - REMAP

Custom-made equipment for disabled people
Tue 18th August 2020 Speaker: Bryony Palmer - Staff Nurse Paediatric ICU

Experiences with ICU in Manchester and Dubai.
Sat 15th August 2020 Virtual Dog Show

read more...
Tue 11th August 2020 Club Council. Speaker from Dogs for Good.

At 20.00 a speaker from "Dogs for Good" will talk about how they train assistance dogs to support adults and children with a wide variety of disabilities.
Tue 4th August 2020 Committees

Speaker:- John Miles to talk about Rotary's Global Sight Solutions and its attempt to provide free eye care to the world's poorest.
Tue 28th July 2020 Speaker Past Rotary International President Barry Rassin

Past Rotary International President Barry Rassin
Tue 21st July 2020 Council. 20.00 Speaker Rotarian John Dehnel

20.00 Speaker John Dehnel on the use of CPR and Defibrillators
Tue 14th July 2020 Committees 19.00. Speaker Jamie Barrow 19:30

Jamie is "Britains Fastest Snowboarder" and he holds a Guinness World Record for the fastest speed on a snowboard while being towed by a vehicle (a Maserati Levante). He is also an ambassador for the charity SnowCamp.
Tue 7th July 2020 Speakers Jasmine Adams and Garth Arnold.

"Using the power of crowdfunding to change lives."
Rotary and the GlobalGiving platform are working together to engage Rotary clubs in crowdfunding for community projects in the UK
future
calendar
district events