Completed meetings and events 2017-2018
Fri 29th June 2018 Club Assembly
Fri 22nd June 2018 Nava Jyoti Deaf School, Nepal
Nicola Terry and Mike Greer (Deafway) visit us this morning for a final update on the school.
Fri 15th June 2018 Guest Speaker David Dunsmore
Rtn. David Dunsmore from the Rotary Club of Preston will present his highly recommended talk on his love of classical music.
Fri 8th June 2018 Fantasy Football FInale
Our Team Manager - John Ward - will distribute prizes to all teams!
Fri 1st June 2018 Club Business Meeting
Fri 25th May 2018 Fellowship Meeting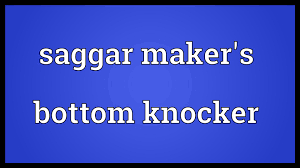 Fri 18th May 2018 - Fri 25th May 2018 Bring your thing
Our bring your thing meeting, bring an unusual item connected with your business, hobby, sport etc. and be wiling to talk about it when no one knows what it is.
Fri 11th May 2018 Pinky in Nepal
Keith Cameron returns to give part two of his talk about his trip to Nepal
Fri 4th May 2018 Club Business Meeting
Fri 27th April 2018 Guest Speakers Sally & John Holden
They're 'over here' on a brief visit what a great opportunity for Sally and John to bring us up to speed with their life in Canada.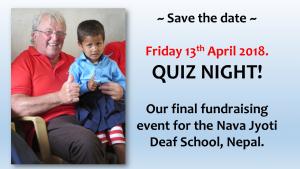 Fri 13th April 2018 Quiz Night
Our popular quiz night held at Deafway in aid of the Nava Jyoti School in Nepal
Fri 6th April 2018 Club Business Meeting
Fri 30th March 2018 Good Friday - no meeting
.
Fri 23rd March 2018 Rotary Club of Preston Guild Charter Night
at Preston Marriott Hotel
Fri 23rd March 2018 Charter Night - no morning meeting.
Fri 16th March 2018 British Virgin Islands Adventure -post hurricane
Julie Stewart will talk about her visit
Fri 9th March 2018 Technology Tournament
More details later
Fri 2nd March 2018 Club Business Meeting
Fri 23rd February 2018 Selecting Our Next International Project
Fri 9th February 2018 Travels in the Holy Land
Sue and Chris will talk about their recent trip.
Fri 2nd February 2018 Business Meeting
Fri 26th January 2018 Fellowship Meeting.
Fri 19th January 2018 Guest Speaker Steve Ashcroft
Steve's talk is entitled 'what women should know' we'll leave it at that, come and find out more on the day. The room capacity is only about 60 so booking your seat early is advisable.
Fri 12th January 2018 Fellowship meeting
Fri 5th January 2018 Club Business Meeting
Fri 29th December 2017 No Meeting
It's Christmas and we're getting ready for New Year, have an extra hour in bed.
Fri 15th December 2017 Guest Speaker - Brian Topping
Brian will tell us about his time working for HM Customs at Heathrow Airport.
Fri 1st December 2017 Club Business Meeting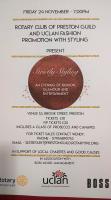 Fri 24th November 2017 Fashion Show
Our simply styling Fashion Show at 53 Degrees Preston. Tickets just £10.00 including wine and canapés
Fri 24th November 2017 Fellowship Meeting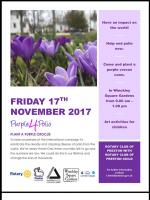 Fri 17th November 2017 Purple Crocus Planting Winckley Square
Come along and plant some crocus in Winckley Square as an on-going reminder of the fight against polio.

Fri 17th November 2017 Guest Speaker Dave Brown
Dave Brown coordinator of the Street Pastors will come and tell us about how they help to keep everyone safe on the streets whilst we're usually asleep.
Fri 3rd November 2017 Club Business Meeting
Fri 27th October 2017 Fellowship Meeting
Fri 20th October 2017 Guest Speaker RYLA
Our RYLA student comes to tell us of their experiences
Fri 13th October 2017 A talk about yet another job
Andy Cameron seems to have more jobs than George Osborne and is going to speak to us about his latest one.
Fri 6th October 2017 Club Business Meeting
Fri 29th September 2017 Visit of District Governor Larry
Fri 22nd September 2017 Fellowship Meeting
Fri 15th September 2017 Macmillan Coffee Morning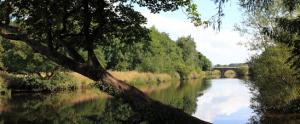 Sun 10th September 2017 Rotary Ribble Way Run
Our major fundraising event, a half marathon, 10k and fun run along the bank of the river Ribble from Longton to Penwortham. Please save the day - all club members and friends wil be needed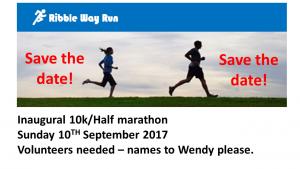 Fri 8th September 2017 Ribble Way Run Briefing Meeting
Our run takes place on Sunday and this is our chance to make last minute touches and ensure everyone knows what their role is on the day.
Fri 1st September 2017 Club Business Meeting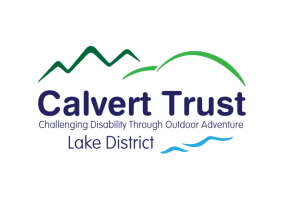 Fri 25th August 2017 Guest Speaker -Scott our Calvert Trust Student comes to tell us of his week in the Lakes.
Fri 18th August 2017 Fellowship Meeting
Relax enjoy breakfast and chat with friends
Fri 11th August 2017 Guest Speaker Olive Carroll
Olive Carroll, former member of Blackpool Sunrise Club with a talk entitled Strive for Excellence.
Fri 4th August 2017 Club Business Meeting
Fri 28th July 2017 Fellowship Meeting
Fri 21st July 2017 Keith Cameron returns as our guest speaker to tell us about his recent exploits in China
Fri 7th July 2017 Club Business Meeting
calendar
district events
local events