Completed meetings and events 2018-2019
Fri 28th June 2019 Club Assembly
Fri 21st June 2019 Guest speaker Graham Jordon
'Children with Cancer and how it impacts the families'
Fri 7th June 2019 Calvert Trust
Dan, Charles and Kieran come along to relive re their Calvert Trust experience.
Fri 31st May 2019 Club Business Meeting
…. we meet to make plans for the next Rotary Year.
Fri 17th May 2019 Olive Carroll returns
Olive returns to update us regarding our international project
Fri 19th April 2019 Good Friday - no meeting
Fri 12th April 2019 Job Talk Elyce Mercer
Elyce will tell us what she does between meetings.
Sat 6th April 2019 Business Meeting
After all the excitement of the last few weeks things get back to normal with our usual business meeting.
Fri 29th March 2019 Fellowship Meeting
Relax, eat breakfast and enjoy yourself - no pressure.
Fri 22nd March 2019 Rotary Club of Preston Guild Charter Night
at Barton Grange Hotel - it's our 25th Celebration (details yet to be confirmed)
Fri 22nd March 2019 Charter Night
We've no meeting this morning as it's Charter Night tonight - get your names to Tony soon please.
Fri 15th March 2019 Rotary Technology Competition
We meet for breakfast and then welcome this year's teams for our local heat of the competition, masterminded as usual by Eric Hughes.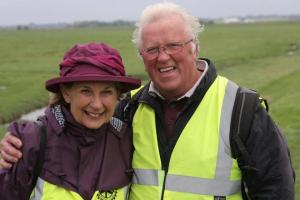 Fri 8th March 2019 Presentation morning
We are joined by a number of local organisations to whom were are presenting donations following the Ribble Way Run
Fri 1st March 2019 Business Meeting.
Fri 1st February 2019 Club Business Meeting
Fri 25th January 2019 Fellowship Meeting
Fri 18th January 2019 RWR cheque presentation to Vine House
Jeanette will be along to collect our donation to Vine House following the Ribble Way Run
Fri 11th January 2019 Mike Croskery - Derian House
Fri 4th January 2019 Club Business Meeting
Fri 21st December 2018 Christmas Breakfast
It' our Christmas breakfast - all welcome!
Fri 14th December 2018 Guest Speaker Brian Topping
Brian joins us again from the depths of east Lancashire to talk about him work supporting people with dementia
Fri 7th December 2018 '30 years quit - gamblers anonymous saved me
Guest speaker Paul Isherwood
Fri 30th November 2018 Fellowship Meeting
Fri 23rd November 2018 Our 25th Birthday
A celebration of the granting of the Club's Charter on 21 November 1993.
Fri 16th November 2018 Internal speaker - Richard Thomas is threatening to talk about the club accounts
Richard said he'd like to talk us through some accounts but don't let that put you off. More importantly we'll be inducting a new member, so that's a better reason to come.
Fri 9th November 2018 Calvert Trust presentation
Fri 2nd November 2018 Club Business Meeting
Fri 26th October 2018 Fellowship meeting
Kick off your shoes relax put the world to right and enjoy the company of your fellow club members.
Fri 19th October 2018 Burnley
Everything you ever wanted to know about - Burnley
Fri 12th October 2018 Nathan our RYLA candidate comes to tell us about his experience
Fri 5th October 2018 Club Business Meeting
Fri 21st September 2018 The loneliness of the long distance runner
Neil Fletcher talks about the Ribble Way Run and how it went.
Fri 14th September 2018 African Brew Ha - Ha
Alan Whelan visits us to talk about his experiences traveling around Africa on his motorbike.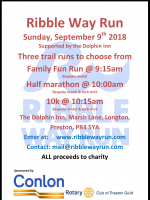 Sun 9th September 2018 Ribble Way Run
Our annual trail half marathon, 10k and fun run along the Ribble Way more details here www.ribblewayrun.com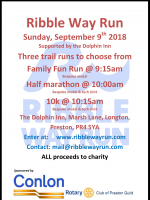 Fri 7th September 2018 - Sat 8th September 2018 Ribble Way Run briefing
Race Director Neill Fletcher will motivate us and tell us of our various duties for Sunday's run
Fri 31st August 2018 Visit of District Governor Mary
Fri 24th August 2018 Shalom Academy, Irovo, Kenya.
Olive Carroll visits to give us an update of one of our International projects.
Fri 3rd August 2018 Club Business Meeting
Fri 27th July 2018 Fellowship Meeting
Fri 20th July 2018 Guest Speaker Michael Conlon
Edith Rigby 1872 -1948
Fri 13th July 2018 Guest Speaker Viki Cuthbertson
5 things you didn't know about Bees - there'll be a buzz around the room for this meeting.
Fri 6th July 2018 Club Business Meeting
calendar
district events
local events