Completed meetings and events 2021-2022
Mon 27th June 2022 Club Photographic Competition
Mon 20th June 2022 Talk: Member's Heroes Part II
Mon 13th June 2022 Talk: Dr Tracey Laverick on Type 1 Diabetes
Mon 6th June 2022 Club Assembly and Business Meeting
Mon 30th May 2022 Talk: Robert Williamson "Mountain Rescue"
Mon 23rd May 2022 Talk: Andrew Clary and Peter Cole "Update on the Heritage Action Zone"
Mon 16th May 2022 An informal "Natter Night"
Mon 9th May 2022 AGM and Business Meeting
Mon 2nd May 2022 Bank Holiday - No Meeting
Mon 25th April 2022 Talk: Professor Catherine Noakes - a member of the SAGE Covid-19 Group "Pandemic 101 - Reflections on How to Control a Virus"
read more...
Mon 18th April 2022 Easter Monday - No Meeting
Mon 11th April 2022 Talk: Malcolm Warne - The Curse of the Sticky Toffee Pudding
Mon 4th April 2022 Monthly Business Meeting
Sun 3rd April 2022 Bedale Book and Postcard Fair at Bedale Hall
Our popular Book and Postcard fair will be returning to the lovely setting of Bedale Hall in April.
read more...
Mon 28th March 2022 Talk: Alys Allardyce - "The VAMOS Charity"
Mon 21st March 2022 Talk: Tom Banfield "The Admiral's Chronometer"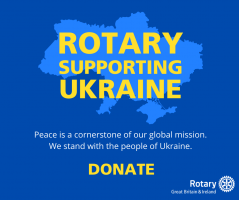 Wed 16th March 2022 Collection for Ukraine
The Rotary Clubs of Northallerton Mowbray and Northallerton will be in town on the 16th for a street collection and a stall on the market. Please support this worthy cause
Mon 14th March 2022 Talk by Zoom: Lt Colonel Prescott - "Violette Szarbo"
Mon 7th March 2022 Monthly Business Meeting
Mon 28th February 2022 Talk: John Waterhouse - "Are We Alone in the Universe"
Mon 21st February 2022 Talk: John Tubby - "The Work of TWAM (Tools with a Mission)"
Mon 14th February 2022 Games Night & Social
Mon 7th February 2022 Monthly Business Meeting by Zoom
Mon 31st January 2022 Talk – Members talking on their Heroes or Heroines
Mon 24th January 2022 Talk: Liz Styan - "The Secret Garden and other Greening Projects in Northallerton"
Mon 17th January 2022 Talk: Phil Roser _ "Life in a Fighter Cockpit"
Mon 10th January 2022 Talk: Sally Harrison on the "Little Faces" Schools Project in Mombassa
Mon 3rd January 2022 Business Meeting
Mon 27th December 2021 Bank Holiday - No Meeting
Mon 20th December 2021 Christmas/Festive Meal and Social
Mon 13th December 2021 Talk: Chris Horler " Danger! There's a Surveyor in the House!"
Mon 6th December 2021 Special General Meeting/ Business Meeting via Zoom
Mon 29th November 2021 Scatter Week
Mon 22nd November 2021 Talk: Philip Morris JP -a member of the North Yorkshire Bench. A Mock Trial
Mon 15th November 2021 Talk: Anna Naughton's Member Talk "Ashes to Ashes"
Mon 8th November 2021 Talk: Ann Baxter: "Covid - the Challenges and Opportunities. What do we need to do next? "
read more...
Mon 1st November 2021 Business Meeting Followed by Presidents Discussion Evening
Fri 29th October 2021 District Governor Visit
District Governor Stephen Ellis will be joining the Northallerton and Thirsk Clubs and our own Club at the Allerton Court Hotel. Meet 6.30 for 7.00 pm. Meal arrangements TBC
Mon 25th October 2021 Fellowship Evening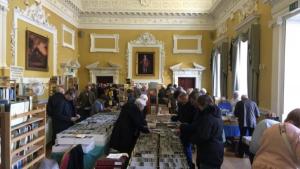 Sun 24th October 2021 Bedale Hall Book Fair in aid of Rotary Funds
The Club will be organising the fair at which a wide range of specialist book and postcard sellers will be present. A cafe will provide drinks, cakes and snacks throughout the day. Admission £1.50 for adults. Under 14s free
Mon 18th October 2021 Talk: Michael Webster on the use of the Pitch for a Pot monies by the Syrian Families
Mon 11th October 2021 Talk: David Tonge - A Friends of the Earth talk in the run up to COP26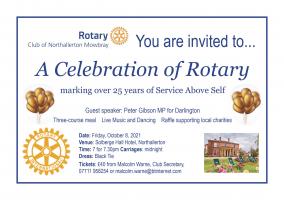 Fri 8th October 2021 26th Charter Dinner at the Solberge Hall Hotel
This year our Charter Dinner took the form of a "Celebration of Rotary". Our speaker was Peter Gibson MP, a member of our Club, who talked about his early experience as MP for Darlington
Mon 4th October 2021 Business Meeting via Zoom
Mon 27th September 2021 Talk: Alys Allardyce on "Aquabox"
Mon 20th September 2021 Talk: Scott McNiece - "My Road to the Australian Invictus Games"
Mon 13th September 2021 Talk: Andy Clarey and Peter Cole of Hambleton District Council on the Heritage Action Zone Project in Northallerton.
Mon 6th September 2021 Business Meeting via Zoom
Mon 30th August 2021 Bank Holiday - No Meeting
Mon 23rd August 2021 Talk: Julia Downes of The Pendragon Trust on how they have spent the monies from Pitch for a Pot.
Please note that the current intention will be for us to eat at the Allerton Court Hotel before making our way to the Pendragon Trust premises, where Julia will show us round and explain more about the work of Pendragon.
Mon 16th August 2021 Annual Treasure Hunt - Meet at the Hotel at 6pm
We will start the Treasure Hunt from 6pm. We aim to eat at the Hotel at 8pm
Mon 9th August 2021 Talk: Jan Garrill on the work of The Two Ridings Community Foundation
Mon 2nd August 2021 Business Meeting via Zoom
Mon 26th July 2021 Talk by Zoom: Elaine Harrison New Member talk
Mon 19th July 2021 Talk via Zoom: Ian Johnson - "The Living Rooms - How we used the Pitch for a Pot monies"
Mon 12th July 2021 Talk via Zoom: Robert Williamson - "My Pandemic Experience as Padre at James Cook University Hospital"
Mon 5th July 2021 Handover and Business meeting
calendar
district events
local events