Completed meetings and events 2016-2017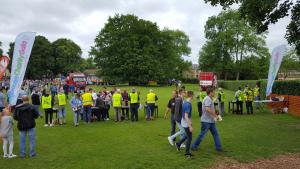 Sat 24th June 2017 Brighouse Gala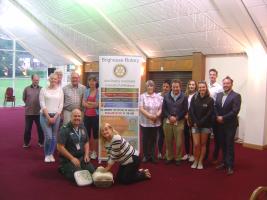 Tue 20th June 2017 Defibrillator training
Training for the local shop staff for the defibrillators that have been installed by Brighouse Rotary and local Heart group, Heartbeat.
Sat 10th June 2017 Com Voc Bacon brunch
Sat 3rd June 2017 - Sun 4th June 2017 Brighouse 1940s weekend
Sun 2nd April 2017 Navigation Walk
Thu 16th March 2017 Quiz Night
Sat 4th March 2017 President's Night '17
We hold a dinner to thank the President for all his work during the year and so he can enjoy the company of family and friends.
Sat 25th February 2017 Sound of Music film show/sing along/fancy dress
Come prepared to have some fun and make some noise!
Sun 12th February 2017 - Sat 21st January 2017 Afternoon Tea
Mon 12th December 2016 - Fri 16th December 2016 Project Local Santa Float
This is a collaboration between local service organisations, Brighouse Rotary, Brighouse 41 Club, Brighouse Innerwheel and Brighouse Ladies Circle.
Below are the details of the routes this year.
read more...
Sat 10th December 2016 Rest Centre coffee morning
Sun 4th December 2016 Tree of Light Dedication
Mon 28th November 2016 Decorating Brighouse Rest Centre
Following the club meeting several of us are calling in at the rest centre to put up their decorations.
Mon 28th November 2016 Shoeboxes returned to club
All members please bring all the completed shoe boxes back to the club.
Fri 4th November 2016 Charter Night
This black-tie dinner is where we celebrate the foundation of our club all they way back in 1936
Wed 28th September 2016 Social Meal @ Temujin
Off for a meal and a chat, new members welcome
Mon 4th July 2016 Handover ::: Steward: Russell Bancroft
calendar