Completed meetings and events 2019-2020
Wed 13th May 2020 Online Club Business Meeting
Club Business Meeting
Wed 29th April 2020 Zoom quiz
5th Wednesday social with a difference - online quiz
Fri 17th April 2020 Bolton Lever Rotary Charter Night Cancelled
Was going to be at Dunscar Golf club 17th April 2020
Now cancelled
Wed 26th February 2020 Indian Buffet Dinner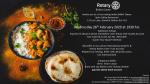 Bolton Lever Rotary Club invites you to
A Fund raising Indian Buffet Dinner
read more...
Sat 26th October 2019 ***Cancelled ***Disney & The Greatest Showman

I'm really sorry but unfortunately the concert on Saturday evening has been cancelled due to a technicality over copyright with the band.
All ticket purchases will be fully refunded.
Please pass on our apologies for any disappointment and inconvenie
Wed 11th September 2019 International Evening
Raising funds for the Rotary Foundation
read more...
Fri 12th July 2019 - Sun 14th July 2019 Ironkids and Ironman Weekend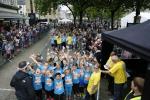 Rotary in Bolton is helping with the Ironkids registration and marshaling, as well as helping to marshall the new Adult night race
future
calendar