Completed meetings and events 2016-2017
Fri 31st March 2017 Quiz for Mayors Charity
The Old Chelmsfordians Social Club, Roxwell Road, CM1 3SA
read more...
Wed 29th March 2017 Social Event
Mon 27th March 2017 Council at ???
Thu 16th March 2017 A simple supper for J's Hospice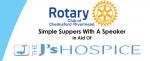 Tom Carter. Head Teacher of KEGS " Education - which aspects matter most"
read more...
Wed 15th March 2017 TBASpeaker Andrew Caplen
President of the Law Society 2014-2015
Wed 8th March 2017 Graham Hart This my Life
Graham Hart. This is my life.
Wed 1st March 2017 Speaker Meeting
Dr Nicholas Vincent, Writtle Surgery.
Thu 23rd February 2017 Council Meeting
Club Council Meeting. Agenda will be circulated by email
Wed 22nd February 2017 Scatter week
No Breakfast Meeting
Wed 15th February 2017 Speaker Ray Gooding
Ray Gooding , ECC Councillor, My vision for education in Essex
Wed 8th February 2017 Speaker Meeting Timothy Beasley-Murray
Timothy Beasley-Murray, UCL director of Global Citizenship
Wed 1st February 2017 Networking Meeting at Atlantic Hotel
Meet members from Chelmsford Networking Clubs
read more...
Wed 25th January 2017 Business Meeting
Wed 18th January 2017 Speaker meeting Peter Livingstone from Re-map
Peter Livingstone
read more...
Wed 11th January 2017 5 Club meeting at ARU
Hot Buffet from 7.15am
7.45 Professor Ian Martin, Vice Chancellor
followed by site tour for those who wish
read more...
Wed 28th December 2016 TBA
Mon 26th December 2016 Council at ???
Wed 21st December 2016 TBA
Wed 14th December 2016 TBA
Wed 7th December 2016 Speaker
Dave Monk, BBC Essex Presenter
Wed 30th November 2016 Fifth Wednesday: Social event no morning meeting
Fifth Wednesday: Social event tba
Wed 23rd November 2016 Speaker
This is my life! Roshan Jon
Wed 16th November 2016 Speaker
Nick Cheshire & Sarah Day on the challenge of creating an autistic resource centre in Springfield
Wed 9th November 2016 EGM: Business meeting to elect/confirm next year's principal officers
Wed 2nd November 2016 Speaker
Keir Lynch, CEO of Essex Cares
Wed 26th October 2016 Scatter week No morning meeting
All members are expected to visit local clubs
Wed 19th October 2016 Speaker - Change of
Prof Jamie Hacker Hughes President of The Psychological Society 2015""2016
Sun 16th October 2016 Purple Pinkie end Polio now

End Polio crocus corm planting
At ARU Campus 14.30
read more...
Wed 12th October 2016 Speaker
Visit of District Governor Terry Dean
Fri 7th October 2016 Simple supper for J's Hospice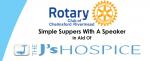 Simon Burns MP speaking on the topic "Does the House of Commons work?"
read more...
Wed 5th October 2016 Speaker - Susannah Beasley Murray, Head of Child Protection & Early Help in the London Borough of Newham
Susannah Beasley Murray, Head of Child Protection & Early Help in the London Borough of Newham
Wed 28th September 2016 Business Meeting
Wed 21st September 2016 Speaker
Gavin Jones, CEO of Essex County Council
Wed 14th September 2016 Speaker
Len Nieuwnehuis Chair District Foundation Committee
Wed 7th September 2016 Speaker
Caroline Beasely-Murray, HM Senior Coroner for Essex
future
calendar
district events
local events