Completed meetings and events 2022-2023
Wed 23rd November 2022 Club meeting at Wheal Dream. All welcome
Dinner, any agenda items followed by general socialising
Sun 20th November 2022 Club walk
More details closer to the date. People and dogs welcome!
Wed 16th November 2022 Club Zoom meeting
General Club meeting
Wed 9th November 2022 Club meeting at Wheal Dream. All welcome
Dinner, any Club agenda items followed by general socialising.
Wed 2nd November 2022 Roaming at Caroline Hemsworth's
Dinner and social evening. Please Doodle in as usual.
Sun 23rd October 2022 Club walk
More details closer to the date.
Everyone welcome, including dogs!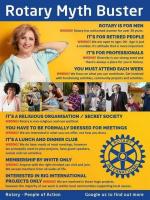 Wed 21st September 2022 - Sun 29th December 2024 Rotary Myth Buster
People often don't understand what Rotary is all about, so here's some common myths.
Wed 24th August 2022 Club meeting
Wheal Dream, Helston, TR13 0LR
2 course dinner, incl. tea/coffee £17.00
All welcome for a chat and laugh, along with discussing any business matters.
calendar
district events
local events