Completed meetings and events 2017-2018
Mon 18th June 2018 Meeting with Speaker and a Meal
Speaker tbc
Sun 27th May 2018 WENDOVER CELEBRATES!!
Wendover and District Rotary will play their part in this biennial celebration of life in Wendover, held in the grounds of Chiltern Way Academy. Look out for the Rotary Bottle Stall!!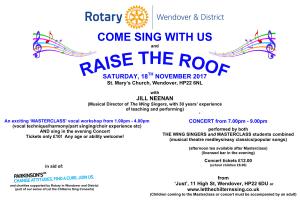 Sat 18th November 2017 RAISE THE ROOF - Part of Let the Chilterns Sing concerts
Masterclass in the afternoon from 1pm until 4pm. The concert follows from 7pm to 9pm
read more...
Mon 2nd October 2017 Business Meeting
We will discuss Raise the roof and website
district events
local events