Completed meetings and events 2014-2015
Tue 23rd June 2015 Monthly Meeting
To Be Held at Denton Golf Club Manchester Rd Denton
7.00 pm (Soup and Sandwiches)
Sun 21st June 2015 Rotary Sponsored Cycle - in aid of Prostate Cancer
3 levels of cycling event
read more...
Sat 20th June 2015 Tour of Tameside
Running Event - around Tameside
read more...
Sun 14th June 2015 GX Fete
Annual Village Fete held jointly with Willow Wood Hospice.
Location Sam Redfern Green, Stockport Rd, Hyde
Tue 26th May 2015 Meeting at La Lupa 17 Stamford St Stalybridge SK15 1JP
Monthly meeting at La Lupa Stalybridge - book in with Peter Holden
Tue 28th April 2015 Formation of New Satellite Club of Ashton-u-Lyne Tameside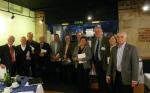 The night Rotary Club of Tameside starts as satellite Club of Ashton.
Over 40 people attended and 10 new Rotarians enrolled
Tue 28th April 2015 Formation of Satellite Club At Bridge View Café, Portland Basin, Ashton
Location: Bridge View Café, Portland Basin, Ashton Cost £10 An important milestone a meeting hosted by Rotary Club of Ashton - who are sponsoring the formation of the satellite club
future
calendar
district events
local events