Completed meetings and events 2017-2018
Sat 16th June 2018 Tour of Tameside

For the fourth year we have provided Marshalls for Car park duties. we received generous donations totalling just over £300 for Disaster Aid. Many thanks to all who attended and supported
Wed 13th June 2018 Kids Day Out
Day Out for children at Samuel Laycock School organised by Tameside Rotary
Tue 12th June 2018 Monthly Meeting plus Presentation to Local Charities Village Hotel Ashton
Village Hotel Pamir Drive Ashton-u-Lyne OL7 0LY
Tue 8th May 2018 Monthly Meeting plus Club Assembly
Dukinfield Golf Club Yew Tree Lane Dukinfield SK16 5GF
Wed 25th April 2018 House of Commons - celebrating End Polio
Reception hosted by William Wragg MP to celebrate 10 year Polio Immunisation in India. Address by Rt Honourable Penny Morduant International Development Secretary
Mon 23rd April 2018 St George's Evening

St John's Church, Hurst on St George's Day (St George's day, last night of the Proms)
Sat 14th April 2018 Meal Pack - Rise Against Hunger

6 members of Tameside Rotary went to Bolton to help with packing of 35,000 meals. Organised by Bolton Lever and supported by over 200 Rotarians and friends
Sat 14th April 2018 Meal Pack Rise Against Hunger
6 from Tameside Rotary join over 200 other Rotarians to pack over 30,000 meals for shipping to Africa
Tue 10th April 2018 Monthly Meeting @ Phoenix City Stalybridge
Phoenix City Restaurant Castle St. Stalybridge SK15 1NX
Tue 13th March 2018 Monthly Meeting at Dukinfield Golf Club
Dukinfield Golf Club Yew Tree Lane, Dukinfield
Wed 28th February 2018 Asian Charity Dinner in aid of Bangladesh Eye Hospital

A Charity Dinner organised by Rotary Club of Bolton Lever.
Venue Achari Restaurant 148-152 Crook St Bolton BL3 6AS
Tue 13th February 2018 Monthly Meeting at Village Hotel Ashton speaker from Disaster Aid UK
Village Hotel Pamir Drive Ashton-u-Lyne OL7 0LY
Tue 16th January 2018 Curry Night @ Blue Spice Restaurant Ashton

In aid of Rotary Foundation - End Polio Now. Cost £17.50
At Blue Spice Restaurant 156 St Albans Ave, (opp Rugby Club) OL6 8TU To book contact Restaurant 0161 330 4900 or Cliff Hall
read more...
Tue 9th January 2018 Monthly Meeting including President's Progress Report
Oakland's Hyde - Note Meal must be booked
Tue 12th December 2017 Christmas Dinner
The Ashley Arms 1 Chapel St Dukinfield SK16 4BT
Cost £16 for 2 courses or £20 for 3 courses.
Need to book with Alan Hadfield tele. 339 7877 £5.00 deposit.
Guests very much welcome
Thu 7th December 2017 - Thu 21st December 2017 Christmas Santa Float 2017

Info. provided depends on weather, number of volunteers and is given in good faith without further commitment.
Tue 10th October 2017 Monthly Meeting plus Special General Meeting at Dukinfield Golf Club
Dukinfield Golf Club Yew Tree Lane Dukinfield SK16 5GF
Tue 12th September 2017 Monthly Meeting at Royal George Mossley
Royal George 193, Manchester Rd Greenfield OL3 7HX
Fri 8th September 2017 - Sat 9th September 2017 Tameside Beer Festival

7th Tameside Beer Festival in the Civic Hall Stalybridge 8th/9th Sept. midday - 11.00pm over 35 Real Ales to try plus wine, cider, pies and Indian Food. Fantastic entertainment.
Thu 31st August 2017 Young Carers Pamper Day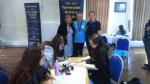 Held at Broadoak Community Centre
read more...
Wed 16th August 2017 Charity Golf Day at Werneth Low Golf Club raised over £1.7K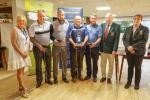 STOP PRESS: Raised over £1700 Annual Charity Golf Day in aid of Willow Wood Hospice. Thanks to all teams Callaway for providing prizes and Tesco for raffle prizes.
read more...
Tue 8th August 2017 Monthly Meeting at Broadoak Hotel speaker from Alzheimer Society
Broadoak Hotel
69 Broadoak Rd Ashton-u-Lyne OL6 8QD
Tue 11th July 2017 Monthly Meeting
At Dukinfield Golf Club - First Meeting New Rotary Year
future
calendar
district events
local events