Completed meetings and events 2018-2019
Fri 21st June 2019 Tameside Concert Society

Concert Sponsored by Tameside Rotary.
Tue 11th June 2019 Presentation Evening
Villiage Hotel Ashton
Tue 11th June 2019 Presentation Evening Village Hotel Ashton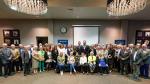 Financial Support for local Organisations
Tue 14th May 2019 - Tue 7th May 2019 Monthly Meeting
Village Hotel Hyde SK14 4QG
Sat 11th May 2019 Hurst Festival

Free Entrance Free Entertainment & Free Children Book Giveaway
Also Brass Band, Animal Petting, Bouncy Castle, Arts and Craft Stalls and Music plus plus
Sun 14th April 2019 Meal Pack

Rise Against Hunger 50,000 meals to be packed in Glossop
Tue 9th April 2019 Monthly Meeting
Stalybridge Celtic Football Club
Tue 12th March 2019 Monthly Meeting
Dukinfield Golf Club
Tue 5th March 2019 Fill Your Plate for Polio

Superb Asian Banquet at Adnan's 137-139 Market St Hyde. Cost £16. Together we can End Polio Now
Tue 12th February 2019 Monthly Meeting
Oaklands Hall Hyde Visit by District Governor
Thu 7th February 2019 Mossley Soup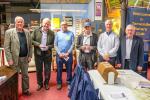 Meet the Mossley Community, hear about 4 projects and vote for the project you think most worthwhile.
The evening made over £1700 for Micklehurst Cricket Club (Junior Section). A great community evening - well done Mossley
read more...
Tue 8th January 2019 Monthly Meeting
To be held at Broadoak Hotel start 7.00pm
Tue 11th December 2018 - Wed 12th December 2018 Christmas Dinner
To be held at San Rocco Stamford Square Ashton-Under-Lyne OL6 6QW
read more...
Tue 11th December 2018 Monthly Meeting Christmas Dinner
No Business - Christmas Dinner - location to be fixed
Thu 29th November 2018 Annual Foundation Evening

Hough End Centre, Mauldeth Rd West, Withington, Manchester M21 7SX
Cost £22.50
Tue 20th November 2018 Charter Night at Dukinfield Golf Club

To Be Held at Dukinfield Golf Club
Tue 13th November 2018 No Monthly Meeting - Charter Night 20th Nov
Note no meeting on 13th as Charter Night week later
Sun 4th November 2018 Just Help Achievement Award Presentation Evening

Tameside Rotary has been working with Just Help Foundation to establish a Rotary Eye Hospital in Bangladesh
read more...
Tue 9th October 2018 Monthly Meeting plus Special General Meeting
To be Held at Ashton Golf Club
Tue 11th September 2018 Monthly Meeting
Held at Stalybridge Celtic Football Club
Wed 15th August 2018 Charity Golf Day 2018 @ Werneth Low Golf Club

Another Great Charity Golf Day which raised £1828 in aid of Willow Wood Hospice. Thank you Werneth Low Golf Club and all players and supporters. Particular thanks to Callaway who donated the main prizes.
Tue 14th August 2018 Monthly Meeting
August Meeting at Denton Golf Club, Manchester Rd, Denton M34 2GG
Tue 10th July 2018 Monthly Meeting plus Installation of New President at Broadoak Hotel

Broadoak Hotel 69 Broadoak Rd Ashton-u-Lyne OL6 8QD
future
calendar
district events
local events