Completed meetings and events 2022-2023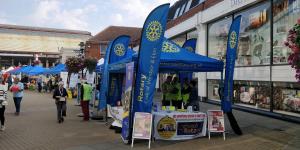 Sat 1st October 2022 Second Annual Windsor Community Showcase - postponed to 1st October
Promoted by Rotary in Windsor for like minded local community organisations to showcase their work in the community and how you can get involved. Will be held in Windsor Yards Shopping Centre. More details to follow
Tue 27th September 2022 Rotary Club of Windsor St. George Club meeting
Presentation given by Helen Sandon on Planning and Marketing for the late Queen's Platinum Jubilee. Induction of a new member
Sun 18th September 2022 - Sun 25th September 2022 Environment Project - Plastic Blitz
Thames21, Environment Agency and Rotary in the Thames Valley (through their international End Plastic Soup campaign) to call on volunteering, community and environmental groups to come forward to sign up to take part in a mass clean up of plastic waste.
Tue 13th September 2022 Club Meeting
Talk to be given by Keith Hanks , Engagement and Fundraising Manager, Thames Valley Adventure Playground. One of our chosen charities for this year
Sat 3rd September 2022 Celebration Fellowship Event
To celebrate the Rotary in the Windsor community
Tue 23rd August 2022 Club Fellowship Meeting
A visit is being planned to Windsor Bowls Club , which also this year celebrates its centenary . More details to follow .
Tue 9th August 2022 Club Meeting
Talk by Stella Ayiku - Who worked as a senior SRN at Wexham Hospital and upon retirement then worked on the Rotary Mercy Ships for several tours of duty
Tue 26th July 2022 Club Meeting
Update on Polio by Past Assistant Governor, Alan Clare
Fri 1st July 2022 President's Night & Handover
Details to be confirmed and to follow
calendar
district events
local events