Welcome to
Rotary in the Thames Valley
Confidence Building Through Creative Art
12Nov2021
A grant from Reading Matins Rotary and our Rotary District Foundation team has enabled a local counselling service to pilot a new style of support for young people during the pandemic. The success of the pilot workshop series, based on creative expression and art has enabled the charity to reach more young people and there are plans to develop the format and add it to the charity's core activities.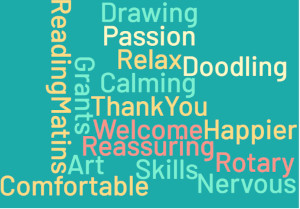 No.5 is a free counselling service and this year it is celebrating 50 years of helping young people become mentally fit. It is based in Reading and supports people aged 11 to 25 in and around the town. Counselling is generally run as one-to-one sessions on a weekly basis, face to face, on zoom or by phone. The charity also works with local schools and has a Young Ambassador scheme through which it supports and trains young people to deliver talks and workshops directly to their peers.
The statistics are disturbing.
One in ten children aged between 10 and 16 in Reading will suffer from a diagnosable mental health disorder – equivalent to 3 in every class.
2,400 (8.9%) young people between 16 and 24 will have self-harmed in their lifetime.
620 (2.3%) young people between 16 and 24 will have an obsessive compulsive disorder
The aim of the new style of workshop was to support a group of young people to improve their confidence, relationships, communication, self-expression, and to relieve stress and anxiety. It also focussed on the challenges of lockdown and isolation and the associated consequences young people have experienced.
Reflections on our Graduate Scholarship Programme
October 2021
We are very lucky in our Rotary district to host many Rotary Scholars each year. The majority of scholars that we host are funded by Rotary Foundation Global Grants from their home Rotary district. Around half of the clubs across our district host the scholars, and while the host clubs do not provide any of the scholarship funding, their involvement is both essential and very welcome. Essential since a global grant needs two Rotary clubs across two countries, and welcome because scholars are invited to attend the club's meetings and events and they build up life-long friendships with the Rotarians who they meet.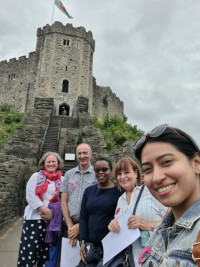 In our district, since 2017, we have funded scholars in a slightly different way. We took note of the comments from some Rotarians that they often only saw scholars from wealthy countries and they wondered about students from lower income countries who were missing out on the opportunity of Rotary support. So we changed our approach. Instead of continuing to support one scholar who lived, worked or studied in our district and wanted to study overseas, we said that we would support a student from a low to middle income country to come into our district for their graduate studies. There are many advantages to this approach in my view: we have an opportunity to promote the Rotary scholarship through our local universities; we receive many more applications from candidates than we did when we advertised an 'outgoing scholarship'; and we have many more opportunities to engage with the scholars while they are studying in our district for a year or more.
Following this change we supported Emilia from Mexico studying for a PhD in International Development, Sarah from South Africa studying for a Masters in Psychology, and Jelka from Serbia studying for a PhD in Experimental Psychology.
BUSINESS OPPORTUNITIES: Rotary was founded over 100 years ago as a business networking club and this is still part of Rotary life. Ethical practice is encouraged and, with members drawn from all walks of life, the opportunities to network are endless.
FUN AND FRIENDSHIP: Rotary membership is a lot of fun. We arrange activities which provide a welcome distraction from busy lives and the opportunity to make new friends who share common values.
There are also Rotarian Action Groups which are involved in making a difference in their community.


Does your club have a story you want to share to the world?
If so contact us via publicimager@rotary1090.org
---


---