Latest pages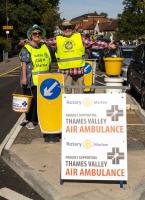 18/09/2019
Thames Valley Air Ambulance collection by Rotary Club of Marlow
.
NEWS UPDATE - As part of the the National Air Ambulance week the Rotary club of Marlow were out in force on the 14th in the streets of Marlow.
---

16/09/2019
Their Story: Rotaractors
.
See what some Rotaractors and Rotarians have to say about Rotaract
---

09/09/2019
Aquabox Response to Hurricane Dorian
.
Aquabox Response to the Bahamas in the Aftermath of Hurricane Dorian
---
05/09/2019
District Council 2019-2020
.
Calling Notices, Agenda, Reports and minutes of District Council Meetings
---