Completed meetings and events 2010-2011
Thu 30th December 2010 NO MEETING
Thu 23rd December 2010 NO MEETING
Thu 16th December 2010 Evening Meeting : Christmas Dinner
Thu 9th December 2010 Christmas Quiz
Thu 2nd December 2010 Charles Johnson, Headmaster of Duke of York's RM School
Thu 25th November 2010 Special General Meeting : Election of Officers for 2011/12
Thu 18th November 2010 Reports from District Conference
Thu 11th November 2010 Business Meeting
Thu 4th November 2010 Presentation by Interact Club of Dover
Fri 29th October 2010 - Sun 31st October 2010 District Conference at Eastbourne
Thu 28th October 2010 Rtn Dave Smith : 'My Job' talk
Thu 21st October 2010 VP Gloria Barnett : Rotary Foundation - the best kept secret in the world
Sun 17th October 2010 Conkers Competition and School Dinners at The Fox, Temple Ewell
4.00pm start
Thu 14th October 2010 GSE Team presentation on visit to New Hampshire and Vermont
Thu 7th October 2010 Hon Rtn Bishop Trevor Willmott
Thu 30th September 2010 VP Gloria Barnett : Rotary Foundation - the best kept secret in the world
Sat 25th September 2010 - Tue 28th September 2010 Trail of Three Cities event for Martha Trust
Thu 23rd September 2010 Rtn John Newall : 'My Job' talk
Sat 18th September 2010 - Sun 19th September 2010 Rotary Fun Day at Leeds Castle
Thu 16th September 2010 Business Meeting
Sat 11th September 2010 - Sun 12th September 2010 Tripartite Weekend in St Omer
Thu 9th September 2010 Tracy de Gietelink : Wordzrock
Sun 5th September 2010 Foundation Barbeque
Thu 2nd September 2010 Katie Restall : Visit to Madagascar
Fri 27th August 2010 Skittles v. Dover Lions' Club
at The Fox, Temple Ewell from 7pm
Thu 26th August 2010 Madeleine Cordes : LIving and working in the Cayman Islands
Thu 19th August 2010 Mark Everett : Marlowe Theatre Project
Sat 14th August 2010 - Sun 15th August 2010 Dover Regatta
The Rotary Clubs of South Foreland and Dover will be hosting a stand at the Dover Regatta. Hope to see you there!
Thu 12th August 2010 Fellowship Meeting
Thu 5th August 2010 Scatter Week
Thu 29th July 2010 Simon Bandy (HCA) : Regeneration projects in Dover
Thu 22nd July 2010 to be confirmed
Thu 15th July 2010 Dr Satya Sood : Victoria's Tin Dragon
Thu 8th July 2010 DG John Dunkley
Sat 3rd July 2010 PRESIDENTS' HANDOVER
7.00 for 7.30 p.m. at the Ramada Dover Hotel, Whitfield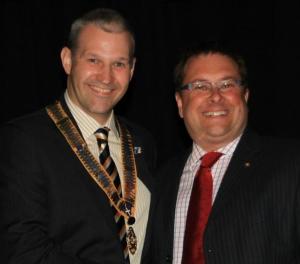 Sat 3rd July 2010 Presidents' Handover 2010
President Simon Crowley officially handed over the chain of office to President Stephen Yarrow on 3 July 2010 at the Ramada Dover Hotel. 106 Rotarians and guests were in attendance. More photos available on our Facebook page!
read more...
calendar
district events
local events