Rotary South East (UK) & Gibraltar
"Together, we see a world where people unite and take action to create lasting change — across the globe, in our communities, and in ourselves."
76 Clubs Making A Difference
We have 76 great Rotary Clubs in Rotary District 1120; stretching from South East London, along the Kent and Sussex coasts and also including Gibraltar. We are 2,000 men and women; all having fun whilst serving our communities and making a difference worldwide.
What We Do
We like to meet people, socialise and have fun together whilst doing good in the world.
We apply our leadership and expertise to solve social issues. We raise funds and manage projects both locally in our own communities and also overseas to promote peace, alleviate poverty, support education, fight disease, provide clean water and address poor sanitation.
Since the mid eighties Rotary, together with the World Health Organisation and other partners, has also been at the forefront of the battle to eradicate polio from the world.
Looking for a new opportunity?
Rotary is not just a club that you join. It is an invitation to endless opportunities. Rotary opens opportunities for you to serve in a project as big and historic as End Polio Now and also in a small community project, where you just plant a tree. ... Everything we do opens another opportunity for someone, somewhere.
If you think Rotary could be for you we would love to hear from you soon. Just email membership@rotarysoutheast.org.
Africa Declared Polio Free
On 25th August the WHO declaired the Africa Region Polio Free.
By raising funds for polio eradication, advocating with world governments and national and local leaders, holding events and fundraisers for World Polio Day, and raising awareness, Rotarians in the African region and around the world have made an indelible impact in the fight to eradicate polio.
There are Rotary clubs in all 47 countries in the African region, and the region is home to almost 32,000 Rotary members in nearly 1400 Rotary clubs.
Rotary and its members have contributed nearly US$890 million to eliminate polio in the African region.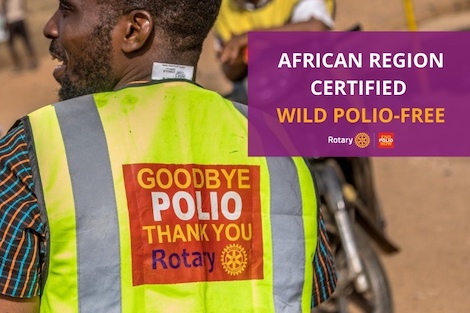 Polio Latest
The eradication of polio has been the number one project for Rotary over the past 30 years.
Five Key Facts On Polio:
1. Polio mainly affects children under age 5.
2. There is no cure, but polio is preventable with a vaccine.
3. Only two countries continue to show new cases of wild polio virus
4. We've reduced cases by 99.9% since 1988.
5. Until we end polio forever, every child is at risk.
Polio Cases (as at 12th May 2021)
Summary of new WPV viruses this week:
Afghanistan:

No wild poliovirus type 1 (WPV1) cases reported this week. There is one case reported in 2021 while the total number of 2020 cases remains at 56.

Pakistan:

No wild poliovirus type 1 (WPV1) case reported this week. There is one case reported in 2021. The total number of 2020 cases remains at 84.
The fight continues ....