Great Public Response to Bikes for Africa Appeal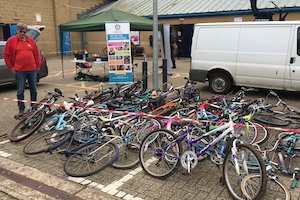 On Saturday 16th October, Maidstone Riverside Rotary Club partnered with the Re-Cycle (Bikes for Africa) charity to collect bikes for restoration and delivery to The Gambia.
As a regular visitor to The Gambia and other African countries, I have been constantly impressed by the children who will walk 8 miles or more to attend School. Also the men & women who will walk similar distances to work in the fields and general household chores.
We are all aware of the unwanted, unloved bikes hiding in peoples garages & sheds in the UK, long forgotten and eventually to be thrown out. Re-cycle collect bikes, refurbish them and issue them to schools in rural areas and so on where they can be issued to deserving people where they will improve peoples' lives. Re-Cycle have sent over 120,000 bikes to Africa.
On Saturday we collected in excess 120 bikes in various conditions from excellent to poor. However, Recycle have a zero wastage policy and bikes which are beyond restoration are broken down for parts.
All the Rotarians who were involved in this project had an enjoyable, if hard working day. Coming out of the pandemic it reminded us what Rotary is best at. It was also a great opportunity to promote Rotary to the community.
(Report by Nigel Harvey & photo by Colin Norgate, Maidstone Riverside Rotary Club)
Tonbridge Rotary Means Business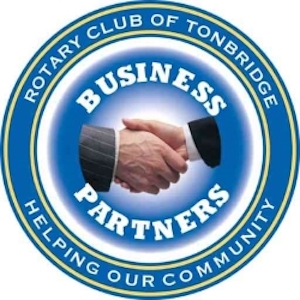 The Rotary Club of Tonbridge faces the post pandemic era with renewed confidence following the successful rollout of their Business Partners Scheme.
The motive behind this work has been to enable members of the local business community to help Tonbridge Rotary meet the many needs that exist locally and to give Partners' businesses greater visibility to townspeople.
Participating businesses have been quick to realise the value of this alliance which aims to raise their profile in the community, while working with local Rotarians to benefit their familiar programme of good works. So far twenty local companies have joined the Scheme, varying greatly both in terms of size and activity.
(Report and logo from Janet Sergison, Rotary Club of Tonbridge)
Support For Swale Foodbank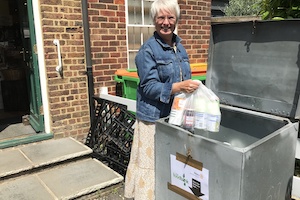 When the Swale Foodbank put out a call to the public for help with food donations members of the Rotary Club of Sittingbourne Invicta were quick to respond by asking members to set up food drop-off points in villages around Sittingbourne.
Rotarian John Fisher was first off the mark when he organised a food bin outside Rodmersham Coffee Shop at the beginning of July 2021. The new venture featured in a village newsletter, and flyers with Rotary branding were hand delivered to most homes in the village. A flyer was also placed in the coffee shop.
In the first week of operation, John found enough food to fill 10 bags had been deposited. He now plans to check the bin every couple of days and deliver the food donations to Swale Foodbank for distribution to needy families.
Drop-off points for other villages around Sittingbourne are also planned.
(Report and photo by Richard Joy, Rotary Club of Sittingbourne Invicta)
Maidstone Volunteering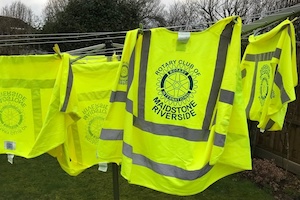 Since December 2020, members of Maidstone Riverside and Maidstone Dawn Patrol Rotary Clubs along with representatives from other organizations and also our RRoVA (Riverside Rotary Volunteer Action Hub) members have given invaluable marshalling support to the Blackthorn Surgery staff who have been administering the COVID vaccination programme to the many thousand patients who have visited the centre.
In excess of 25000 inoculation shots have been delivered at Blackthorn since the start before Christmas. A quite incredible number for such a small surgery. The surgery team have worked solidly throughout and are always at pains to make clear quite how much the help of the marshalls has meant them. They genuinely couldn't have done it without the help of the marshalling team.
The last vaccination sessions of this first round of inoculations take place this weekend after which all the surgery staff will enjoy having their weekends back again before the next round of booster vaccinations are likely to start up in the autumn.
(Report from Maidstone Riverside Rotary Club)
Eddie's Sky Dive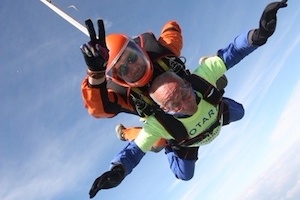 Tonbridge Rotary Club's daredevil, Past President Eddie Prescott, on his sponsored tandem sky dive on 1st July 2021 at Headcorn Aerodrome. This was in aid of the club's two Presidential charities; Kent Surrey and Sussex Air Ambulance and Macmillan Nurses.
The free fall lasted 47 seconds but to Eddie it went by in a flash. Eddie said, "As soon as the parachute opened everything suddenly became very quiet and very calm and we drifted down serenely to the exact spot where the instructor told me we would land."
An amazing experience, further enhanced by the fact that sponsorship for the Kent Surrey and Sussex Air Ambulance and Macmillan Nurses already amounted to around £5000."
(Report from Janet Sergison, Rotary Club of Tonbridge)
Riverside Litter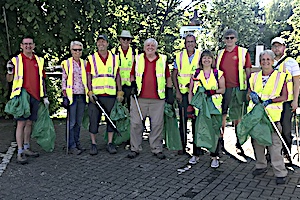 Members of the Rotary Clubs of Maidstone Riverside and Maidstone Dawn Patrol have undertaken litter picks over four days along the banks of the River Medway between Allington and Tovil. They were joined by volunteers from Riverside Rotary Volunteer Action group to help with the litter picking.
On 6th June 2021, a total of 13 bags were filled with cans, bottles, masks, fast food debris everywhere along with beer and cider cans.
This was part of the Great British Spring Clean run by Keep Britain Tidy. It's great to see two clubs working in partnership in Supporting The Environment; The Rotary Foundation's 7th Area of Focus.
(Report and photo thanks to Rotary Club of Maidstone Riverside)
Rotary Young Artist Competition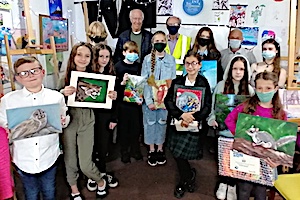 Young people are encouraged to enter the Rotary Young Artist competition each year in three age categories; Junior 7-10 years, Intermediate 11- 13 years and Senior 14 – under18.
The competition has a different theme each year, and this year it was Wild Nature. Young artists had the freedom to use any medium e.g. paint, pen and ink, collage or print making. Due to Covid 19, many schools were closed so we tried many ways to get the information out using social media, local magazines, and by word of mouth. Entries were up on previous years. The District Winners will now go through to the National Competition which will be judged after 21st May.
Thanks must go to Ramsgate local artist Steve Alexander, Margate Rotary Member Brian Homewood who organised this years District Competition, and Jean Shrubb from Ashford Rotary for aiding the judging
Winners:
Junior - Naomi Wright (Mountain Scene)

Intermediate - Elena Wrobel (Bobcat)

Senior - Nicole Brokane (Dolphin)
(Report from Steve Hanks, District Youth Lead & photo supplied by Brian Homewood, Margate)
Rotary Young Citizen Award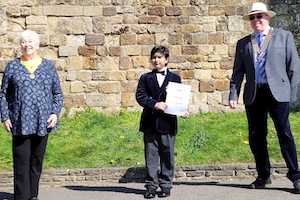 A talented 11-year-old boy has been presented with a Rotary Young Citizen certificate by Tonbridge Rotary Club President Peter Ruck for demonstrating initiative, commitment and personal giving.
During the Covid lockdown, Ishwar Sharma gave online yoga classes to children all over the world to help keep them mentally and physically healthy.
In the past Ishwar, who lives at Halstead near Sevenoaks, has conducted yoga classes for special needs children and their parents. His list of achievements includes a Global Child Prodigy Award in 2020, a British Citizen Youth Award in 2018, and a British Indian Award under the Category 'Young Achiever of the Year' 2018. Ishwar competed in the 2019 World Yoga Championships in Bulgaria and has been described as a 'wonder boy' by Om Yoga Magazine.
Ishwar's success came to the attention of the Tonbridge Rotary Club, who nominated him for the award. He was presented with his certificate at Tonbridge Castle on 19 April 2021 by President Peter Ruck and Penny Brandling-Harris, Chair of the Club's Vocational & Youth Service Committee, at a ceremony attended by his parents.
(Report and photo supplied by Janet Sergison, Rotary Club of Tonbridge)
Litter Picking in Canterbury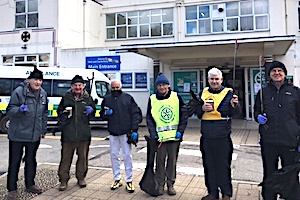 The Kent & Canterbury Hospital recently contacted Canterbury Rotary Club, requesting help as the staff that would normally be litter picking were required elsewhere. So, ready as ever to try and help where they can, and supplied with "picking sticks", gloves, masks and black sacks from the Hospital, Canterbury Rotarians valiantly got to work. Rotarians Brian Dobinson, John Bobba, Past President Viv Pritchard, AG Kevin Fielding, Canterbury Sunrise Rotarian Peter Woolenough, and our current President Alan Mepstead spent a total of two hours on a job that they described as "surprisingly satisfying".
Fortified by a nice hot coffee biscuits at "half time" supplied by the hospital, the team managed to fill twelve large rubbish sacks with litter from the surroundings of the top car park alone; consisting of discarded old face masks, crisp bags, cigarette butts and literally dozens of large empty gin & vodka bottles (about 150) – must have been a very good party!
(Report & photo supplied by AG Kevin Fielding, Rotary Club of Whitstable)
Rotarians on the Front Line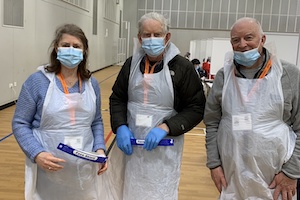 Rotarians from Langley Park (Nolene Harris, Andrew Mearon, Rod Leeming and Stuart Talbot), Beckenham (Chris Bird) and Orpington Satellite, (Brenda Parsons) have all been all trained to do Covid-19 Lateral Flow tests.
They have been at London South East Colleges - Bromley, testing the students this week. The testing will continue for 3 weeks until all students have been tested and they can continue their studies and ultimately their exams.
A social media comment read, "Thank-you, we really appreciate the incredible support you have given our staff and students this week at our Bromley campus."
(Report and photo from Nolene Harris, Rotary Club of Langley Park)
Tonbridge Rotary In Action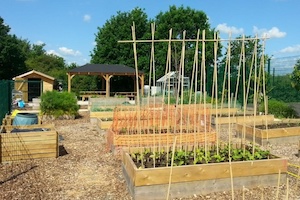 In the summer of 2018, Tonbridge Rotarians Brian Piner and Barry Ednie visited NEXUS to see how the Club's Community Service Committee could assist this Special School in Tonbridge. During their tour Brian and Barry saw there was scope for developing NEXUS as a community hub.
The basic field, grass and hedgerows gave a great deal of scope for a number of activities, but Brian was aware that there was no garden and felt a difference could be made by creating one, or a smallholding, for the students to enjoy and to learn gardening and garden husbandry skills.
Brian, a keen gardener with his own allotment, considered that due to the nature of NEXUS, the garden would benefit from the installation of a series of raised beds. Fellow Rotarian Andy Perrett then obtained a grant from the Congelow Trust, which paid for a shed, tools, raised beds for wheelchair access and a greenhouse.
A gazebo was also purchased with benches and seating so that the students could be taught in the immediate environment in the dry and offering shade when necessary. A further 18 beds were raised to help students with bending difficulties.
When the Trustees visited the school and saw first-hand what their grant had provided, they generously awarded a further £6,000, enabling seeds, plants and a polytunnel to be bought.
Prior to lockdown Brian had been working in the garden 3 times a week teaching student groups the art of gardening and providing for their families and the school. The produce grown by the students is used in the school cookery lessons so nothing is wasted.
Thanks to monies from Rotary and the Congelow Trust we are still adding more fruit trees and a polytunnel. We are now working in the garden 2 days a week but will increase this to 3 days after Easter.
(Report and photo by Janet Sergison, Rotary Club of Tonbridge)
BBC Radio Kent Hero of the Week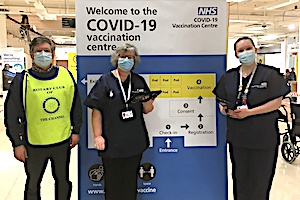 We are pleased to let you know that the two Folkestone Rotary Clubs have been nominated as Hero Of The Week by BBC Radio Kent.
This is for their support to the two Folkestone Vaccination Centres with Joe Sullivan, Derek Harris and Bill Flavell of Channel Rotary and Terry-Cook Davies of Folkestone Rotary to the fore supported by a great team of Rotarians and local volunteer marshals.
Helping the Eastbourne Lifeboat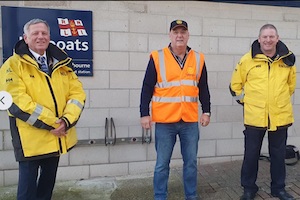 President David Elkin (far left) and Past President Steve Newman (second left) with a member of Eastbourne RNLI.
Thanks to a generous donation of goods and labour, the club will be able to re fit the RNLI base with a brand new kitchen. This means so much to the crew to get hot food and drinks when they return from a shout especially in the winter months.
In addition a further £1,400 has been donated from monies raised via two local Christmas events.
Shoebox Presents from Bexhill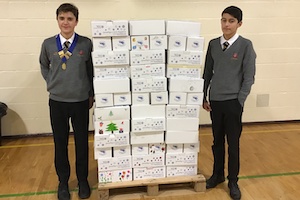 The Interact Club at St Richard's Catholic College & Bexhill Rotary Club combined forces to support the Rotary Shoebox Scheme, which encourages people to donate a shoebox filed with gifts for a child or a family living in some of the poorest countries in Eastern Europe.
The pupils donated almost 600 filled boxes with one pupil alone being responsible for 18! Bexhill Rotarians filled almost ninety, whilst Rotarians from clubs at Eastbourne, Sovereign Harbour, Eastbourne Sovereign and Uckfield have increased the numbers by another hundred and forty.
The filled boxes were collected at St Richard's, and by the time they were all in place they filled three pallets to head height. The photo shows Interact President Daniel Baszczak and Andrew Deans, who contributed the most boxes, standing alongside one pallet.
Stephen White, President of Bexhill Rotary Club, said "This has been a great effort by many people, especially the pupils at St Richard's. This is the first time we have widened the collection to other clubs in the area and hopefully we can build on this year's support in future years. The great thing about the Rotary Shoebox Appeal is that it is not just a Christmas appeal: it is an all year round effort to support people whose lives might be improved by these small acts of kindness."
I'm A Rotarian Podcast
The team at Rotary Radio UK are used to interviewing Rotarians and others at the radio station, but at the end of January the tables were turned when founder members John Robinson and Steve Wood were interviewed by broadcasting professional, Gwen Jones, for her I'm A Rotarian podcast.
Gwen produces her podcasts from studios in Washington State on the west coast of America and is a member of Whidbey Westside Rotary Club. Her Rotary-based podcasts include interviews with a wide variety of people who contribute to our organisation and are both informative and entertaining in equal measure. Gwen's podcasts are broadcast on a number of internet platforms and have listeners around the world.
To listen to Steve & John's podacst about Rotrary Radio UK please listen on Spotify.
Laptops For Schools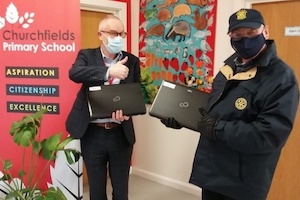 Beckenham Rotary has provided over 30 laptops to local primary schools in recent months and plans to deliver more in future.
The project's inception began when Rotarian Peter Braithwaite read an article about a shortage of school laptops, and he thought this was something his Rotary club could help with.
Having obtained laptops, Rotarian Christopher Bird's task was to make sure they worked, wipe clean the memories, load Windows 10 Education, give them a clean and attach a Rotary sticker to each one.
Pictured (right) is Rotarian David Hynes delivering laptops to Churchfields Primary School.
Initially two laptops each were given to four primary schools to make sure they were what they wanted. Since then another 23 laptops have gone to seven schools. In each case the primary school decides how best to allocate the donated laptops to their disadvantaged pupils.
(Report and photo from Christine Atkinson, Rotary Club of West Wickham)
Thank You to Heathfield & Waldron Club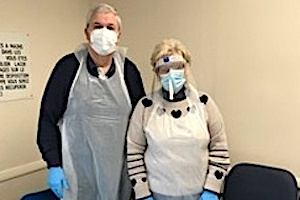 Mark and Linda Garnett of the Rotary Club of Heathfield and Waldron (pictured right) at Newhave Port helping with Covid-19 testing. A letter of thanks was received - see below:
"I am writing on behalf of the Sussex Resillience Forum to sincerely thank all of you who have so ably and professionally assisted as volunteers supporting the COVID testing at Newhaven Port over the Christmas period.
Your continued commitment and dedication never fails to impress and astound us. To respond to such a challenging situation, not least at Christmas, was not only welcome but critical to us getting more than 100 people home to their families for Christmas.
We are so very grateful for all your time and effort in supporting us. Without your valued support we would not have been able to deliver the level of response we have in keeping freight movements flowing at a critical time in unprecedented circumstances.
Thank you once again"
Marc Clothier, Superintendent, Sussex Police
20 Day Pop Up Santa Challenge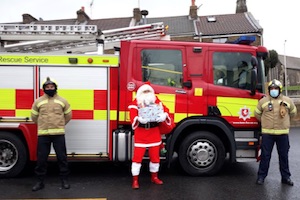 The Rotary Club of the Isle of Thanet Sunrise came up with the idea of a crowdfunding project with Santa ( AKA Past president Kevin Winzer) popping up around The Isle of Thanet to pose at various landmarks and locations with variations to the Santa outfits including a Viking Santa, motorbiking Santa, Beach hut Santa, cycling Santa ( on a 3 wheeler) to name but a few.
This was to create a social media "event" that could be followed daily from our page and on around 8 local groups.
The Challenge was 20 consecutive days rain or shine and no locations were made public in advance. However we did publicise the Crowdfunding poster in advance with a kind of fun countdown to the beginning on 1st December.
The challenge gained a huge following on local Facebook groups with feedback and reactions indicating that people were looking out for the next days posts, wondering where Santa would be. For many people staying at home it was something to make them smile about through December. So, great publicity for our Club and Rotary and of course linking up with the various organisations/ venues that helped. Most importantly it was safe, manageable great fun and unique! It also raised over £2200 for six charities.
(Report and photo from Caroline Winzer, Rotary Clob of the Isle of Thanet Sunrise)
Langley Park Volunteering at Covid-19 Vaccination Centre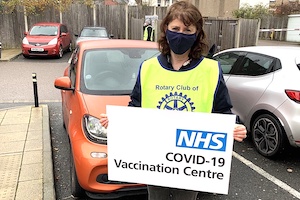 On 18th and 19th December 2020, Beckenham Beacon Hospital started the rollout of Covid-19 vaccinations for the 80+ age group. The day before, a doctor asked for volunteers to help with the rollout of vaccinations and luckily Rotary Club of Langley Park member Nolene Harris was at the meeting and immediately responded.
Over two days, Rotarians took on marshalling duties guiding patients to the correct place and ensuring they were aware of the one-way system. The Rotary volunteers also assisted in bringing chairs to those that had to wait in the queue, and subsequently moved chairs along as the queue moved.
The Rotary volunteers were also able to help those in wheelchairs, by moving them along till their turn came when the patients were passed on to the medical staff for vaccinations and exiting the hospital.
Despite the cold and sometimes rain, most patients were very relieved to be receiving the inoculations.
(Report and photo from Nolene Harris, Rotary Club of Langley Park)
Santa Visits Westgate and Birchington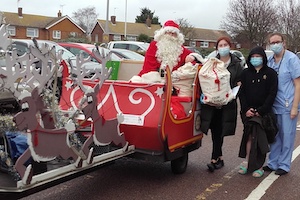 The Rotary Club of Westgate & Birchington sent Santa in his sleigh to visit the children in Rainbow Ward and A&E at the QEQM Hospital, Margate. He arrived in the card park with sacks laden with selection boxes for each of the children and tins of sweets for the staff.
Usually Santa goes into the wards to greet the children but since this was not possible this year, the children were brought to the windows to wave to Santa.
Lots of NHS front line staff came out to greet Santa and it clearly lifted their spirits! The Rotary members hope and pray for the children to make swift recoveries and wish all the staff and patients in the hospital a Merry Christmas!
(Report and photo from Chris Hedges, Rotary Club of Westgate & Birchington)
Santa Visits Erith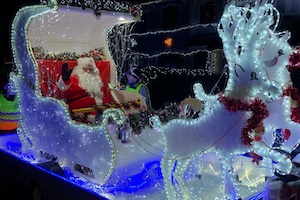 Well, we made it! For 61 years our club has brought joy to the local community and Covid was not going to beat us - but it wasn't easy!
After months of planning and the intervention of our Mayor and the local Police Commander, we finally made it. So many things had to change this year though. There was no door to door collecting, no statics outside the supermarkets and we even used a lead car to announce Santa's imminent arrival and yet even we couldn't predict the response from the public, it was overwhelming. They came out to support us in their hundreds, with the vast majority respecting the rules on social distancing. The smiles on their faces said it all, as did the spontaneous applause – Christmas has come at last!
Their generosity didn't stop there though. People still dug deep and donated money to our collection for local charities, which means that we in turn, can once again support these deserving causes at the end of what has been a miserable year for us all.

We all have learnt so much from this year but one thing is for sure, the spirit of Rotary cannot be broken, whatever life throws at us. Well done one and all!
(Report and photo from Dave Cook, Rotary Clun of Erith)
Eastbourne's Tree of Light
Every year the Rotary Clubs in Eastbourne have a Tree of Light situated outside The Congress Theatre in Eastbourne to remember those no longer with us. In the past, a service where people can make a dedication & tie a white ribbon on to the tree was also held, but sadly this year due to Covid restrictins we could not hold a service.
This year the team has worked a minor miracle by contacting all those who have made dedications in the past & via social media, sending out white ribbons by post. Some 400+ were returned with their message for members to tie to the tree.
The dedication service was held today, Sunday 13th December 2020, with all 4 club Presidents, our MP & Mayor. In total the event raised £8,100 for charities in Eastbourne. Recipients of this money were Defiant Sports, RNLI Eastbourne, Children with Cancer Fund, Salvation Army, Beachy Head Chaplaincy, Matthew 25 MissionHomes for the Homeless and East Sussex Cruse.
Senlac's Young Covid Heroes Awards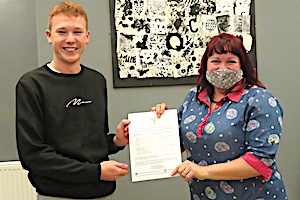 Ollie receiving his award from Caroline Would
Senlac's Young Covid Heroes are also BBC Radio Heroes.
Congratulations to Ollie Tomasetti and Kira Skinner, both winners in the Senlac Rotary Young Covid Heroes Award, for their achievements in the BBC Radio Sussex and Surrey Make a Difference Heroes Awards.
The programme was broadcast on Monday, 30th November 2020 and in the Young Achievers category, Kira was awarded a Highly Commended and Ollie was announced as WINNER and described by Alison Ferns, the presenter, as "You're an amazing big brother".
Senlac Rotary are very proud of both of them who have helped bring deserved recognition to young carers everywhere.
Silent Auction in Ashford
In November the Rotary Club of Ashford held a silent auction via the internet. Over 100 lots were donated by members and their friends. Barclays Bank agreed to match fund the event. It raised £2,300, and so with the Barclays contribution the amount was £4,600. Club members donated £400 to make the final figure £5,000.
The proceeds were divided equally and given to Pilgrims Hospice and Ashford Home-Start; a local charity that supports young families with a wide range of difficulties and helps to develop the health and wellbeing of those family members. Both organisations had been struggling to raise funds during the pandemic.
Keeping Safe and Carrying On
Self distancing and isolation due to the Covid-19 virus impacted on all clubs commencing March 2012. Whilst clubs were unable to meet at their traditional venues, many carried on with the meetings online.
Many clubs have helped the NHS, fed the needy and worked actively to counter possible loneliness due to the isolation.
Rotary is very much alive and carrying on. Check out what clubs have been doing.
Regional Young Chef 2020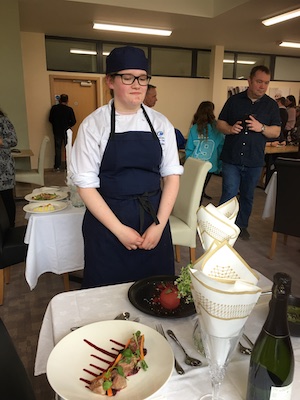 Jo-Ann De Villiers
The Region 4 Rotary Young Chefs Final was held at Newbury College on Saturday 7 March 2020 between young people from District 1090, District 1120, District 1130 and District 1145.
The event was organised by Ron Howard of Rotary Club of Thatcham. The judges were Malcolm Baggott Catering Lecturer at Newbury College and Laurent Lebeau Chef Patron of the Red House Marsh Benham Newbury.
The standard was extremely high and Rotary South East's representatives were Ella Richmond- Pearson of Darrick Wood School sponsored by Orpington Crofton Rotary Club, and Jo-Ann De Villiers of Mid Kent College sponsored by Medway Sunlight Rotary Club.
Participants had to produce three courses over 2.5 Hours. The overall winner, and going through to the final at the Avon College, Stratford Upon Avon on 2 May, was our very own Jo- Ann De Villiers. Congratulations to Jo and we wish her well in the final.
Thanks went to both sets of parents and to the Rotary Clubs for their active support and giving young people the chance to shine.
Attending the event were Rotarians Carol Vizzard, Brenda Parsons and Norma Rice.
(Report and photo from Steve Hanks, D1120 Youth Service Lead)
---
Lighting up the Playhouse on Rotary Day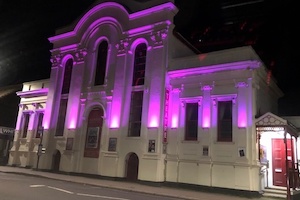 Whitstable Playhouse on Rotary Day
Rotary Day is on 23rd February each year and marks the anniversary of the first Rotary meeting in Chicago in 1905. On this day, Rotary clubs around the world are asked to mark the occasion by organising a special event.
The Rotary Club of Whitstable arranged for the Playhouse in Whitstable to be illuminated in purple lighting to mark the occasion; purple being the colour adopted by Rotary International for the eradication of polio campaign.
In addition to the puple lighting, the club also earlier planted 1000 purple crocus corms at the Rotary Garden on Tankerton Slopes as a further reminder of Rotary's 30-year campaign to eradicate polio from the world.
(Report and photo from Kevin Fielding , Rotary Club of Whitstable)
---
Purple for Polio Tea Party
Purple For Polio Event on Rotary Day
Sunday 23rd February was Rotary Day, and the Rotary Club of West Wickham chose this day to hold a Purple for Polio tea party to draw attention to Rotary's efforts at eradicating polio over the past 30 year and to raise money for future polio eradication efforts.
A total of 91 guests attended the Addington Palace Gold Club for afternoon tea and entertainment arranged by the West Wickham club. Guests from 10 Rotary clubs as well as local WI and the Shirley lunch & Supper Club joined in the afternoon and tea fundraiser.
The event raised £1033 which with the Bill & Melinda Gates Foundation multiplier increased to £3099; a sum sufficient to vaccinate 15,000 children against polio.
(Report and photo by Christine Atkinson, Rotary Club of West Wickham)
---
Young Musician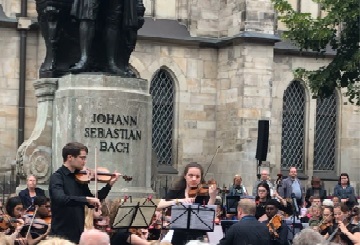 Leipzig Bach's Monument
Lisa Archontidi-Tsaldaraki came second at the Rotary Trotman Young Musician competition in 2019 and winner of District Rotary SE Young Musician Competition 2019.
Lisa started her undergraduate studies this past September at the Royal Academy of Music in the class of violinist Rodney Friend, a year early after successfully passing her A level exams in only one year.
In July 2019, Lisa was the leader of both BYMT's symphony orchestra and of the chamber orchestra. With this latter one she toured Berlin and Leipzig as both leader and soloist in Bach's double violin concerto culminating in a well-attended concert in Leipzig at Bach's monument in July.
---
Tree of Light
Tunbridge Wells Rotary club have launched their Tree of Light in Victoria Place, Tunbridge Wells. All proceeds will go to the Hospice in the Weald. They have been running a Tree of Light Appeal to raise money for the Hospice in the Weald for 19 years. In recent years we have been at Bath Square in the Pantiles by the Chalybeate Spring but welcome the opportunity to move into the warmth of the Royal Victoria Place shopping centre.
During these 19 years The Rotary Club of Tunbridge Wells has raised over £100,000 for this important local charity.
How does it actually work? In simple terms, you can make a dedication in memory of a loved one by making a donation to the Hospice in the Weald. We will arrange for your dedication to be printed on a card and hung on the tree.
---
World Polio Day 2019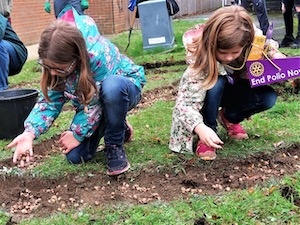 Planting purple crocus corms on World Polio Day 2019
GOOD NEWS! On World Polio Day, Rotary and its Global Polio Eradication Initiative (GPEI) partners announced that wild poliovirus type 3 (WPV3) had been eradicated worldwide.
World Polio Day was also a busy time for many of our clubs in Rotary South East.
Planting Purple Crocus Corms
22 Rotary clubs across our Rotary South East district planted 116,000 purple crocus corms on or around World Polio Day this year.
Sittingbourne Invicta lifted turf in the shape of Rotary's emblem in the centre of town and invitied children to help with the planting of 4000 purple crocus corms
Sovereign Harbour planted their 4000 purple crocus corms around Sovereign Harbour in Eastbourne
Canterbury Sunrise planted purple crocus corms together with their Interact Club.
Minster On Sea and students from Sheppey College planted purple crocus corms at Queenborough and also on The Leas at Minster
West Wickham planted crocus corms in Blake Park and also planted up 500 in pots to be sold on Rotary Day in February
Gravesend planted their purple crocus corms in a local park
Maidstone Riverside planted purple crocus corms in Penenden Heath
Langley Park planted crocus corms in South Hill Wood
Tunbridge Wells, Medway Sunlight and Deal also planted purple crocus corms in their areas
In Town Polio Events
Canterbury Sunrise held an event in the Whitefiriars shopping area on Sat 26th October which had an Indian theme complete with Indian dancers in celebration of India being polio free for five years. They also had an iron lung on display
Uckfiled had a stall in the High St with a purple theme and also held a collection for End Polio Now
There was a joint effort by West Wickham, Langley Park, Beckenham & Bromley Clubs on 24th October at Tesco's, Elmers End which promoted End Polio Now, and sold crocuses and various other attractions
West Wickham were successful in getting Avid Medical Clinic to change all their internal lighting purple on World Polio Day, all the staff were dressed in purple and even their skeleton, which is in their front window, was dressed in purple.
South Foreland held a Fill Your Plate for Polio event
Orpington Crofton Satellite held a purple tea in the BR6 restaurant
Dover held a coffee morning and cake stall in Dover for End Polio Now
Eastbourne Sovereign also held a coffee morning at the Langham Hotel, Eastbourne on the 24th promoting polio awareness and raisied money for the campaign.
Advocacy for Polio Eradication on Social Media
West Wickham, Dover, Maidstone Riverside, Sovereign Harbour & Sittingbourne Invicta were all involved in advocating the eradication of polio through social media & radio in the lead up to World Polio Day
Brian Portway (Gravesend) and Dave Hatcher (Medway) presented two live shows relating to Rotary's polio efforts on Rotary Radio UK on World Polio Day
Group Presentation about Polio Eradication
West Wickham gave a presentation on polio in the church of St Francis, West Wickham and held a collection for End Polio Now
Beckenham also held a collection for End Polio Now and gave a presentation about polio at a Saturday Night Concert in St Georges Church with an article also appearing in the concert programme
Lighting up buildings in purple
Gravesend made sure Gravesend's famous Clock Tower appeared purple from sunset to midnight on joining thousands of other illuminated buildings around the globe for World Polio Day.
Canterbury Sunrise also liiuminated a Canterbury building in purple light
---
Charity Swimalong 2019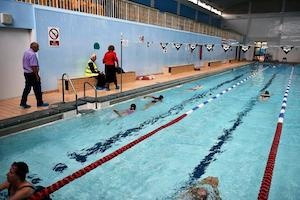 Charity Swimalong 2019
The Royal National Lifeboat Institution will benefit from the efforts of over 30 swimmers who took part at the West Wickham Leisure Centre on Sunday 29th September in a successful attempt to complete a marathon swim within 3 hours.
The swimmers achieved an amazing total of 52 km, far exceeding the 42 km needed for a marathon and their efforts raised nearly £3,000 for the charity.
The event was organized by Rotary Club of Beckenham with the help and support of other local clubs and communities.
The Mayor of Bromley, Councillor Nicholas Bennett, accompanied by his wife, attended and the Mayor himself swam a useful distance towards the target.
(Report and photo from Michael Rawstron, Rotary Club of Beckenham)
---
Classic Cars to a New MRI unit at the Conquest Hastings
Five Senlac Rotarians were among the guests invited to attend the opening of the new MRI scanner suite at the Conquest Hospital, Hastings by the Princess Royal on Wednesday, 17 July 2017.
The scanner appeal, launched in 2017, was one of the major beneficiaries of the proceeds from Senlac's 2017 Classic Car Show. The appeal was also supported to a considerable extent by the League of Friends of Bexhill Hospital who through the drive and determination of the late Senlac Rotarian and League Chairman, Stuart Earl, enabled the purchase and installation of a second scanner.
Senlac President Fitz Fitz-Graham and Press Officer Colin Goldsack attended as representatives of the club and both had the honour of being presented to Her Royal Highness.
Rotarians Robin Poll, Peter Stiles and Helen Knight are committee members of the League and were invited for their role in the League.
(Report and photo from Colin Goldsack, Press Officer of the Rotary Club of Senlac)
---
A PHF for Kevin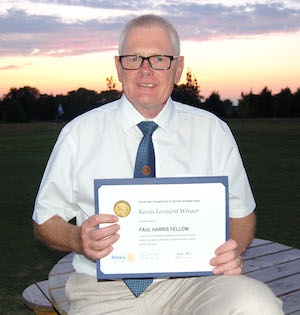 New MRI Scanner at the Conquest Hospital Hastings
Immediate past president Kevin Winzer was presented with a Paul Harris Fellowship award at the Rotary Club of Isle of Thanet Sunrise's handover meeting on 5th July 2019.
Kevin has undertaken two consecutive years as President; standing in at the last minute at the end of his first year. He has taken the club forward through a period of significant change, and worked hard to raise our public profile with 7 new members and 5 "Friends of Rotary " during that time
In his handover speech Kevin said his drive and Inspiration had come from a Paul Harris quote…..that Rotary should always be evolutionary and occasionally revolutionary.
(Report and photo from Caroline Winzer, Secretary of the Rotary Club of Isle of Thanet Sunrise)
---
Visit of Rotary GB&I President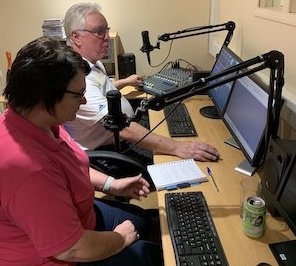 Rotary GB&I President Donna Wallbank at RRUK
On Thursday 11th July 2019, Rotary Radio UK was delighted to welcome RIGBI President Donna Wallbank and her husband Steve to the studios at The Criterion on the Isle of Sheppey.
Rotarian Jenny Hurkett showed the party around the restored music hall and Steve Wood and John Robinson conducted the studio tour.
While she was here, Donna recorded a couple of jingles for the station and Steve interviewed her about her Rotary journey and her plans for her Presidency.
(Report and photo from Steve Wood, RRUK & member of the Rotary Club of Sittingbourne Invicta)
---
85 years serving West Wickham
DG Brenda & President Christine Atkinson
The last day of the 2018-2019 Rotary year saw Rotary in West Wickham celebrating 85 years of serving the local community and beyond since receiving its Charter in May 1934.
Around 50 members, guests and friends (some who had travelled from Australia), including D.G. Brenda on her last day in office, joined together at the Langley Park Golf Club to enjoy a three course lunch, followed by tea, coffee and birthday cake.
During the event President Christine Atkinson (on her last day in office) read a message from ADG Mike Martineau, and gave a short history of the club. Brenda gave a speech of congratulations and presented a certificate marking the 85 years of being Chartered.
At the end of the formalities Christine passed on the President's chain of office to the 2019-2020 President, Ann Winterflood.
All in all, everyone enjoyed a wonderful, relaxed and friendly atmosphere to celebrate an important date in the Club's history.
(Report & photo from Ian Leach, Rotary Club of West Wickham)
---
And the there were 5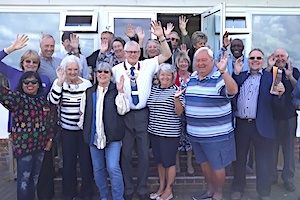 Thanet Sunrise members
For their breakfast meeting on 14th June 2019, Thanet Sunrisers welcomed Pam and Clive Turner and Nickie and Ross Holding as new members.
In '96 we were the first dual gender Rotary club of the six Thanet clubs, and now we have another first with five couples included in our 25 strong membership.
It seems that many couples, as well as individual members, want to be part of something together that makes a difference and brings them new friendships.
(Report & photo from Caroline Winzer, Rotary Club of Thanet Sunrise)
---
Rotary Radio UK & the Police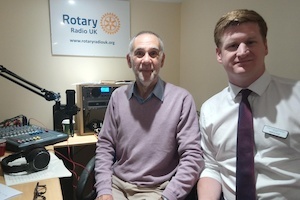 Steve Wood interviews Matthew Scott
On 6th June 2019, Steve Wood interviewed Kent's Police and Crime Commissioner Matthew Scott on Rotary Radio UK.
In a wide ranging conversation they covered funding, police numbers and how a PCC works with the established police force.
Matthew has agreed to keep us in touch with police matters in the future.
(Report & photo by Steve Wood, Rotary Club of Sittingbourne Invicta)
---
Rotary Radio UK at The Criterion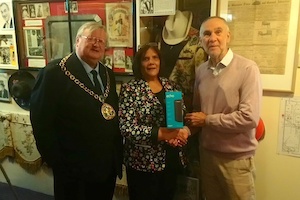 Steve Wood presents an Amazon Echo
The Criterion in Bluetown celebrated its 10th anniversary of opening on 5th June, and Rotary Radio UK marked the event with the presentation of an Amazon Echo (kindly funded by Sittingbourne Invicta Rotary Club).
This now means visitors to the café at The Criterion can listen to the station.
RRUK continues to grow in popularity and now has 4500 unique listeners across over 100 countries worldwide.
(Report & photo by Steve Wood, Rotary Club of Sittingbourne Invicta)
---
Cycling to Hamburg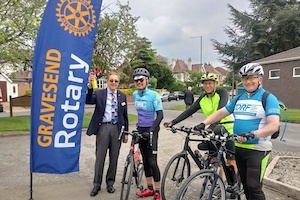 Edwin leaves Gravesend
US cyclist Edwin Valarde set off from Gravesend on 21st May 2019 for his EPIC ride to Hamburg. He was seen away by Gravesend Rotary for what will be over 700 miles through Europe to the Rotary Convention.
Edwin lives with Type 1 diabetes and his ride is to raise awareness of the Global Diabetes Epidemic. There are 425 million people in the World with diabetes and 3 million die from it each year.
Gravesend Rotary President Tony Muckley sounds the horn for Edwin and his escorts John Dent and Chris Barnett.
(Report & photo from Brian Portway, Rotary Club of Gravesend)
---
2019 Rotary Boccia Tournament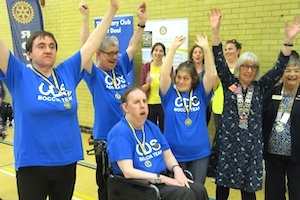 Winning Boccia team with DG Brenda Parsons
The annual Boccia Tournament held in the Sports Hall at Sandwich Technology School was a great success in terms of the enjoyment and sense of achievement for the competitors.
The event was organised by local Rotary Clubs for people with disabilities from the local community. Ten teams with their carers and supporters attended from different parts of East Kent from Thanet to Shepway. Deal, Dover, Sandwich and South Foreland Rotary Clubs were all actively involved with the event.
Thanet Thunderers played Herne Bay in the final while the third place final was between Sandwich and Shepway. Thanet Thunderers took first place after defeating Herne Bay and Sandwich beat Shepway to take third place.
Every competitor received a medal for taking part; the smiling faces and jubilation at the presentation was testament to the enthusiasm and enjoyment generated. Involving people with disabilities in a community event and working with them was a rewarding experience for those who helped.
(Report and photo by Mike Prebble, Rotary Club of South Foreland)
---
Young Leaders Working Together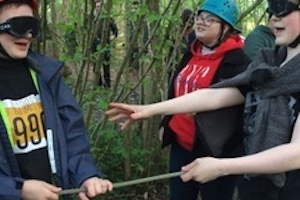 Young Leaders learning about teamwork
Eighteen young people from all over the south east had an amazing time at the Rotary Youth Leadership Awards (RYLA) weekend 26th-28th April 2019 at the Bowles Outdoor Centre near Tunbridge Wells.
RYLA is run as a residential programme for young people aged 14-17. It encourages the development of teamwork and leadership skills in young people who have the potential to be future community professionals and business leaders.
RYLA emphasizes leadership, citizenship, and personal growth, and aims to demonstrate Rotary's respect and concern for youth, provide an effective training experience for selected youth and potential leaders, encourage leadership of youth by youth and recognise publicly young people who are rendering service to their communities.
RYLA gives Rotary clubs the opportunity to offer the leaders of the future, a head start at an early age.
James from Bexley Heath said, "I expected it to be in a building all weekend, but we've been outside working on different activities and changing groups throughout". Katie from Margate advised other young people to come and face their fears as a lot of activities are off the gound. They both described the accommodation and food as good, amazing!
---


More Trees for the Community from Strood
There is a wonderful, well used family play area in Cliffe Road Strood that needs some shade and shelter and what better and sustainable way than planting trees and bushes that additionally add character, colour and interest. Working with the community Strood Rotary obtained 100 tree whips from the Woodlands Trust, building on the global Rotary tree planting challenge of 17/18, and with volunteers from the community, the Mayor of Medway and professionals from the parks and amenities department, the trees were planted with stakes and protective covers within a couple of hours.
Phase two of the project will be a hedgerow to stop run away balls from the football area. Projects like this in the heart of the community really do make a difference and other than some admin, it cost us little more than a couple of hours on a Sunday morning. Environmentally friendly, sustainable, community inclusive and rewarding.
---
Young Chef Winner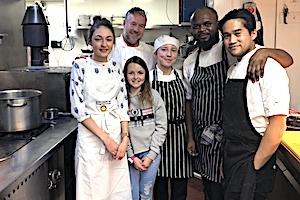 Young Chef Wilnner Ella
The Distirct Finals of the Young Chef Competition were held at Orpington College, Orpington on 26th January 2019
Ella, of Darrick School Orpington and the prize winner in the Rotary Young Chef Competion, subsequently enjoyed a VIP visit to the prestigious Chapter One Restaurant in Locksbottom.
---
An Inventive day at Third Technology Tournament
In March 2019, Strood Rotary with support of Medway and Maidstone clubs, organised and ran it's third Technology Tournament. 5 Schools, 15 teams, 60 students (plus a teacher team) spent the day constructing innovative technology driven solutions to a practical problem surrounded by military history in the inspirational surroundings of the Gillingham Royal Engineers Museum, the perfect venue.
Teams covered Foundation, Intermediate and Senior levels and the results it has to be said, demonstrated various levels of success. The solutions had to negotiate a test track to complete the challenge which was a non-trivial task and even the teacher team only managed it to 80%.
The schools and the students had a great day and the Rochester Bridge Trust who have supported the competition at Rotary GB&I level too, were there to present prizes. Press and even TV coverage on the 6:00pm news made the day for everyone. The winners at Senior and Foundation level were from the Rochester Grammar for Girls, whilst the Intermediate was won by Leigh UTC from Dartford.
Altogether a wonderful day for schools and a great day for Rotary.
---
PHF for the owner of the Langham Hotel Eastbourne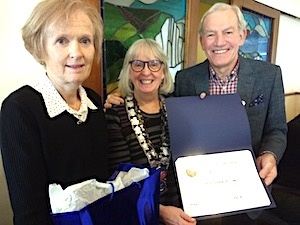 Neal and Wendy Kirby with GG Brenda Parsons
Rotarians from the Rotary Club of Eastbourne Sovereign with their partners and friends were joined by Rotary District Governor Brenda Parsons, and members of the Rotary Clubs of Sovereign Harbour, Eastbourne AM and Newhaven for a Charity Lunch hosted by Neal Kirby, owner of the Langham Hotel.
The guests enjoyed a three course meal with entertainment from Duality.
As a result of ticket sales donated to Rotary, donations and the raffle over £2500 was raised towards Eastbourne Sovereigns Charity fund. This year donations being made include those to St Wilfreds Hospice, Friends of Eastbourne Hospital, The JPK Project, The Eastbourne Lifeboat and Operation Smile which provides funds for operations to correct Cleft Palates in developing countries.
At the end of lunch DG Brenda made a presentation of a Paul Harris Fellow to Neal Kirby in recognition of his support of Rotary in Eastbourne and his many years of fundraising for local and National Charities.
(Photo and report from Liz Wilton, Rotary Club of Eastbourne AM)
---
District Youth Speaks Competition Winners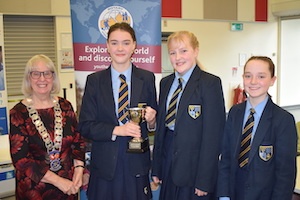 DG Brenda with one of the winning teams
After a compelling final held at New Line Learning, Boughton Lane Maidstone, Claverham Community College Teams Managed to win both the Intermediate and Senior Competitions.
With Topics ranging from "Should Teachers Carry Guns", to 11+, and "Chivalry is it Dead or Simply Misunderstood" to "Auditory Processing Disorder", and a highly entertaining "The Art of Public Speaking", young people showed an amazing range of skills and approaches to their topics.
Teams from Towers School Ashford, Walderslade School for Girls, Folkestone School For Girls, Claverham Community College Battle showed immense skill and regard for their subjects.
We Wish the Claverham Teams a great experience in the Regional Finals to be held at The Great Marlow School in Buckinghamshire on 7 April 2019.
(Report and photo from Steve Hanks, District Youth Committee Chairman)
---
Supporting Demelza Hospice Care For Children
The members of Rotary in West Wickham were pleased to welcome Tricia White, a volunteer at Demelza, to their meeting on Tuesday 4th December.
Tricia told the members that Demelza was celebrating its 20th anniversary this year after opening the doors of the first hospice in Sittingbourne. Within just a few years hospitals such as Guy's, St Thomas's and Great Ormond Street were stressing the need for the caring service that Demelza offers both children and their families, which led to the opening of a second hospice in Eltham.
Tricia told of the close association between Demelza and West Wickham as a town, with the opening of the Demelza shop in March 1998 and how that relationship has helped develop awareness by the people of West Wickham of the need as well as providing funds.
The association with Rotary in West Wickham has also been long standing and Tricia gratefully acknowledged both the funds donated at the time of the annual Charity Allocations by the club, and those raised by the "bucket collection" at the end of the Annual Fireworks Display.
Rotary President Christine Atkinson continued the tradition of donating the proceeds from the Fireworks collection by presenting Tricia with a cheque for £576.63, raised through the generosity of the public attending the display.
(Report & photo from Christine Atkinson, President Rotary Club of West Wickham)
---
Santa Saunta on Sheppey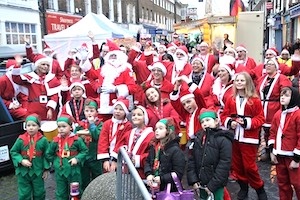 Santa Saunta in Sheerness
This was the 4th year the Rotary Club of Minster On Sea has held a Sanata Saunta; a gentle festive themed stroll along the length of Sheerness High Street led by the St John Ambulance band.
The Saunta on Saturday 1st December 2018 eventually turned into a giant Santa Conga that ended with Christmas songs around the clock tower. The event was also part of the Sheerness Lights switch on.
This year numbers were down due to the poor weather, but we still had approx 70 Santa and Elves. It looks like we raised around £1000 from sponsorships and bucket collections.
Our thanks to DG Brenda Parsons and Rotary Club of Medway who supported us on the day.
(Report & photo from Andy Brown, President Rotary Club of Minster On Sea)
---
Clean Up in Canterbury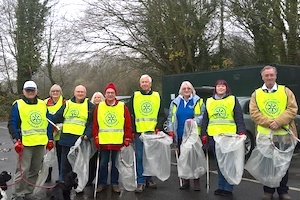 Canterbury Sunrise litter pickers
Ten Rotarians from the Rotary Club of Canterbury Sunrise hit an attractive riverside walk alongside the River Stour armed with litter pickers and between them collected ten bags of assorted litter.
Cans, bottles, sweet wrappers, a pair of trainers and a sweatshirt were bagged up and collected by the Canterbury City Council's cleaning contractors.
The event was organised by Chris Redman, one of the Members and President Roger Neaves led the team searching out the windblown litter in shrubberies and other litter traps. Ten hours of Rotary service has enhanced the area for residents and the many visitors to Canterbury.
(Report & photo from PDG Chris Barnett, Rotary Club of Canterbury Sunrise)
---
Rotary Clubs join together to support Dementia Charity
Oz, Georgina, Christine & Katherine
Earlier in 2018 the two Rotary Clubs of West Wickham and Addiscombe and Shirley had conversations to see what they could do to help the essential work to prevent dementia which is so much in today's news. They decided to organise a Tea Party at Addington Palace Golf Course which was attended by over 100 Rotarians and non-Rotarians to raise funds for Alzheimers Research UK and on 20th November were delighted to welcome Georgina Welch and Katherine Espiritu, from the charity, to a joint meeting of the two clubs.
Georgina gave a thought provoking presentation which put into layman's terms what dementia was, the effect on those with the disease and their families and how it was now the largest cause of death of men and women in the U.K. In monetary terms dementia costs the U.K. economy £26 billion p.a., and leads to the take up of 1 in 4 hospital beds.
Alzheimers Research UK is the leading dementia and Alzheimer charity, spending £21million p.a. on research and working in collaboration with other dementia charities. Their aim is to "Make Breakthroughs Possible" and find a life changing treatment by 2025.
However, to do their work they have to rely heavily on non- state funding such as voluntary donations and giving, and the Clubs' Presidents, Christine Atkinson from West Wickham and Oz Ozgenturk from Addiscombe and Shirley were able to present the charity with a cheque for £2,224 representing the funds raised at the Tea Party.
(Report & photo from Ian Leach at Rotary Club of West Wickham)
---
Thanet Sunrise Brings Smiles to their Quiz Nights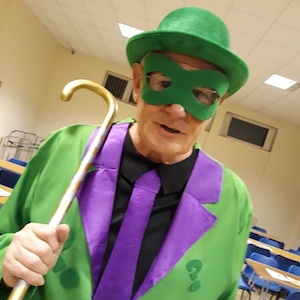 President Kevin Winzer as The Riddler
Two years ago, Thanet Sunrise decided to embark on a programme of 4 quizzes a year; giving each quiz a theme with MC and Club President Kevin Winzer (Known for his quick witted humour ) dressing up for the theme. We recently held our last of this year -The Extra- Ordinary Quiz with MC AKA The Riddler firing riddles at the audience in between rounds....
The aim was to increase the fun element, raise our clubs profile and build up a following for the quiz nights and other events that didn't rely on Rotarians .That has been more than achieved with tables booked for the next quiz at the end of each one. In addition, we have hugely increased our Facebook following. New quizzers and Facebook followers have become potential members and supporters of our club, and we receive regular donations from them for our well stocked "raffle bank".
Our quiz on 2nd Nov was attended by 81 people on 11 tables, and despite being 1 team down raised £655 for our Rotary charities.
(Report and photo from Caroline Saunders, Rotary Club of the Isle of Thanet Sunrise)
---
Six of the Best for Minster On Sea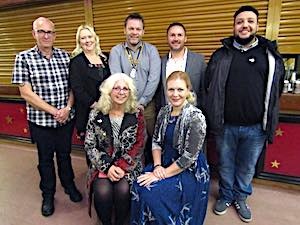 President Andy Brown and 6 new members
Conratulations to the Rotary Club of Minster On Sea; a club that are going from strength to strength.
President Andy Brown and the members of the Rotary Club of Minster On Sea introduce six new members to Rotary. They were all inducted on the same night, which must surely be some kind of record.
The club's recruitment drive goes on, and they are pleased to report that there are more potential members waiting to join.
(Report & photo from Paula Fagg, Rotary Club of Minster-On-Sea)
---
Global Scholars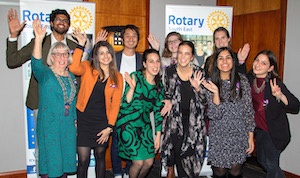 DG Brenda Parsons with our Global Scholars
Rotary Global Scholars from the USA and Japan have arrived in Rotary South East.
They are being hosted by the Rotary Clubs of Bexley, Canterbury Sunrise, Dartford, Darent Valley, Langley Park, North Downs, Orpington Crofton and Sidcup.
---
Tenterden's Celebrates 70 years of NHS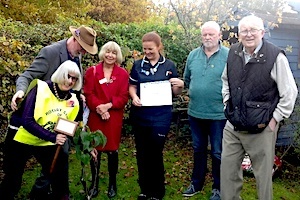 Planting two lilac trees in Tenterden
Tenterden Rotarians were joined by District Governor Brenda Parsons and Assistant Governor Bryan Vizzard as they planted two trees on Monday 5th November 2018.
The purple lilac trees were planted in the garden reserved for Dementia patients and staff at West View Integrated Care Centre in Tenterden. We were joined by nursing staff, and by Jo Starr, Activities and Events Manager at West View, who was instrumental in setting up the event, and by John Goulden who is one of the leaders of Tenterden Dementia Friendly.
Tenterden Rotary Club was 70 years old last year and in turn we are proud to honour 70 years of the NHS.
(Report & photo from Sarah Williams, Rotary Club of Tenterden)
---
Community Café . . . a 'Friend of Rotary'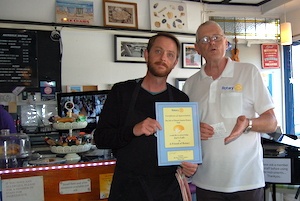 The first time you enter Joe's café in Birchington it takes rather a long time to get through the door! There are so many local notices and leaflets at the entrance, all begging your attention, you just have to pause and have a read!
Once inside, the welcome is warm and the produce is enticing. On the counter an assortment of local community collection boxes is gathered. Scattered around the café are musical instruments and a baby grand piano, proudly awaiting their next party.
A few months ago, the Rotary Club of The Isle of Thanet Sunrise took the step to change their usual Friday breakfast meeting and trial an occasional meeting at Joe's instead. This enabled the club to keep in touch with members, who, for one reason or another were no longer able to attend regular meetings. It also gave the opportunty to meet potential new members in a relaxed atmosphere.
Joe was quick to support these occasional 'meet-ups' and they have been successful. The café had no hesitation in providing space for a large jar to help the club raise funds for MND (motor neurones disease) by collecting used stamps.
If only there were more places like this around. The extent to which this café has helped Rotary and other local community groups, prompted the club to find a way of giving this wonderful asset in the village some recognition. They decided to make 'Joe's café' a 'Friend of Rotary' and think this may be a 'first'!
(Report & photo from Margaret Jones, Rotary Club of the Isle of Thanet Sunrise)
---
The Rotary John Barker Shield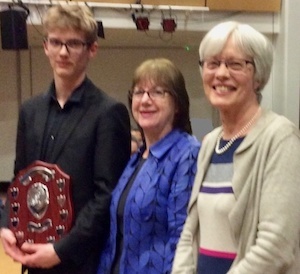 Jordan Dunk with The Rotary John Barker Shield
Awarded to Jordan Dunk at the Festival of Strings held on Sunday 18th March 2018.
Rotary in the London Borough of Bromley has provided a new Award, The Rotary John Barker Shield, for the Bromley Youth Music Trust to present to a student who has achieved a high standard in their music as well as supporting other musicians.
John was a well-known Bromley Rotarian who actively led and took part in Community Projects which changed the life chances of people of all ages, locally and internationally. One of his great passions was Music and as a keen supporter of Bromley Youth Music Trust. it is appropriate that this award celebrates the musical and personal talents of a young person in Bromley.
More than 50 Rotarians attended this event along with our District Governor Carol Vizzard.
(Report & photo from Rtn Brenda Parsons)
---
World Polio Day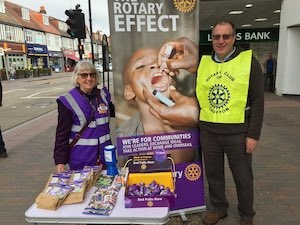 Brenda & Keith selling purple crocus pins
World Polio Day was established by Rotary International over a decade ago to commemorate the birth of Jonas Salk, who led the first team to develop a vaccine against Polyiomyelitis. On this day we remind the world that for Rotary, it's the No 1 programme priority for Rotarians across the globe is the fight to eradicate polio from this world.
Rotart clubs across the district have been undertaking events in their local area and raising awareness of Rotary's 30-year battle to eradicate polio.
District Governor Brenda Parsons and 45 others from across the Rotary South East UK district walked over the O2 Dome in London on 23rd October as an End Polio Now fundraising event.
Clubs walking the O2 Dome with Brenda include: Tonbridge, West Wickham, Langley Park, Beckenham, Crayford, Isle of Thanet Sunrise, Herne Bay, Canterbury, Orpington Crofton, Bromley, Canterbury Sunrise, Ramsgate, Sovereign Harbour, Broadstairs, Senlac, Rye & Winchelsea, Bexhill on Sea, Canterbury Forest of Blean, Dover and Maidstone Riverside.
D1120 Club Events on World Polio Day 2018
Quiz and fish n chips night - West Wickham raising funds for End Polio Now
Showing of the film "Breathe"
Bromley and Faversham clubs
Gibraltar's Moorish Castle goes purple
Purple lighting illumination
Herne Bay - the Herne Bay clock tower
Tenterden - the Town Hall & St. Mildred's Church
South Foreland - their hotel venue
Canterbury Sunrise - St. Edmund's School
3 Maidstone clubs - the Town Hall in Maidstone
Rye & Winchelsea - St. Thomas' Church, Winchelsea
Gibraltar - Moorish Castle
Planting purple crocus corms
Sittingbourne Invicta, Minster-on-Sea, Medway, South Foreland, Eastbourne Sovereign, Bexhill
Maidstone, Maidstone Riverside & Maidstone Dawn Patrol planting 25000 purple crocus corms
Polio Talk - South Foreland held an End Polio Now talk and all club members wore something purple
Rotary Radio UK will be broadcasting polio related messages
Advocating end of polio - Sittingbourne Invicta via social media, radio and press release
Selling purple crocuses
Orpington Crofton will be collecting at Tesco's for End Polio Now
Chestfield will be selling purple crocuses as a Purple4Polio fundraiser
Orpington will be selling purple crocuses in the High Street
Purple Lunch - Orpington holding a purple lunch for 45 at Orpington College
---
Rotarians Climb & Dine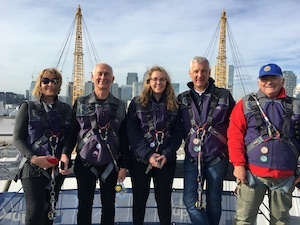 Climbing the O2 Dome
As part of our efforts to raise awareness and donations for the Rotary campaign to End Polio Now and forever 48 Rotarians from clubs all over Kent & East Sussex converged on the Greenwich Peninsula to climb the famous O2 Dome. This was to mark World Polio Day 2018 and to raise funds towards our End Polio Now campaign. They were then joined by family, friends and well-wishers at a celebratory lunch.
Led by District Governor Brenda Parsons, 3 groups of Rotarians took part in the climb. A pull up banner promoting our Purple 4 Polio campaign displaying our End Polio Now ambassador Ade Adepitan also made the trip!
In spite of the steepness of the climb on occasions, everyone thoroughly enjoyed themselves and it gave us a chance to promote Rotary and our End Polio Now campaign to the many other members of the public who were visiting the site at the time.
Whilst we await final confirmation of the total sponsorship funds raised from those who did the climb, early indications are that several thousand pounds have been raised which, with the pledge from the Bill & Melinda gates Foundation will be tripled and donated towards the End Polio Now fund.
(Report & photo from Colin Norgate, Rotary Club of Maidstone Riverside)
---
Ravensbourne Clean-up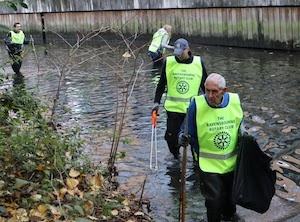 Ravensbourne Clean-up
17 intrepid Rotarians – Including District Governor Brenda Parsons and friends of Rotary completed a clean of the River Ravensbourne in South East London on Saturday 20th October 2018. This was facilitated by Natures Gym, an initiative by Nature Conservation Officers from the London Borough of Lewisham, and Glendale ( a local contractor).
It was a very worthwhile event as the group collected 8 black sacks of rubbish including a mobile phone, 8 golf balls, 2 footballs and a tennis racket and ball, various bicycle bits, a cycle helmet, a tea pot,various items of clothing, DVD's, a hat, one walking stick a pair of crutches, an 8 foot scaffolding pole, two traffic cones, mountains of plastic, 20- 30 cans and bottles and two obligatory supermarket trolleys!
It was successful on several levels. Rotarians were seen in the community by the general public in the river on a Saturday morning doing a hands-on job. We were asked several times about who we were and what we were doing, and this led on to explaining more about our Rotary club so it was also a membership /recruitment opportunity.
(Report & photo by Chris Compton, Rotary Club of Ravensbourne)
---
Chatham's Litter Pick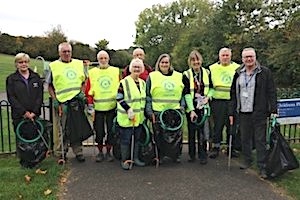 Chatham's litter pickers
Members of the Rotary Club of Chatham had a successful litter pick on Sunday 14th October 2018.
Local Councillors were in attendance, and equipment donated by ASDA at Chatham.
The work team visited a recreation ground on Sunday morning and everyne filled a refuse sack of rubbish from around the area. Thankfully, the councillors also arranged for the bags to be picked up the following morning for disposal.
(Report & photo from President Tracy Williams, Rotary Club of Chatham)
---
Rotary Radio UK Goes Live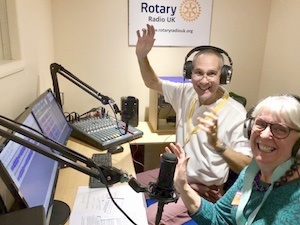 Steve & Brenda having fun on the radio
A launch event for Rotary Radio UK was held at The Criterion Theatre in Blue Town on Saturday 13th October 2018. This was attended by Rotarians, friends, sponsors and people who had helped build and furnish the studios in the theatre.
Sittingbourne Invicta club members Steve Wood and John Robinson had the idea of radio broadcasting for Rotary last year. Once buy-in from Rotary South East was obtained, Steve & John formed a team of people including some from Gravesend, Medway and Minster-on-Sea clubs. Rotary funding from Rotary GB&I and district was forthcoming, and this enabled the team to locate premises for a studio and equip it.
So after a few weeks of trialling recorded taster shows, Rotary Radio UK finally went live at 12noon on 13th October 2018.
District Governor Brenda Parsons attended the opening event and was pleased to say a few words into the microphone.
---
Rotary South East Supports Kerala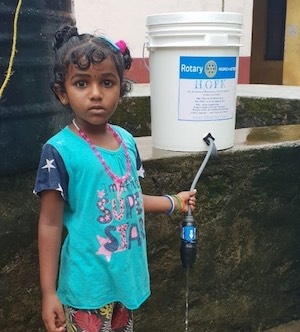 Project Hope water filter in Kerala
Rotary South East has teamed up with District 3211 in Kerala to gift water filters to schools in the region.
Project Hope is a joint initiative between clubs in the UK and Kerala to provide water filtration kits to schools. PDG John & Liz Wilton, PDG John & Sue Dunkley, Rotarian John Cheesman and the Rotary Clubs of South Foreland and Eastbourne Sovereign have sent water filter kits for families.
Other Rotary South East clubs have donated Shelterbox kits. According to Rotary in Great Britain & Ireland one thousand Shelterbox kits have already been distributed in different parts of Kerala and more are on the way. Each shelter kit provides tent, utensils and cloths for a family of four.
Rotary in Great Britain and Ireland, along with Rotary Jaipur Limb UK, is also supporting six limb camps in Kerala.
(Report & photo from PDG John Dunkley, Rotary Club of South Foreland)
---
RYLA Weekend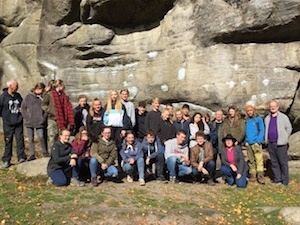 RYLA attendees
The district's Autumn Rotary Youth Leadership Awards residential weekend happened on 5th-7th October at the Bowles Outdoor Activity Centre near Tundbridge Wells.
Twenty-Four 14-17 year olds joined the weekend sponsored by eleven clubs from the district - the most clubs we have ever had sponsor attendees!! In fact the weekend was oversubscribed and we had to put attendees on our next course in the Spring 2019.
A RYLA activity course is all about getting teenagers to discover and realise their potential as good leaders, communicators and team players. A group (max 24) of teenagers from all over the district are taken through a series of exercises to help them develop these skills with the help of qualified activity leaders from the Bowles Activity Centre. "Pushing The Envelope" is a phrase used very early on describing how participants are helped to move from their comfort zone in to one where their resilience and coping ability is tested so they gain better control in challenging situations resulting in growing confidence and ability to work as a team player and show leadership skills. Everyone without exception always says that they have ached more than they ever thought possible.
If your club wants to sponsor a teenager or know more about RYLA, then please visit the RYLA webage. The next date is 26 - 28 April 2019. We look forward to seeing attendees from your club.
(Report & photo from Scott Reeve, Rotary Club of Faversham)
---
Charity Swimalong 2018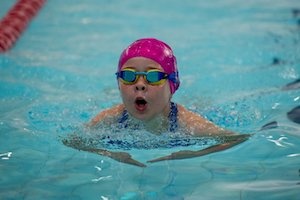 Sophie Carr swimming for Children in Need
BBC Children in Need will benefit from the efforts of 35 swimmers who took part at the West Wickham Leisure Centre on Sunday 30th September in an attempt to complete a marathon swim within 3 hours.
As with last year, the result was tantalizingly close and the swimmers achieved a creditable 37 kilometers, (about 87% of a marathon) and their efforts have raised over £2,000 for the charity.
The event was organized by Rotary Club of Beckenham with the help and support of other clubs and local community organizations.
The Mayor of Bromley, Councillor Kim Botting, accompanied by her husband, graciously attended and awarded medals to the swimmers and then drew the winning raffle ticket for the giant Pudsey bear.
We are very grateful to the West Wickham Leisure Centre and all our sponsors, whose generous support made this event possible.
(Report & photo from Mike Rawstron, Rotary Club of Beckenham)
---
Orpington go to Germany
Orpington Rotary visit Wuppertal, Germany
Members of the Rotary Club of Orpington and their partners have just returned from a wonderful weekend in Wuppertal, Germany.
This was an international meeting of three clubs, and proved to be a great weekend of fun, food and fellowship with friends from Maubeuge, France and hosts Wuppertal, Germany.
During the weeknd visit Orpington members travelled on the famous Schwebebahn railway, visited the Junior University Wuppertal and had lunch at Wasserburg Dussel village.
The Saturday evening was a tripartite dinner with President Nigel giving an excellent address on behalf of the Orpington club.
---
Congratulations to Scott
Congratulations go to Scott Reeve, member of the Rotary Club of Faversham, who was awarded a Paul Harris Fellowship at the District Council meeting on Thursday 17th May 2018. The award was given to Scott by DG Carol Vizzard for his work with RYLA over many years.
---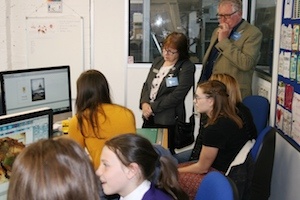 Herne Bay Photographic Competition Winners
Herne Bay Photographic Winners 2018
Yesterday afternoon, 14th May 2018, the winners of the Rotary Club of Herne Bay's Photographic Competition 2018 visited the Noel Tatt Group to see their entries turned in to cards.
Lucy Barton was winner of the Senior Category, and True Rainbow was winner in the Junior Category.
We were also joined by Carol Vizzard, District Governor and Stewart Neame, Youth and Community Chairman in Herne Bay.
(Report by Jane Furnival & photo by Tony Furnival )
---
Yellowmen of Kadongdong's Knickers Project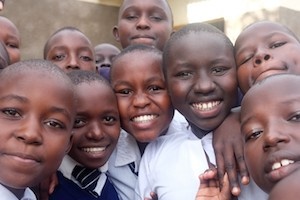 Girls of Kadongdong, Kenya
As part of a medical team initiative in West Pokot, Kenya, our Yellowmen nurses produced a presentation on menstruation designed to educate girls in what was happening to their own bodies. they also produced a tool to get local teachers and medics to help change the lack of support for girls suffering from painful periods and lack of basic knowledge.
Sufficient sanitary towels were also taken to supply each girl attending one of the presentations with a month's supply.
In the follow up talks with local nurses and teachers it transpired that not only was there a lack of sanitary towels that the girls could afford, they often couldn't even afford sufficient pants to keep them supplied during their periods.>
Once this became apparent, the Yellowmen ladies went into action and the Knickers Project was born. So far sufficient money has been raised to purchase 1500 pairs of pants to be given out to girls when they receive their free sanitary towels during the September 2018 Yellowmen visit.
1500 pairs of knickers may not be sufficient but it is a start and the knickers project is a bit 'elastic' in that it will grow as more money is collected.
(Photo and report from Eddie McCall of Rotary Club of Senlac)
---
ANZAC Centenery Commemoration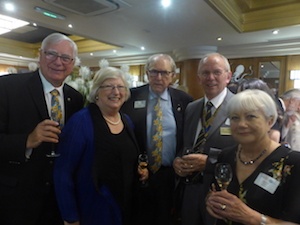 RI President Ian Riseley with President Steve Parkin
Four members, and their partners, of the Rotary Club of Ashford were recently privileged to be invited to attend the Anzac Centenary Commemorations at the Australian National Memorial (ANM) in Villers-Bretonneux, northern France on 25th April 2018.
The commemoration was also attended by HRH the Prince of Wales, the Prime Ministers of France and Australia and Rotary International President Ian Riseley.
Ashford Club President, Steve Parkin, commented "the visit was a great success. We were humbled and honoured to know that we were some of the very few English people to be invited to the Australian Commemorations.
The Club's whole visit actually lasted three days and took in the French Rotary District 1520 conference, meetings and celebrations with their twin club of Amiens, the RI President, Ian Riseley and other French and Australian Rotarians.
---
Technology Tournament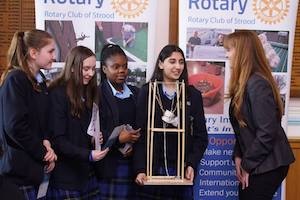 Rotary Club of Strood's Technology Tournament
Congratulations to the RC Strood for putting on a Technology Tournament for local schools!
On Friday 16th March 2018, Strood Rotary Club organised a Technology Tournament at The Royal Engineers Museum as part of British Science Week.
Westlands School won the Advanced competition, Rochester Grammar School won the Intermediate competition and Northfleet School for Girls (year 7) won the Foundation level competition..
A special thanks must go to local Rotarians who also provided help on the day, and to local MP and honorary member of Rotary Club of Strood, Kelly Tolhurst, who presented the certificates on the day!


(Report by Eddie McCall of Rotary Club of Senlac)
---
Bromley Young Musicians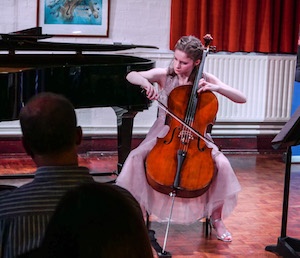 Sophie Oliver
An audience in Bromley was treated to inspirational performances by young musicians from the Bromley Youth Music Trust last Saturday 27th January 2018 at the Rotary Trotman Final, held in the Bromley Youth Music Trust's performance space.
The winner of the Trotman trophy, and £150 to further her musical studies from Rotary in Bromley, was Sophie Oliver who played the cello.
Eight talented young musicians each played for 10 minutes demonstrating amazing skill and technique, as well as a laudable empathy with the pieces of music that they had chosen to play. Cellists Anna Crawford and Sophie Oliver, french horn players Isabella Ward-Ackland and Leo Glenister, trombonist Emma Mitchell, violinist Lisa Archontides-Tsaldaraki, trumpet player Ed Sykes and pianist Arul Gupta, entertained and impressed the large audience with their playing.
The Adjudicator, Murray McClachlan, was extremely impressed and gave very positive and encouraging feedback to the young and very gifted performers. The Adjudicator amused the audience by commenting on the use of music scores by the contestants. Some had the scores on music stands and others played by memory.
A memorable evening celebrating the wealth of talent of the young people of Bromley.
Sophie Oliver, Rotary Trotman Winner, and Joe Davies. the BYMT Classical Singer of the Year for 2017, will represent Bromley Borough at the Rotary South East District Young Musician Final on February 10th at the Invicta Grammar School, Maidstone.
Rotary in the Borough of Bromley are proud to be partners with Bromley Youth Music Trust and to sponsor this event.
(Report by Mike Martineau)
---
Young Chef Competition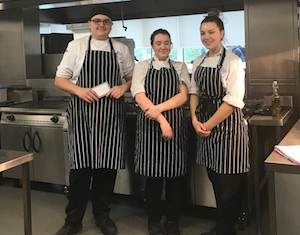 James, Amber and Casey
The Rotary Club of Darrent Valley held their annual competition at the Longfield Academy on 13 December 2018.
Each contestant prepared a three Course meal for two persons in 2 hours. All the meals were produced to time and budget and were judged by Rotarians Josie Morgan, Ricky Pristernik and Stewart Grainger.
The standards were high and it was a close run competition. The winner was James Bishop from New Ash Green and he was presented with the prize of a Bluewater Gift Card for £50. James will now go onto the District Competition to be held in Maidstone in January 2018.
(Photo & report from Stewart Grainger)
---
Visiting Rotary Scholars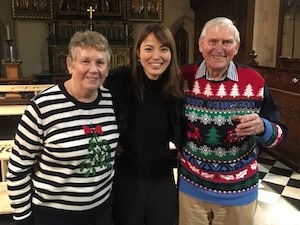 Sheila, Makiko and Stewart
The Rotary Club of Darent Valley had the pleasure of hosting a Global Scholar, Makiko from Japan, and a Peace Scholar, Jessica from the USA.
Sheila and Stewart Grainger enjoyed some early Christmas cheer with Makiko when she appeared in the university choir singing in both latin and English.
Sheila and Stewart also enjoyed an early Christmas dinner with Jessica and Makiko and her partner in the Crusting Pipe, Covent Garden.
(Photo & report by Stewart Grainger - nice jumper Stewart)
---
Tree-mendous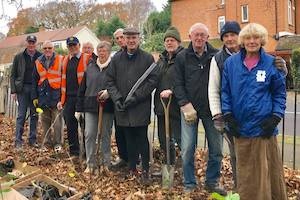 Langley Park & Beckenham members planting trees
Members of Langley Park and Beckenham Clubs put on their wellies and joined forces to plant 120 trees in South Hill Park near Bromley on Wednesday 6th December 2017.
Both clubs were determined to meet a worldwide Rotary goal, set by Rotary International President Ian Riseley, where every Rotary member plants at least one tree each and change the environment for the better by Earth Day on 22nd April 2018.
A tree-mendous effort by these two clubs.
(Photo: Mike Martineau of RC of Langley Park)
---
70 years of Tenterden Rotary Club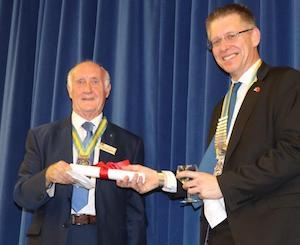 Mike Springett & President Chris Milne
At a meeting attended by 54 members and guests the Rotary Club of Tenterden celebrated 70 years of service to the community.
The club was chartered in 1947 and a meeting was held on Tuesday 7th November 2017 in Tenterden town hall; at the same venue and time as that original meeting.
President Chris Milne outlined some of the history of the club and said that since its inception it has raised about three quarters of a million pounds for charities in addition to organising events and sponsoring youth activities.
One founder member of the club, Robert Cruttenden, a former Mayor of Tenterden is no longer alive but his portrait in the corner of the room seemed to be smiling in approval.
Pic (left to right) Mike Springett (Assistant District Governor) presents Chris Milne (President TRC) with a commemorative scroll (Report by Phil Auden of Tenterden Rotary Club)
---
Canterbury Cathedral Goes Purple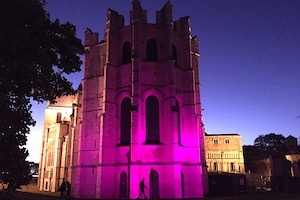 Canterbury Cathedral on World Polio Day
Canterbury Cathedral turned purple on Tuesday, 24 October, 2017 - WorldPolio Day.
The Corona at the east end of the Cathedral joined many of the important buildings around the World when it glowed purple to mark World Polio Day.
When children are immunized against poliomyelitis a little finger is dipped in purple ink. This colour has now been carried World-wide as a symbol of the battle to finally eradicate polio.
Rotary in the South East asked The Chapter of Cathedral for their support and are delighted that such an iconic place has embraced this World-wide gesture.
Though polio may seem distant in this country there are still around 100,000 people here being treated for post polio syndrome from the epidemics of the 1950s and 60s.
"We are so very close," said Rotary District Governor Carol Vizzard. "There are just two countries now where polio has been found and only 12 cases so far this year. This compares with over 300,000 thirty years ago.
"But to end polio there are still millions of children being vaccinated. Rotary has been for 30 years and still is at the forefront of this battle with our partners such as the Bill and Melinda Gates Foundation, the World Health Organisation and National Governments including the UK Government who recently pledged £100 million in the fight to eradicate polio"
---
New Borehole for Malawi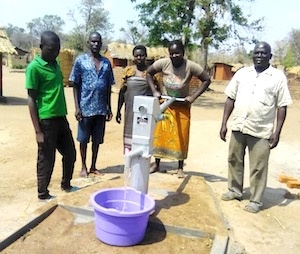 New borehole in Malawi
In August 2016, Tenterden Rotary Club set out to help a village in Malawi build a new water borehole for a community centre comprising a school and five surrounding dependent villages (circa 1,200 population).
With the help of a District Grant and the pledge of funds from the club the estimated cost of around £2000 was covered. We also enlisted the help of Water Aid (a charity that provides advice, technical guidance and local knowledge) who confirmed that the project was viable.
With the significant help of a local charity, Starfish Malawi, the project was initiated and in June 2017 the site for the borehole was chosen and the necessary equipment was purchased.
The borehole was started in late September. It is quite amazing that they still do this by hand!!! - or should I say many hands!!!!
Everyone celebrated the completion of the borehole on 2nd October 2017. The water was rather brown at first but cleared during the following few days.
What a difference this will make to this community who will no longer have to walk nearly half a mile to get their water - 8-10 times a day!!!! (Report by Phil Auden of Tenterden Rotary Club)
---
Clubs Collecting for Disaster Relief Aid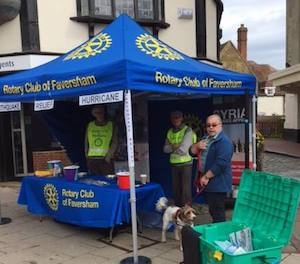 Collecting for Shelterbox in Faversham
Clubs throughout Rotary South East have been out and about recently collecting money to support disaster relief aid in the wake of recent hurricanes across the Caribbean.
On Saturday 23 September 2017, the Rotary Club of Faversham responded to assist people in distress around the world from recent natural disasters and conflict by raising money for Shelterbox.
Club members took their stand and a Shelterbox to the market square, and raised over £230 thanks to the generosity of the people of Faversham.
The Rotary Club of Faversham now intends to sponsor a complete Shelter Box, which can provide the much needed basics for a family to survive when sudden disaster strikes.
---
Tonbridge Dragon Boat Race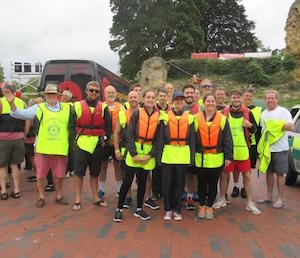 Tonbridge Go Rotary Team
The Fifth Annual Dragon Boat Races organised by Tonbridge Town Team was held on the River Medway on Sunday 10th September 2017. This was also the third year that Tonbridge Rotary Club has taken part with their Go Rotary Team.
The Tonbridge Go Rotary crew consisted of 16 rowers including two Past Presidents, the current President, a future President and many members of their families.
President Robert Greenhalgh was also the boat drummer who kept the paddlers in unison by beating time on his drum! Fortunately all teams had a professional helmsperson in the stern to guide the boats.
23 teams competed - the largest number ever for Tonbridge. The Tonbridge Go Rotary team managed a very impressive 6th place. Well done Go Rotary. (Report by Janet Sergison of Tonbridge Rotary Club)
---
End Polio Now Tea Party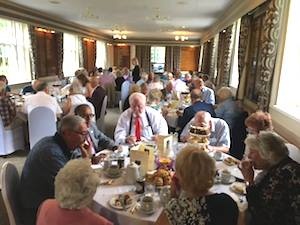 End Polio Now Tea Party
An End Polio Tea Party at Addington Palace GC on Sunday 20th August 2017 was attended by over 100 Rotarians from 12 local Rotary Clubs and from 2 Rotary Districts.
Great food, great entertainment and close to £5k raised was raised (including Bill Gates effect).
The event was well organised by 4 Clubs from the Borough of Bromley. Great collaboration. Attended by District Governor Carol, DGE Brenda and last year's DG Peter.
(Report by Mike Martineau)
---
Ravesbourne is Born!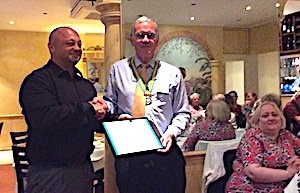 Ravensbourne Charter Night
Ravensbourne became the newest club in Rotary South East on Wednesday 19th July 2017.
Dickon Bowden, first President of Rotary Club of Ravensbourne, received the club's Rotary Charter from Assistant Governor Mike Martineau.
Messages of congratulations were received from RI President Ian Riseley, Rotary GB&I President Denis Spiller, DG Carol Vizzard and DGE Brenda Parsons.
Note: The Rotary Clubs of Catford and Bromley-Bickley ceased on 30th June 2017 and members merged to form the new Rotary Club of Ravensbourne,
---
Strood Technology Tournament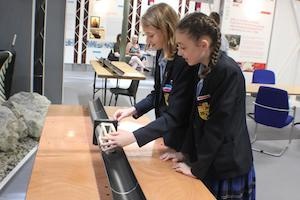 Strood Technology Tournament
Strood Rotary Club organised a Technology Tournament on 7th July at the Royal Engineers Museum.
Rotarians helped from Strood, Chatham, Rochester, Medway, Medwayp Sunlight, Maidstone Dawn Patrol, Maidstone Riverside and Sittingbourne Invicta clubs.
Contestants were asked to build a pipeline vehicle and were scored regarding construction, planning and portfolio.
The winners were:
Foundation: Rochester Grammar
Intermediate: Rochester Grammar
Advanced: Leigh UTC (Dartford)
Rotary District Govenor Carol Vizzard was present through-out the day and the event was also attended by the Deputy Major for Medway Gloria Opara. The next Technology Tournament has been arranged for Friday 16th March 2018.
---
Winning Young Photographers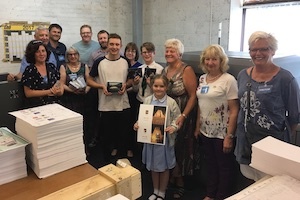 Young photographers with their cards
The Rotary Club of Herne Bay have, for several years, been running the Rotary Young Photographer Competition awarding prizes to the winners in each age category.
A team of local experts has been used to judge the photographs, bringing their own skills to the competition.
The entrants' photographs have been displayed at Beach Creative in Herne Bay, and the exhibition has been open to the public for several days culminating in an award evening attended by the entrants and their parents.
This year the winners in each category were generously offered the chance to have their photographs turned into cards, with amazing results.
Herne Bay will be running the competition again next year with the added twist of allowing the entrants to mount their own photographs and organise their own display area.
---
Douai to Gouda the Hard Way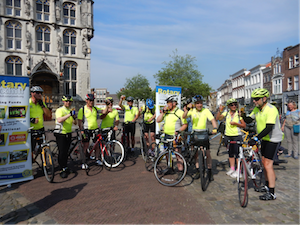 The finish line in Gouda
The idea came from the President of the Rotary Club of Bexhill on Sea, Geoff Longmire, who earlier this year suggested that a team from the Club should cycle from Douai in France to Gouda in the Netherlands; both towns having Rotary clubs who are also contact Clubs for Bexhill.
So on 25th May 2017 ten riders from Bexhill and Chris Barnett tarvelled to Douai via Dover. where they met members of the Rotary Club of Douai for dinner. Day one of the ride followed the next day, and the riders soon left the cobbled streets of Douai and picked up the river tow path.
After a night stopover in Oudenaarde, the riders set off once again and were in Ghent by lunchtime, and then cycled in 32oC heat on to Antwerp for another overnight stop. The riders woke on day 3 to torrential rain, but luckily this had cleared by the time they set off again. A few punctures later the team arrived in Breda and coincided with the final day of Breda's international jazz festival.
On the morning of 29th May 2017 the riders had just 50 more miles to go, and were joined for the last 10 miles by three Rotarians from Gouda. The end came with a sweep around the square in Gouda, and across the finish line between two Bexhill pop up displays. We were greeted by our partners, Gouda Rotarians and friends and a tray of thirteen glasses of cool beer!
(Report from Chris Barnett & photo by Rotary Club of Bexhill)
---
New Bus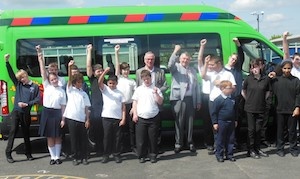 Bradfields Academy - New Bus
DG Peter West, PDG Martin Williams and President Chris Bunting of RC Sittingbourne Invicta were present for the handover of a bus at Bradfields Academy, Chatham on 24 May 2017.
The bus was given in aid of the PDG Martin Williams charity Lord's Taverners. £16k was raised by Rotary South East, which is roughly half the total.
The Lord's Taverners were represented by Tom Warner, the Regional Development Manager .
---
On Your Bike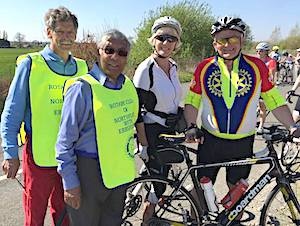 On Your Bike - Gravesend 2017
Sunday 9th April 2017 - My first bike event of the year; Gravesend Rotary Club's annual event in aid of Elenor Hospice and other charities.
Thirty glorious miles through North Kent countryside in stunning weather. A couple of challenging, cramp inducing hills; one just under two miles we were told. Joined by training buddy Jenny Olpin.
My sixth ride with them so now have a set of six slate coasters. For Gravesend, their thirty first!
Congratulations to RC of Gravesend for a safe and well organised event.
Now rehydrating with a cool G&T!
(Report from Chris Barnett & photo from Himansu Basu)
---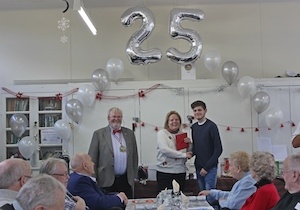 Christmas Dinners in Sittingbourne
25 Years of Christmas Dinners
Companionship at Christmas recently celebrated 25 years of providing Christmas dinners to those on their own in Sittingbourne.
Over Christmas Day and Boxing Day, 120 people enjoyed each others company over the festive season. There was lots of laughter, music, balloons and a special cake marking the 25 years. Everyone enjoyed the truly excellent cooking from the volunteers who gave up their own time over the Christmas period.
Companionship at Christmas is a charity supported by the Rotary Club of Sittingbourne Invicta and club member Pamela Prescott helped hand out dinners and presented a cheque for £200 as the club's contribution to this years event.
---
Goodbye Crowborough
It is with regret that we announce the closure of the Rotary Club of Crowborough at the end of December 2016 with a loss of 14 club members.
This club has been engaged in much active service in Crowborough since it was chartered 64 years ago, and will be a great loss to the town.
---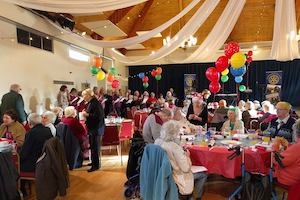 Faversham fish n chip lunch
Fish 'n Chips in Faversham
On Monday 5th December 2016 the Rotary Club of Faversham hosted over 120 senior citizens to a Christmas Fish and Chip lunch in the Alexander Centre.
Music, Christmas Carols and plenty of cheer were heard on what was a memorable occasion.
---
Medway's Santa Fun Run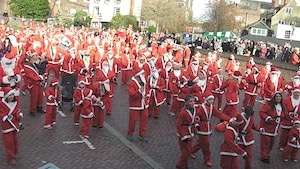 Charity Santa Fun Run
The Rotary Club of Medway held it's annual SantaFunRun in Rochester High Street on November 19th 2016, attracting well over 800 red clad Santa's.
The spectacle was a stirring event that raised over £8,000 towards next years Rotary Children's Hospice Family Holiday, that will be the 9th year the Club have hosted 6 families from Demelza and Ellenor Children's Hospices.
---
Rotary Halloween Event
Halloween
Ghosts and ghouls have raised £1,200 for charity in Pevensey.
A Halloween night at The Smugglers Inn saw 76 members of the Rotary Club of Sovereign Harbour, along with their friends and family attend a dinner for the Children With Cancer Fund in Polegate.
During the evening there was live entertainment, a raffle and a special cake to help notch up the funds.
Plenty of weird looking Rotarians too!
---
Standing Ovation For Ade Adepitan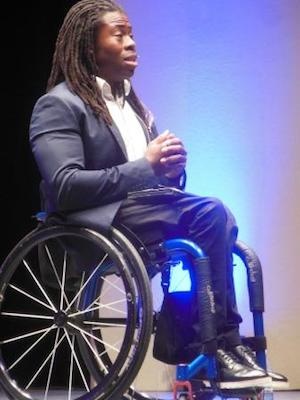 Ade Adepitan at Conference
It was very much Ade's day at the Rotary South East conference on Saturday 29th October 2016.
Born in Nigeria, Ade contracted polio aged two that affected both his legs, and his parents made decision to move to UK when he was three. He went to school in Plaistow, East London, and was recognised by his school-mates as a 'tryer'; especially in sports.
Ade was spotted by two physios with an 'East End Project' while being pushed on a sponsored supermarket trolley race, and he was persuaded to become involved in the programme. Thanks to that, Frank Bruno raised money to buy him a lightweight self-propelled wheelchair.
Ade completed in a scratch paralympic basketball team in Cyprus that beat the favourites (the Germans), and has never looked back. He has now become a Rotary polio ambassador, and advocates for the the polio eradication endgame.
He so richly deserved the standing ovation the hall gave him following his conference appearance. Ade also donated his appearance fee to the fight to eradicate polio.
---
World Polio Day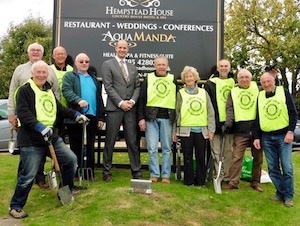 World Polio Day
Monday 24th October was World Polio Day, and to mark the event a group of Rotarians from the Sittingbourne Invicta and Sittingbourne & Milton clubs met at Hempstead House Hotel to plant 5,000 purple crocus corms.
Purple crocuses are the international symbol of the campaign to eliminate this dreadful disease from the world. Initiated by Rotary International and supported by other organisations, this campaign is at the point of total elimination of the disease.
In 2016 to 30 October there have been only 30 cases of polio, compared to 74 in the same period of 2015, and 350,000 cases in 1985 when Rotary's campaign began. Despite this success, $1bn per year will need to be spent on vaccinating children for the next few years until we have two years without a case and a polio-free world can be celebrated.
The corms have been planted on the bank outside the hotel, and will provide a spectacular display in the early spring of 2017 and subsequent years. The picture shows the team from the two clubs with Mike Wood, Manager of Hempstead House Hotel.
---
Victory for Invicta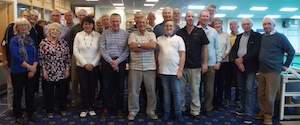 Invicta vs Sheppey
Thirty people from The Rotary Clubs of Sittingbourne Invicta and The Isle of Sheppey met at the Swale Indoor Bowls Club on Wednesday 19th October 2016. This has become an annual get together to renew friendships, but it is also a serious bowls challenge competition.
The 24 players had training at the start of the evening, followed by bowl practice and then a buffet supper before the competition got underway.
Four teams then spent over 2 hours bowling. With Sheppey winning previous years, it was good to see Invicta as overall winners on the night with all matches won. Total: Invicta 46, Sheppey 23.
---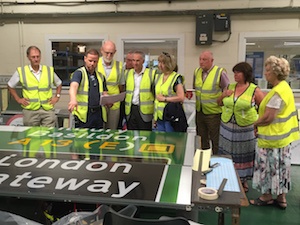 Inspecting signs made by RBLI
Visit to RBLI
22 Sittingbourne Invicta Rotarians and partners visited Royal British Legion Industries (RBLI) in Aylesford on Monday 25 July 2016.
This was an alternative meeting to our normal evening meeting. Geoff Streetley, Director of Commercial Operations, gave a presentatation in the boardroom about RBLI; covering its aims, assests, products, services and funding.
Club members were then split into two groups for a tour of the factory, which took us through the sign-making area where we were shown their state of the art printer. The tour then went into the Connect area where workers were making display models for shops. We were also shown the pallet making and pallet recycling facility.
Finally, we all enjoyed a lunch back in the boardroom. Everyone said they enjoyed the visit, and thanked Geoff for making the visit possible.
---
Maasai Warriors in Bexhill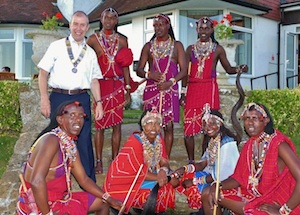 Maasai Warriors dance for Bexhill
On Tuesday 19th July 2016 Bexhill Rotary Club was 'invaded' by a troupe of Maasai Warriors who performed authentic Maasai tribal dance.
The Osiligi Maasai Warriors, to give them their full title, come from the village of Oleopolos and surrounding communities in southern Kenya and are currently on their fourth tour of England.
The Warriors, resplendent in traditional costume, gave a stirring display of song and dance, which included the famous Maasai jumping – at one point President Geoff Longmire was hauled on to the dance floor by one of the Warriors and he gamely set about giving a reasonable impression of a Maasai Warrior.
Not only were the Rotarians and guests treated to tribal dancing but also to the history of the Maasai. The Maasai used to rely on their warriors fighting other tribes, quite often for the possession of cows (the Massai consider all cows in the world belong to them), but nowadays the warriors swear by the pen in one hand and a book in the other, instead of a spear and a shield. Respect was also strong in the Maasai, respect for others and respect in particular for ones elders, as well as respect for the land and other living things.
---