Completed meetings and events 2023-2024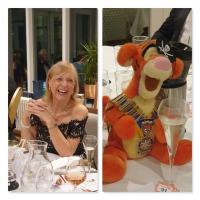 Wed 20th September 2023 President's night at Fishmore Hall in Ludlow
Tonight we shared President Angela's special evening and we had fun while celebrating our 47th year since we were chartered.
read more...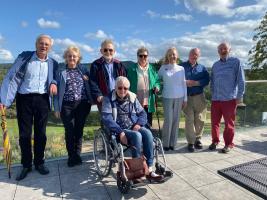 Mon 18th September 2023 Visit to St. Michael's Hospice, Hereford
We visited this excellent hospice and beautiful garden, after donating £1000 to them last Rotary year.
read more...
Sat 16th September 2023 Car Treasure Hunt - Cancelled for now
This was to be a clue based treasure hunt with a picnic lunch at the final venue but will be held in Mid April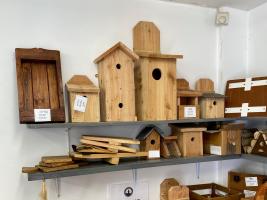 Wed 13th September 2023 We visit the Knighton Men's Shed
As part of our "Combatting Loneliness" project we visit this excellent group in Knighton
read more...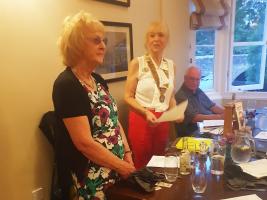 Wed 6th September 2023 Dinner and Council at the Lion in Leintwardine
This will be a quick update from Council members and we were delighted to welcome our newest Rotary member Maureen Williams.
read more...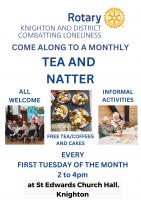 Tue 5th September 2023 WE HELD THE FIRST OF A MONTHLY EVENT TO COMBAT LONELINESS
This was held in the St Edwards Church Hall in Church Street, Knighton and was a qualified success.
read more...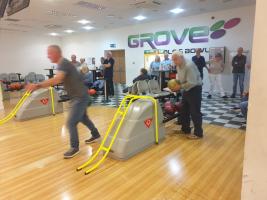 Wed 30th August 2023 Steak and Bowls evening at the Grove in Leominster
As always, we enjoyed this evening, with steak, peas and chips ( or fish/veg option) plus a game of ten pin bowling.
read more...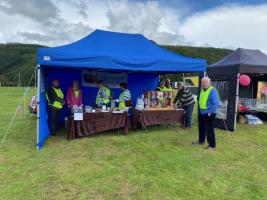 Sat 26th August 2023 Knighton show and carnival
We Had a stall at this local show which gave us a presence here....
read more...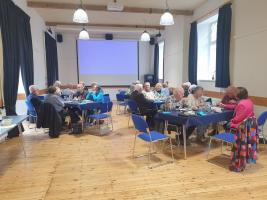 Wed 23rd August 2023 Frugal lunch meeting and speaker at the Leintwardine Community Centre
We enjoyed a relaxed and sociable afternoon raising money for local charities as well as hearing from an excellent speaker.
read more...
Tue 15th August 2023 Wildegoose Nursery visit
We will enjoy a visit to this exciting nursery and garden
Wed 2nd August 2023 Lunch and Council at the Lion in Leintwardine
We will enjoy the Lion's lunch menu plus catch up with last months activities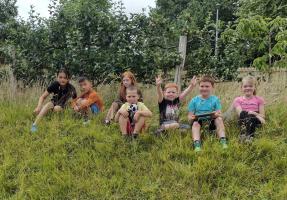 Thu 27th July 2023 WE SPONSOR PRIZES FOR KNIGHTON CHILDREN'S GARDENING CLUB
We attended the prize giving ceremony of the Knighton Children's Gardening Club on Thursday July 27th 2023.
read more...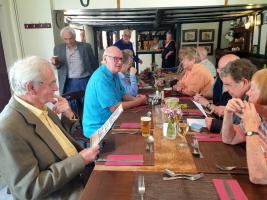 Wed 19th July 2023 Lunch at the Radnorshire Arms in Beguildy
We enjoyed a sociable, and very tasty, lunch at this favoured venue today.
read more...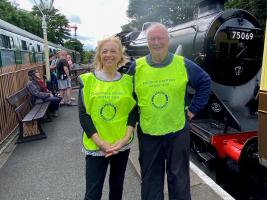 Sun 16th July 2023 We join Ukrainian refugees on the Severn Valley Railway outing
We were invited to join the North Herefordshire and South Shropshire Ukrainian Support Group with 80 Ukrainian refugees, their hosts and teachers on a cultural and educational trip on the Severn Valley Heritage Railway.
read more...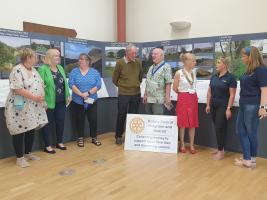 Fri 7th July 2023 Cheque presentations at the Offa's Dyke Centre in Knighton
We are delighted to be able to support very worthwhile charities that serve our communities
read more...
Wed 5th July 2023 Handover meeting with Angela taking the reins from Kim at the Lion in Leintwardine
This evening Angela Ellis takes over as President from Kim Smith. It was a very enjoyable evening.
read more...
calendar
district events
local events