Looking for a New Opportunity?

Rotary is a worldwide service and networking organisation. Rotary opens opportunities for you to develop your skills, serve in a project as big as our Polio Eradication Project or become involved in the local community, where you could be supporting your local food bank or planting a tree. If you think Rotary could be for you, we would love to hear from you soon. More...

---
NEWSFLASH
---
Rotary International President
As we begin this journey together, I take inspiration from Scotland's national poet, Robert Burns, who in the 18th century spoke of all the world becoming kin, promoting "Sense and Worth, over all the earth." Long been my call to action, and I share it now with you.
Let us build peace within and spread it freely. Let us create belonging and imagine the future of Rotary afresh. Let us work together joyously as we Create Hope in the World.


District 1150 YouTube Channel



Club Projects
Latest News / Newyddion Diweddaraf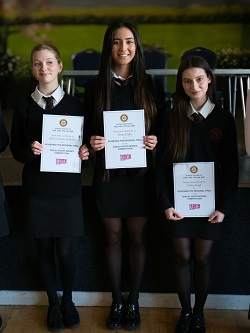 Winners of the Youth Speaks National Final
Congratulations to Holly, Violet and Anna and their Teacher Mrs Eleanor Ward on winning the Bristol Senior, Southern Wales and South West Cluster Youth Speaks competition and then winning the National Final. The team from Queen Elizabeth High School, Carmarthen, sponsored by Rotary Carmarthen Tywi.
More...
To see the results of our many Rotary Youth Competitions
, Click Here.