Looking for a New Opportunity?

Rotary is a worldwide service and networking organisation. Rotary opens opportunities for you to develop your skills, serve in a project as big as our Polio Eradication Project or become involved in the local community, where you could be supporting your local food bank or planting a tree. If you think Rotary could be for you we would love to hear from you soon. More...

---
---
District Conference Showcase
NEWSFLASH
END POLIO NOW !!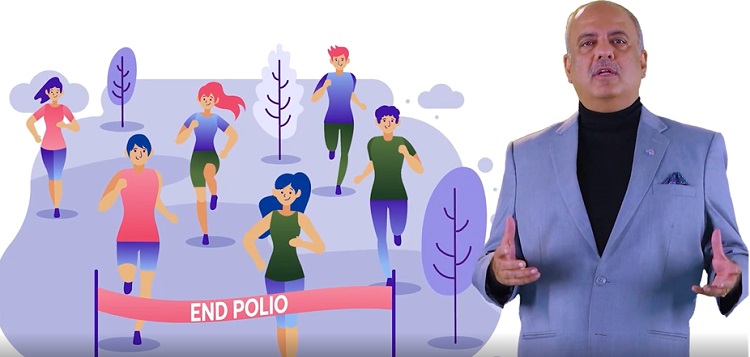 View the polio video by RI President Mehta - watch the video here.
For the latest information about Polio Click Here
Laptops for Home Learning - Rotary Southern Wales Project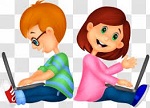 District 1150 YouTube Channel

COVID-19
Distance Aware Project More...
Rotarians can view the latest advice and updates from
Welsh Government Link
Rotary GB&I Link
District Information including ZOOM Link
Arrange an online speaker meeting for your club Link
Ray takes over as our District Governor for 2021-22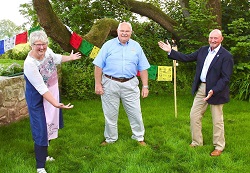 Ray is pictured with DGE Wayne and DGN Mary.
Ray is a retired secondary school teacher and GCSE examiner and is a member of PONTLLANFRAITH Rotary. As an amateur musician and former member of the Glamorgan Youth Orchestra, he has played a key role in Rotary's Young Musician competition More…
Club Projects
Latest News / Newyddion Diweddaraf

On 23rd through to the 24th February, District 1150 tech team supported the 24 hour Rotary worldwide event, where every hour, Rotary in different parts of the world following the sun, showcased peace presentations. This became extremely pertinent as our Rotary in Action for Peace session led by PDG Alison was followed by Ukraine and our hearts and prayers went out to them as they outlined their worries and concerns amidst the real time events of the invasion.
More ...
---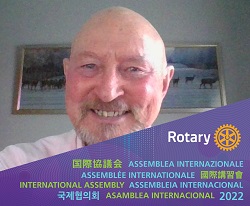 DGE Wayne Represe
nting 1150
at th
e
Int
ernation
al Assembly.
"DGE Wayne Morgan from Bridgend Rotary is currently attending the virtual International Assembly. He is representing our District across the world working with RI President Elect Jennifer Jones and many other leaders"
---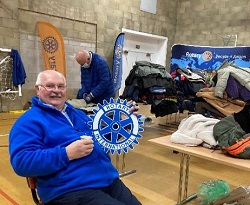 Six Rotary Clubs based in Cardiff came together in October and November 2021 to run the "Wrap Up" project to collect and deliver warm coats to those in need. Could your Club take part in 2022?
---
"24 Hours for our Planet"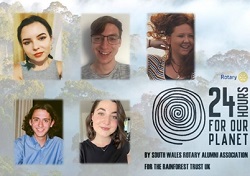 Rotary in Southern Wales Alumni Association on 6th November held a worldwide 24-Hour Marathon. The 24 hours of live streaming on Facebook and other social media was split into one-hour sessions of different styles of entertainment i.e., a craft-making session; talk by the Zero Waste Chef; a yoga session; a Murder Mystery; a Pub Quiz. The group raised more than £1,300 for the Rainforest Trust UK. More...
---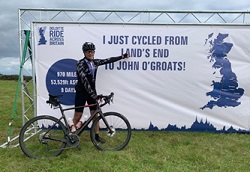 Once again all our Clubs across Southern Wales have been busy planning and celebrating events to highlight the importance of our Polio Eradication campaign.

In September Rtn. Ken Truman's son Gary completed an organised 940-mile cycle marathon from Lands End to John O'Groats. He raised sponsorship of £1,060 which will be donated to End Polio for Cardiff St. David's Rotary.
The photograph shows Gary at the end of this arduous journey. To see more on this and other club events
click here
24 Hydref 2021 – Diwrnod Polio'r Byd
Goleuo Adeilad Dewi Sant Prifysgol Y Drindod Dewi Sant yn borffor gan Glwb Rotary Llanbedr Pont Steffan. Linc : Cliciwch yma
---
NEW DISTRICT LEADER FOR THE ROTARY & CARERS WALES PROJECT PARTNERSHIP
Rotary Morriston Immediate Past President, Sue Thomas, has become the NEW leader for the Carrer's project in our district. Until recently Sue acted as a Branch Ambassador for the Partnership and as such has developed a deep understanding of the needs that this project addresses.

Initially a one-year partnership but due to great success, Rotary Great Britain and Ireland Governing Council were impressed with the progress and approved a further two-year extension.
More ...
---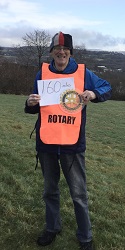 Rotary Club of Blackwood Rtn. David Ellis 2021 Virtual Challenge Lands End to John O'Groats - Completed his Challenge Raising in excess of £3500
During these difficult, socially distanced times, it has been impossible for the Rotary Club of Blackwood to carry out its usual fundraising round for local and wider good causes. With this in mind, Rotarian David Ellis has come up with a great idea to raise funds. More ...
---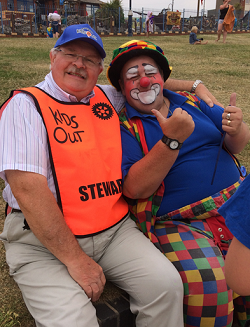 National KidsOut Day
This is the biggest single outing for disadvantaged children. Even though this could not go-ahead last year, KidsOut still needs your help !! More...
---
"As far as the authors are aware all content is copyright-free or has permission for use, if this is not the case, please contact us and that content will be removed."
GDPR District 1150 Privacy Statement