Rotarians of District 1150 in Southern Wales were greatly saddened by the news of the death of
Her Majesty Queen Elizabeth II.
The World will be a poorer place without our great Queen who has reigned supreme for seven decades. We now look to our new Sovereign King Charles III to give solace and comfort to our Nation so bereft of our great Queen.
Looking for a New Opportunity?

Rotary is a worldwide service and networking organisation. Rotary opens opportunities for you to develop your skills, serve in a project as big as our Polio Eradication Project or become involved in the local community, where you could be supporting your local food bank or planting a tree. If you think Rotary could be for you, we would love to hear from you soon. More...

---
---
District Conference Showcase
NEWSFLASH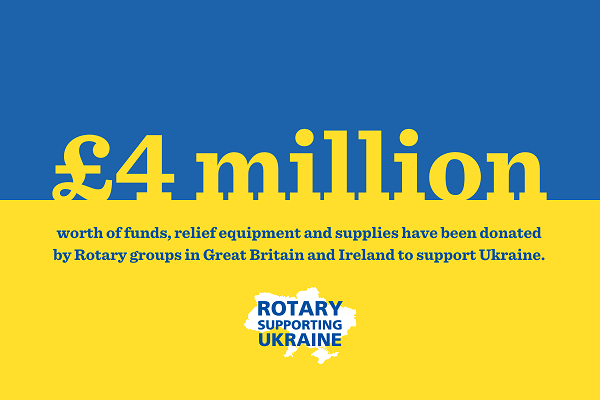 END POLIO NOW !!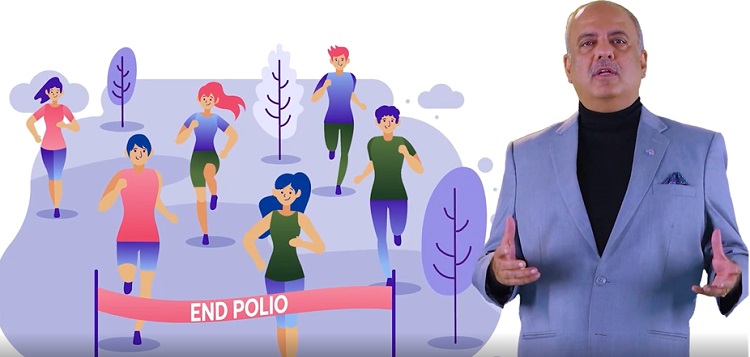 View the polio video by Past RI President Mehta - watch the video here.
For the latest information about Polio Click Here
District 1150 YouTube Channel



Rotary branded face masks Order Form Link
Wayne takes over as our District Governor 2022-23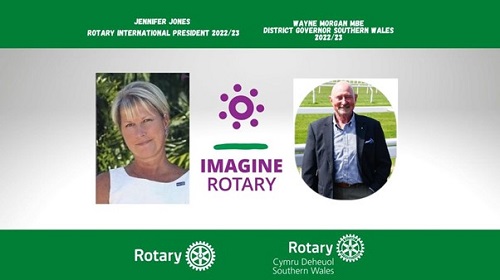 Congratulations to my good friend Wayne Morgan on becoming our District Governor in Southern Wales. I Imagine Rotary will be in good hands for the next twelve months. As your DGE I will support you all I can. Welcome to the DGN role to Malcolm Hallewell and the rest of the District Team. With our leader Jennifer_Jones.pdf at the helm, it can only mean good things. #ImagineRotary We are also super excited to have our Nicki Scott as VP. A very exciting time for Rotary. Good luck team Jen & Nicki from us all in Southern Wales.
---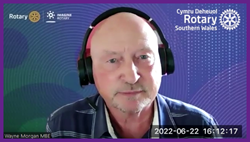 Club Projects
Latest News / Newyddion Diweddaraf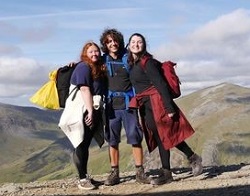 Rotary in Southern Wales Alumni Team
Mountain 2 Mountain fundraising event; our team members Justin and Oktawia flew to Nepal to complete their walk to Everest Basecamp, while Ed, Isabelle and Hope completed their climb to the top of Mount Snowden/Yr Wyddfa.
More...
---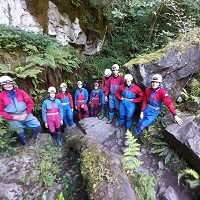 RYLA - 'Rotary Youth Leadership Award' Week
70 young people including five Ukrainians sponsored by Rotary clubs across southern Wales to join the 2022 experience. DG Wayne also joined the group for their caving expedition. YLA is a leadership development programme run by Rotary for Young adults Link to Article … More from our SM site ...
---
Visiting Dignitaries to the Rotary Stand at the National Eisteddfod

This prestigious event celebrating Welsh culture was held in Tregaron from 30th July to 6th August.; Rotarians from across the District volunteered on the stand to promote Rotary and our many varied projects. More...

---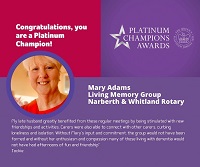 CONGRATULATIONS To Our DGE Mary
More than 3,000 nominations, 470 Awards from across the UK, 23 from Wales and Mary is honoured by The Queen as a Platinum Jubilee Champion. Mary was presented with her very special Platinum Champion's Award by the Queen's representative Sharron Lusher MBE DL during an event with the Living Memory Group.
---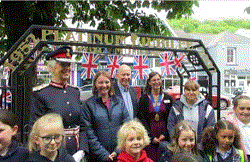 Mumbles Rotary Leave a Lasting Legacy of the Platignum Jubilee
The Jubilee Arch is an archway placed at the entrance to Southend Gardens decorated with children's drawings celebrating 70 years of Queen Elizabeth's reign. More...
---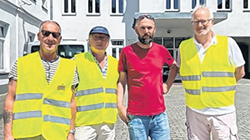 Abergavenny Rotary Poland Mission
After donating money to a Polish Rotary club helping to support Ukrainian refugees, three members of Abergavenny Rotary visited Poland recently to further establish and maintain links between the Rotary clubs. Link to Newspaper Article.
---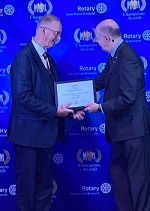 YOUNG CARERS ADVOCATE WINS NATIONAL CHAMPION OF CHANGE AWARD
Jim Price of Barry has received a national award in recognition of his work with young carers in Cardiff. Jim was nominated for the prestigious Community Champion award which is promoted by Rotary International in Great Britain and Ireland by Cardiff East Rotary. More...
---

On the 23rd through to the 24th of February, Rotary in Southern Wales tech team supported the 24-hour Rotary worldwide event, where every hour, Rotary in different parts of the world following the sun, showcased peace presentations. This became extremely pertinent as our Rotary in Action for Peace session led by PDG Alison was followed by Ukraine and our hearts and prayers went out to them as they outlined their worries and concerns amidst the real-time events of the invasion.
---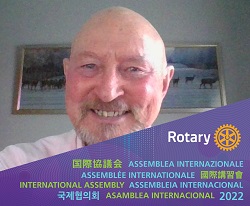 DGE Wayne Representing 1150 at the International Assembly.
"DGE Wayne Morgan from Bridgend Rotary attended the virtual International Assembly. He was representing our District across the world working with RI President-Elect Jennifer Jones and many other leaders"
---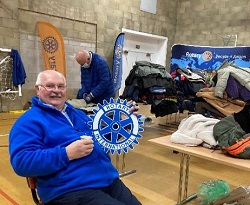 Eight Rotary Clubs based in Cardiff will come together in October and November 2022 to run the "Wrap Up" project to collect and deliver warm coats to those in need. Could your Club take part in 2022-2023? More ...
---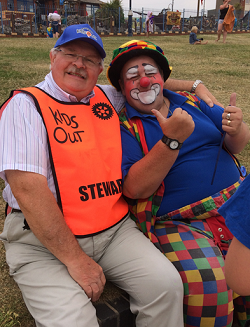 National KidsOut Day
This is the biggest single outing for disadvantaged children. Restarted in June 2022 More...
---
"As far as the authors are aware all content is copyright-free or has permission for use, if this is not the case, please contact us and that content will be removed."
GDPR District 1150 Privacy Statement