---
NEWSFLASH
COVID-19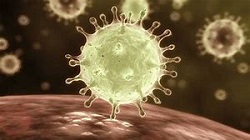 Rotarians can view the latest advice and updates from
Welsh Government Click Here
Rotary GB&I Click Here
Rotary in Southern Wales Brillant Response Click Here
District Information including ZOOM Click Here
Basic Computer and Zoom Security Click Here
Arrange an on-line speaker meeting for your club. There is a list of speakers from the District plus a link to a national RGB&I list. Click Here

Latest News / Newyddion Diweddaraf

---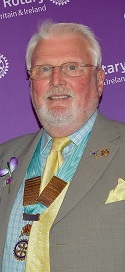 LETTER TO THE FIRST MINISTER
Rotarians in our District have risen to the challenge faced by their communities as a result of Covid-19 More...
---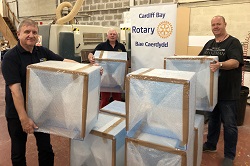 District EBox Project
Our District was able to fund a brand-new innovative project to support our NHS and, in particular, hospitals in Wales. Past District Governors Steve Jenkins and Mike Parry are helping to load the first boxes to be dispatched. More…
---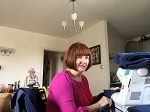 District Scrubs Project
Rotarians and Inner Wheel members come together to support the District PPE Scrubs Project. Humanitarian lead Paula Pippen searched for stitchers and DGE Alison was one of her first volunteers More …
---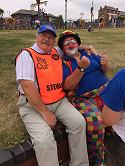 KidsOut Update May 2020
National KidsOut Day is the biggest single outing for disadvantaged children. Even though this cannot go ahead this year, KidsOut still needs your help !! More...
---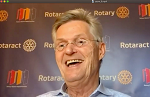 Zoom meeting with RI President 20/21 Holgar Knaack
Zoom is an opportunity to meet, and it fits perfectly with my theme for my Rotary Year which is "Rotary Opens Opportunities". It certainly gave Rotarians in Southern Wales the opportunity to chat with Holgar when he joined us on 22nd April 2020, at the request of DGE Alison. More …
---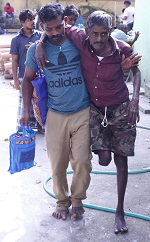 Mega Limb Camp
The Rotary Club of Bangalore Peenya (RI Dist. 3190) has held the Mega Limb Camp every year for over 20 years. Every year the Camp benefits around 2000 people, lasts a week and costs about $60,000. This amount must be raised each year by the Club. The 23rd Camp held in January of this year was unique for the first time it was funded by a Global Grant from the Rotary Foundation. More ...
---
Young Writer Competition Winners
Details of the competition winners can be found here.
---

Children in Need Update
March 2020 update regarding the Rotary partnership with BBC Children in Need. More ... Merchandise...
---
Morriston Rotary Response to C-19
Anyone who is on their own, self-isolating, or just bored download the Zoom app e'mail me for a meeting code and join us between 7 pm and 8 pm every night for a chat.
---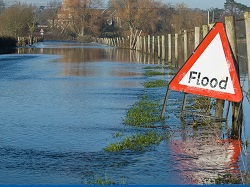 Rotary Helps Flooded Communities

Many congratulations and thanks to all for the wonderful work you have been doing to help those affected by the recent devastating floods.
---
$1 Million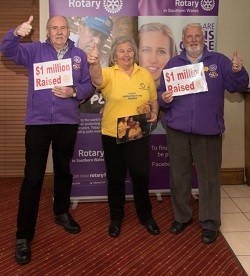 World Rotary Day (23 February) is being marked in South Wales by Rotarians from the area celebrating the milestone $1 million they have raised towards the major goal of eradicating Polio worldwide.
The money raised is specifically towards polio eradication and is in addition to the many thousands of pounds Rotary Clubs raise for local and international projects each year. More...
"As far as the authors are aware all content is copyright-free or has permission for use, if this is not the case, please contact us and that content will be removed."