Latest pages
29/03/2020
Zoom Speaker Meetings
.
Details of speakers available for Zoom meetings.
---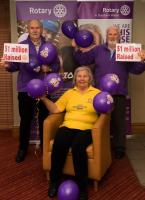 20/03/2020
SOUTH WALES ROTARIANS FEEL A $1MILLION !
.
World Rotary Day (23 February) was marked in South Wales by Rotarians from the area celebrating the milestone $1 million they have raised towards the major goal of eradicating Polio worldwide
---
16/03/2020
C-19 Update Page
.
The District Continuity and Operations Teams are taking this outbreak very seriously and your safety and well being and our duty of care is of paramount importance to us.
---