Future Meetings and Events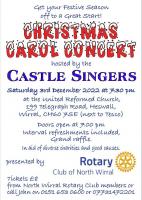 Sat, Dec 3rd 2022 at 7:30 pm - 9:30 pm
Christmas Carol Concert
Hosted by the Castle Singers
Mon, Dec 12th 2022 at 7:00 pm - 9:00 pm
Christmas Party
Details will follow
Mon, Dec 26th 2022 at 7:00 pm - 9:00 pm
NO MEETING
It's Boxing Day!!
Mon, Jan 9th 2023 at 7:00 pm - 9:00 pm
To be advised
To be advised
Mon, Jan 23rd 2023 at 12:25 pm - 2:25 pm
My role as High Sheriff of Merseyside
Lesley Martin-Wright took over as High Sheriff this year. She has served as a Deputy Lieutenant for Merseyside since 2014. THIS IS A SOCIAL MEETING - Partners/Guests very welcome.
Sun, Jun 11th 2023 at 8:00 am - 5:00 pm
Wirral Coastal Walk
Our Annual Fund Raiser for your favoured Charities. This 12.5 mile Walk starts at the Floral Pavilion, New Brighton, and finishes at Thurstaston Visitor Centre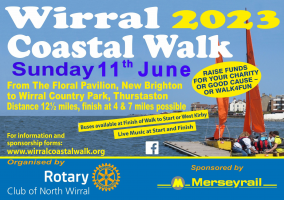 Sun, Jun 11th 2023 at 8:00 am - 5:00 pm
Wirral Coastal Walk 2023
The Wirral Coastal Walk will again be adopting the new route from New Brighton to Thurstaston Visitor Centre(12.5 miles) as introduced in 2022