The Rotary Club of Bodmin has been active for 69 years and currently has 30 members representing a wide range of local business and professions - Brief Club History.
Bodmin town is situated in Mid Cornwall embracing beautiful Countryside and Moorland within a short distance of the sea.
<<<>>>

COVID19 has restricted all activities and our funds are limited but we will always be here to help - contact us using the 'contact link' or speak to any member of Bodmin Rotary Club (Or write c/o The Westberry Hotel, Rhind St., Bodmin )
<<<<>>>>
OLD POSTS REMAIM ON THIS PAGE IN ORDER THAT VISITORS TO OUR SITE SEE SOME OF THE IMPORTANT EVENTS WITHIN THE CLUB'S ACTIVIITIES.
<< NEW PRESIDENT for 2021/22 >>
Press & Facebook report

The ROTARY CLUB of BODMIN
The 70th President since the club started in 1951 - for his 2nd year in office.

Peter Ford has lived in Bodmin since 1987 and is married with two children.
He worked for SWEB / WPD until 2003, from when he formed his own electrical services company trading under "Essential Maintenance'.
He has always helped the Bodmin community in many ways, including Christmas Lights, Bodmin Town Fireworks and Heritage day, even during the years before joining Bodmin Rotary Club in 2016.

.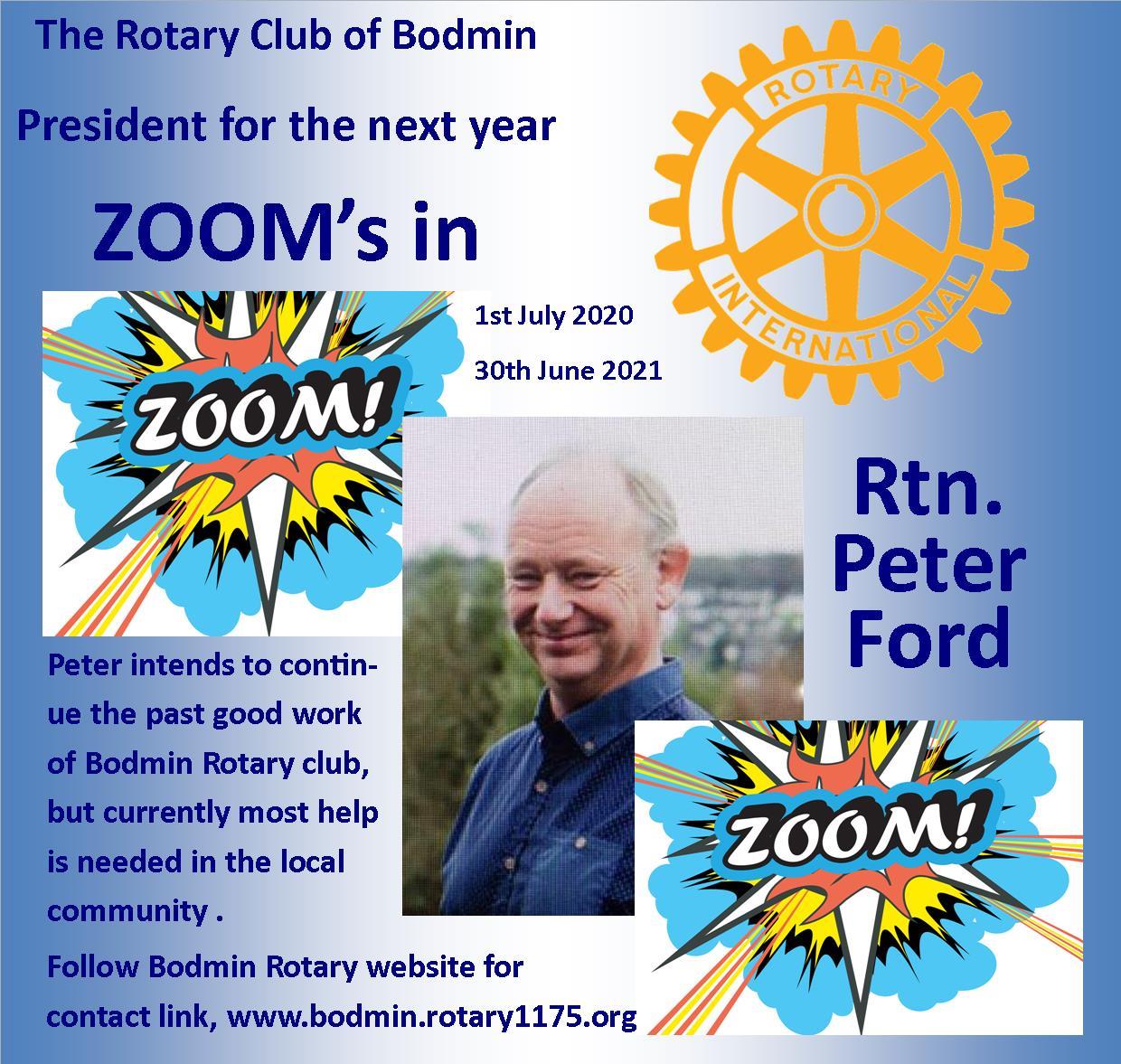 <>
CHRISTMAS COLLECTIONS 2020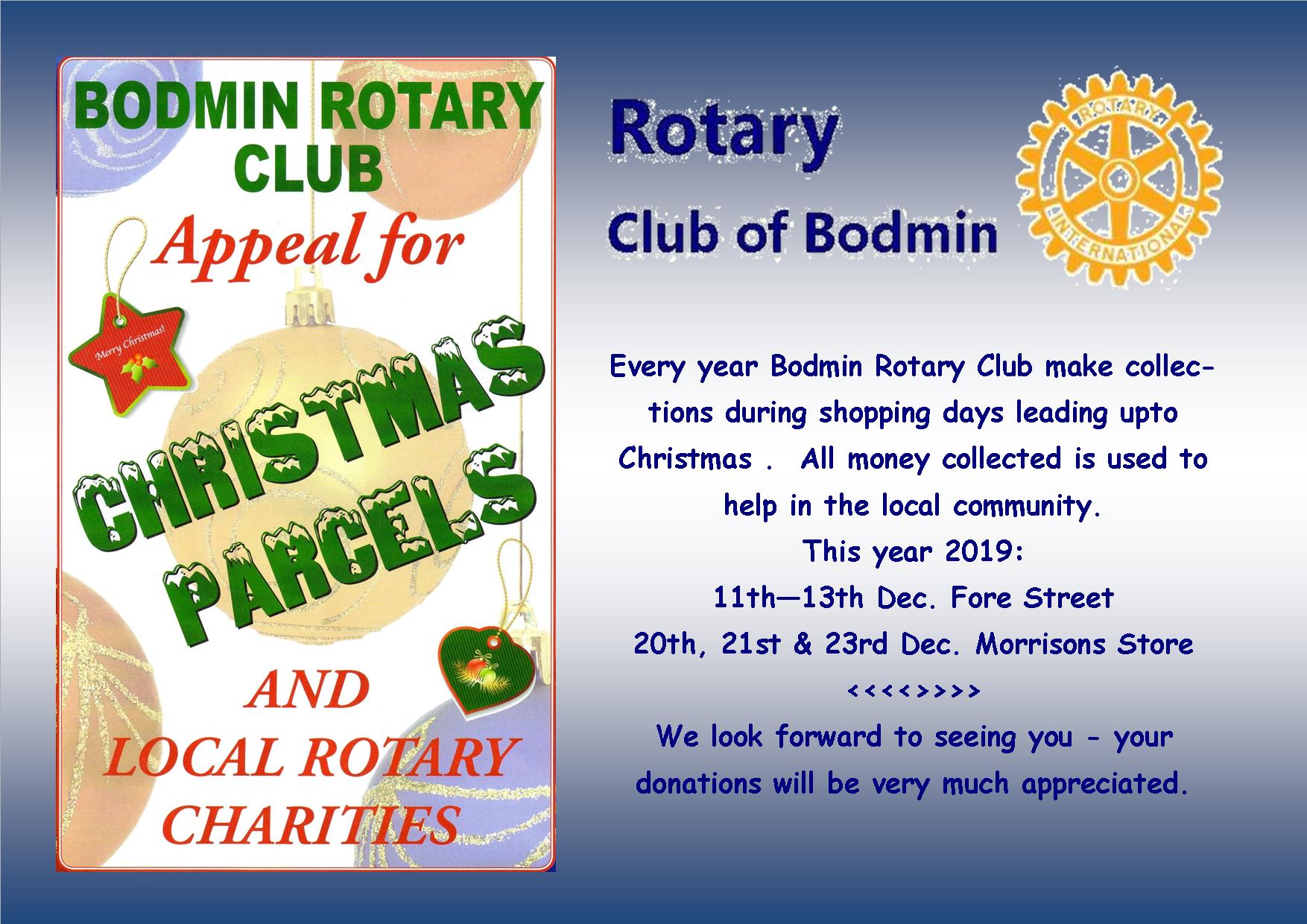 Bodmin Rotary support many local charities and organisations through-out the year, but at Christmas time we give Christmas Gifts to many local persons, donate to the local Food Bank, donate to the local Memory Cafe, donate to Underprivaleged Children & Families and contribute to the cost of Bodmins Christmas Lighting.
Please give generously when you see us in Fore St. or Morrisons store, all money collected will be spent as above, on local needs. >>>REPORT
This Christmas we collected in excess of £500.00 which, is much less than other years due to Virus restrictions, but all will be spent in Bodmin community. Many thanks to shoppers and Morrisons Store & customers for their generosity.

<<<<<>>>>>

COUPLE RECEIVE CITIZENS AWARD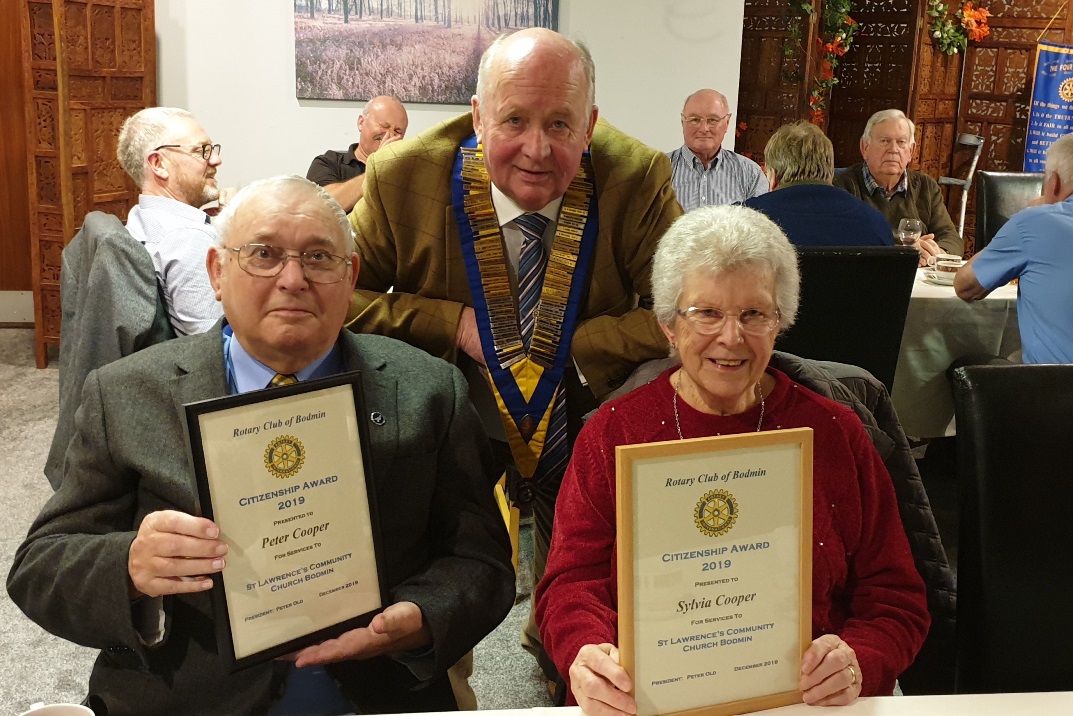 Press report....

Each year Bodmin Rotary Club endeavours to present a Citizens Award to a person who has been outstanding in the Community and one who has made a major contribution through their life for the benefit of others and without seeking any remuneration.
<
Peter & Sylvia Cooper received this years Bodmin Rotary Club Citizens Award at a presentation at the Westberry Hotel, Bodmin.
Sylvia 84 has recently retired from serving as a trustee and churchwarden of St. Lawrence Community Church for the past 23 years her husband, Peter, 80 has also retired as chair of the church council.
The couple both worked for many years at St Lawrence Hospital prior to it closing in 1996. At the time of the closure, the church and grounds (which were owned by the NHS) were to be disposed of to the highest bidder.
Mr and Mrs Cooper along with a band of volunteers, the hospital chaplain and a number of Bodmin Town Council members, managed to buy the church for £1.00. They formed a board of trustees and leased the church from the council for a peppercorn rent. In the subsequent years with the help of many friends, the couple set about raising £160,000 to renovate the church, keeping the building open as a thriving community hub.
Sylvia said: "It was never the intention to seek any recognition for our efforts, we just wanted to see the church preserved as a memorial to our friends and colleagues, recognising the hard work and dedication shown by all the staff of St Lawrence Hospital involved in caring for the patients."
Wm 11/12/19

<

WELCOME TO THE CLUB
Our newest club member Su Tune was inducted on Wed.27th Nov. on the occasion of the then DG & Wife, Simon Wood & Jane annual visit. Congratulations and welcome to the Club, Su.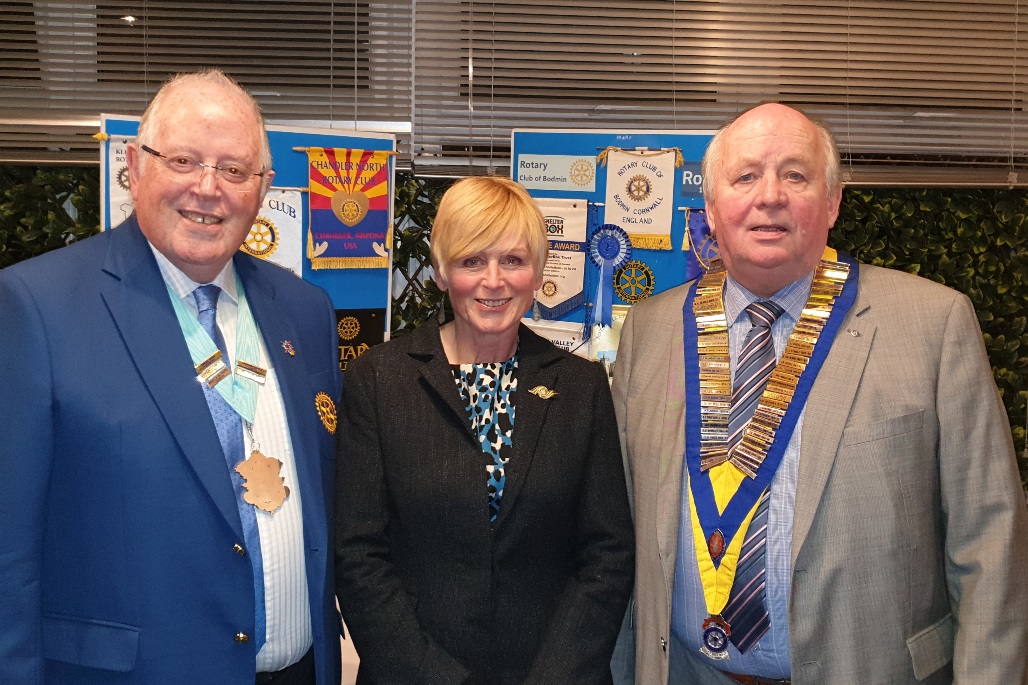 Picture: Rotary District Governor Simon Wood, Su. Tune, President Bodmin Club Peter Old.
<>
JACCAs CRICKET TOUR
Bodmin President Peter Old presents a cheque for £300.00 to Jacca Cavendish, aged 12, to support him on his Cornwall Schools Cricket Association U13's Tour of South Africa 2020, where they will play 9 matches over 16 days. Jacca is currently Bodmin College and Lanhydrock Cricket Club – Wicketkeeper & Batsman. Good luck Jacca.

BODMIN ROTARIANS HELP DISABLED LADY

A plea was received from the full time carers of 'Carol', who was disabled from a very young age, she lives in a very small flat and paints by holding a brush in her mouth. Help was required in providing storage shelves for Art equipment etc. as everything at the moment is kept in containers and boxes on the floor, which severely restricts wheelchair movement around the flat.
Rotarian Peter Old quickly came up with the offer of some adjustable wall shelving and Rotarian Neil Carter offered to apply his skills in fixing them to the wall.
Peter and Neil went to the property and completed the job without delay; as can be seen in the photo below, expertly fitted, making good use of the wall space available and leaving much needed floor space free.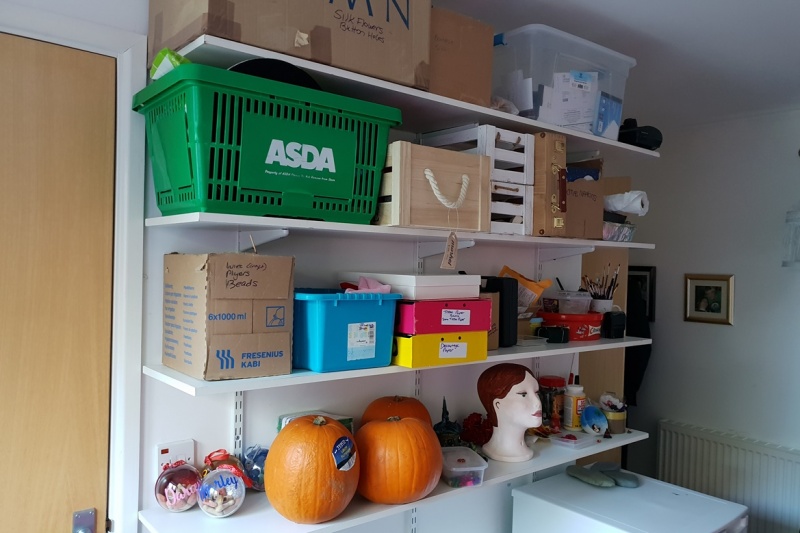 <>

Bodmin Rotarians - Ambassadors Extraordinaire....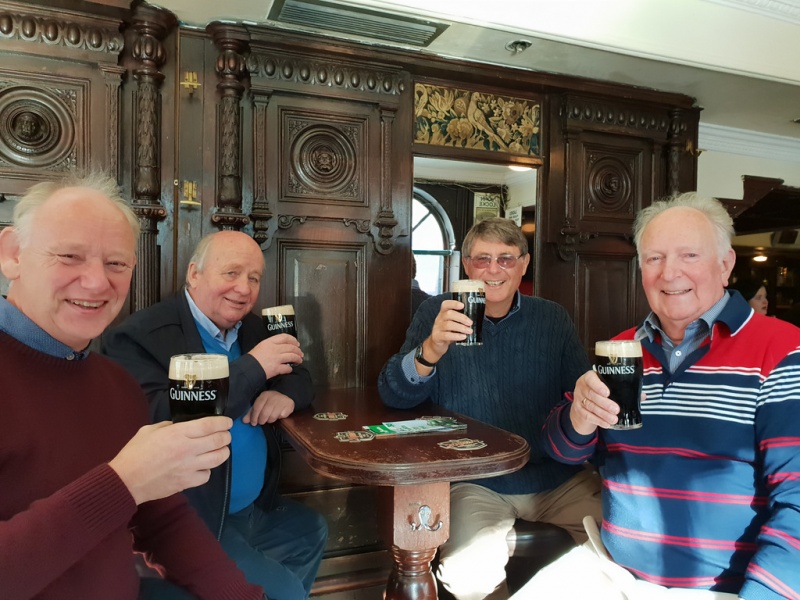 Four members from Bodmin Rotary Club - Peter Old, Peter Bray, Allan Foad and Peter Ford recently visited three Rotary Clubs in one day, all in different countries. Breakfast was in Wales (Cardiff Club), Lunch was in England (Clifton Bristol Club) and Drinks only evening meeting was in Ireland (Dublin Central Club) The challenge, the journey and the three clubs visited was an exciting and enjoyable experience, all the clubs were very different. Some photos see 'Photo Gallery' above tab / link....

<>
Bodmin Rotarians - Ambassadors Extraordinaire.
A group of four members from Bodmin Rotary Club - Peter Old, Peter Bray, Allan Foad and Peter Ford recently visited three Rotary Clubs in one day, all in different countries. Breakfast was in Wales (Cardiff Club), Lunch was in England (Clifton Bristol Club) and Drinks were in Ireland (Dublin Central Club) The challenge, the journey and the three clubs was an exciting experience and all three clubs were very different.
The Cardiff Club met for breakfast at 7.30 at the Cardiff Golf Club – the group were welcomed by the No1 President ( Three Presidents for the year each doing 4 months) and joined 24 members for breakfast and their meeting consisting of 50% women. The speaker was promoting the Cardiff City Hospice.
The Clifton Club, Bristol met at the Clifton Tennis Club for Lunch, 34 members were attending, but they have no lady members. Following lunch the speaker, head of a local Junior School gave a talk about his schools involvement in supporting an African School.
A member of Clifton Club then provided a taxi for the group to the airport. The aim, on arriving at Dublin airport at 5.30pm, was then by taxi, to get to the Dublin Central Club by 6.30pm for the start of their meeting. The flight being approx.. 30mins late meant that we arrived at the club at 6.45pm. We were welcomed and offered a seat and a glass of Water or Wine.
Dublin Central Club was, to say the least, different ! They meet in an elegant room in the prestigious Hibernian Private Club in St. Stephens Square, Central Dublin. The club with approx.. 24 members, but only 11 were at the meeting were sitting around a central table with only a drink of wine or water, no meal is partaken – the hour long meeting is only to discuss Rotary business. Much of this meeting was taken in introductions by them and us. I was found that most of their members originate from many different parts of the world, Argentina, Hungary, Croatia, Canada, Spain, Turkey…. Their President was away so the Secretary took the meeting of approx.. 50% Ladies. One member Monica Robertson was the DG of Ireland (North & South) comprising approx.. 100 clubs.
Some ways that we each raise funds was discussed, it was evident that Dublin were far more cash rich than Bodmin. (A Valentines Charity Ball with 350 attending raised over £20,000 for charity) The meeting was conducted very informally and only lasted the hour.
Having fulfilled their challenge of 3 countries in one day the group used the following day to explore Dublin and partake in some fine Jameson Whiskey and Guinness.

Media release

wm

~~~~~~~~~~~~~~~~~~~~~~~~~~~~~~~~~~~~~~~~~~~~~~~~~~~~~~~~~~~~~~~~~~~~~~~~~~~~~~
A bit about: - ROTARY YOUTH LEADERSHIP AWARDS (RYLA) is a weeks residential course, based at the Dartmoor Adventure Centre at Okehampton, Devon and covers teamwork, leadership, communication and problem solving. It is organised for Rotary by The Youth Hostels Association and is run by fully trained, accredited, and DBS checked, instructors. The courses are designed for 16 - 18 years (Junior) and 18 - 28 (Seniors)
Participants have great fun coupled with a real sense of achievement and increased awareness of their personal strengths. The week is all about teamwork and problem solving led by professional people who are experienced in motivating young people. There will be opportunities for participants to demonstrate some leadership skills, but in the main, each activity will be closely guided by a trained instructor.
<>

This years RYLA candidate:

Jessica Dorson (16 years of age) has recently returned from her one week course at the Dartmoor Youth Adventure Centre at Okehampton.

On Wednesday last, Jessica gave a very interesting and confident talk about all the activities she took part in. One very powerful message that Jessica impressed on us was the value of the course to her and everyone who attended. She says, in just one week, she feels a great difference in her confidence, in mixing with and talking to people, team work etc. It is one of the best things she has done and says many more young people should go on it if they can.

Jessica is also an England Junior Boxing Champion.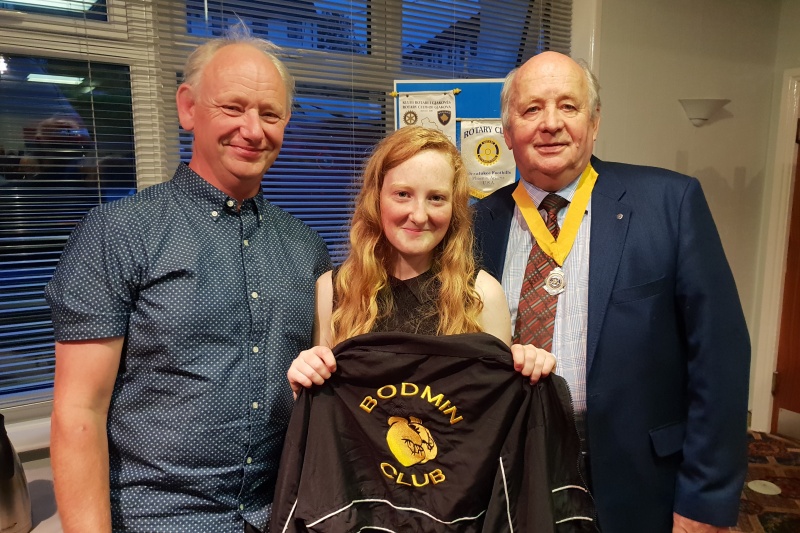 L to R : Rtn. Peter Ford (Chmn. Youth Activities), Jessica Dorson, Rtn. Peter Old ( Vice President)
<>
Money raised for MNDA - £8000.00 +. Cheque presented to Derek Williamson of MNDA by President of Bodmin Rotary Colin Marshall.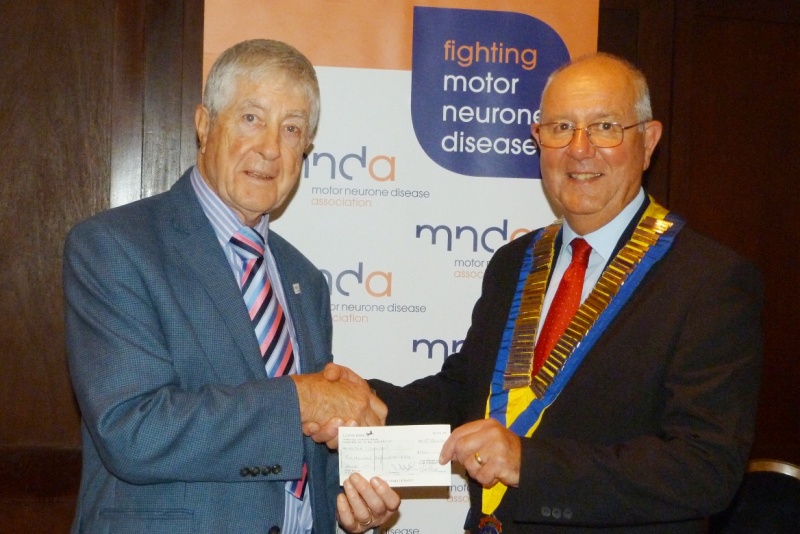 <<<<

<>
<< Some Older News Items >>