Exmouth Rotary has been formed in 2021 through the merger of The Rotary Clubs of Exmouth & District and Exmouth Raleigh. We have retained the charter information of the Exmouth & District Club (the 'mother' club) which was formed way back in 1925. This means our proud centenary celebration is a mere couple of years away.
Through this merger we now have a membership of around 23, both men and women, We meet every two weeks on a Monday evening for a meal, for fellowship and to plan future activities. On other weeks we often take part in other activities, both charitable and social. We always have a full programme of charitable and social events that take place throughout the year. We support local, national and international charities with emphasis on those in the Exmouth & Budleigh Salterton area. We also support the global Rotary charity, called Rotary Foundation, which has been successful for many years with such initiatives as the "End Polio Now" programme. We are always ready to respond quickly to emergencies and natural disasters anywhere in the world. You will often see us on the streets of Exmouth doing our bit to improve the lives of people who are less fortunate than ourselves.
Whilst doing charitable work is both rewarding and commendable, fellowship and fun are also important aspects of Rotary, so we usually have a small dinner together on club evenings and hold a variety of social events for our members and their partners. In brief, our members have great fun while supporting a large range of charities and worthwhile causes.
Check out our Facebook page at https://www.facebook.com/exmouthrotary/
We will endeavour to keep this web site updated to provide news of upcoming events and other projects and to invite as many as possible to become involved.
If you have any questions for us then please use the "Contact us" link at the bottom of the page or email us at exmouthrotary@outlook.com
+ + + + + + + + + + + + + + + + +
Our President for 2023/24
Our President for the Rotary year 2023/24 is Dick Francis.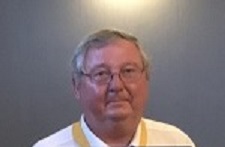 This will be Dick's third stint as President although one of his years was interrupted when he received a job offer that was too good to ignore. Now retired, Dick can resume his devotion to Rotary and he pledges to do everything he can to make the coming year rewarding for Members as well as successful as possible for the club's support to the community.
Originating from Sussex, Dick joined the Met Office straight from school and worked with them for much of his early career. He has spent much of his later career living and working in Germany, Switzerland and Belgium. His career was spent primarily in the field of weather satellites and he achieved the position of Head of Division while working for Europe's weather satellite agency (EUMETSAT). He also had spells working for the European Space Agency, the World Meteorological Organization and, as a EUMETSAT seconded expert, in the European Commission.
Dick's priorities as President are for the club to grow. This means, not only to 'grow' in member numbers (which is a great challenge in itself), but also to 'grow' in our effectiveness in supporting the community. He believes that we can achieve so much more when we cooperate and collaborate. So, to that end, he will be seeking ways to engage with other service organisations, with local charities and with other Rotarians at a local and regional level.
Rotary faces an existential crisis at the moment. In its traditional form it no longer appeals to the younger generation of today. Dick will try to widen that appeal and suggest changes that might enable younger prospective members to think seriously about joining.
+ + + + + + + + + + + + + + + + + +
Helping Exmouth in Bloom

At a talk to Exmouth Rotary in autumn 2021 about the work of Exmouth in Bloom, President Christine mentioned that the club had 300 purple crocus corms needing planting fpr the 'Purple Against Polio' campaign. The Sensory Garden on the seafront sprang to mind as the perfect place, so volunteers Marion Drew and Graham Bell from Exmouth in Bloom, and Gillie Newcombe from Exmouth Art Group, joined Rotary President, Christine Peacock, to get the corms planted. We look forward to a lovely show come the Spring.