Exmouth Rotary has been formed in 2021 by the merger of The Rotary Clubs of Exmouth & District and Exmouth Raleigh.
Through this merger we now have a membership of around 35, both men and women, We normally meet on a Monday evening for a meal, for companionship and to plan future activities. We always have a full programme of charitable and social events that take place throughout the year. We support local, national and international charities with emphasis on those in the Exmouth & Budleigh Salterton area. We also support the global Rotary charity, called Rotary Foundation, which has been successful for many years with such initiatives as the "End Polio Now" programme. We are always ready to respond quickly to emergencies and natural disasters anywhere in the world. In some cases this response takes the form of the funding of one or more Shelterboxes to provide much needed help to those directly affected. You will often see us on the streets of Exmouth doing our bit to improve the lives of people who are less fortunate than ourselves.
Whilst doing charitable work is both rewarding and commendable, companionship and fun are also important aspects of Rotary, so we usually have a dinner together on club evenings and hold a wide variety of social events for our members and their partners. In brief our members have great fun while supporting a huge range of charities and worthwhile causes.
Check out our Facebook page at https://www.facebook.com/exmouthrotary/
We will update this web site to provide news of upcoming events and other projects and to invite as many as possible to become involved.
If you have any questions for us then please use the "Contact us" link at the bottom of the page or email us at exmouthrotary@outlook.com
+ + + + + + + + + + + + + + + + +
Our President for 2022/23
Our President for the Rotary year 2022/23 is David Clout ...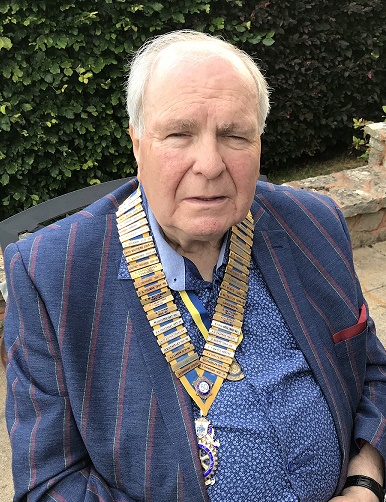 David's bio coming soon.
+ + + + + + + + + + + + + + + + + +
Helping Exmouth in Bloom

At a talk to Exmouth Rotary in autumn 2021 about the work of Exmouth in Bloom, President Christine mentioned that the club had 300 purple crocus corms needing planting fpr the 'Purple Against Polio' campaign. The Sensory Garden on the seafront sprang to mind as the perfect place, so volunteers Marion Drew and Graham Bell from Exmouth in Bloom, and Gillie Newcombe from Exmouth Art Group, joined Rotary President, Christine Peacock, to get the corms planted. We look forward to a lovely show come the Spring.